Students, activists stage rival demonstrations at Yemeni university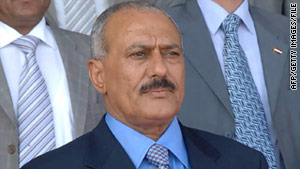 Some Yemeni demonstrators are demanding that President Ali Abdullah Saleh step down, while others want him to stay.
STORY HIGHLIGHTS
Some protesters demand President Saleh step down; others urge him to stay
One protest banner reads: "Blessings for the Jasmine Revolution -- it woke us up"
Supporters of the president carry his picture through the streets of Yemen's capital
(CNN) -- Hundreds of students and activists staged rival demonstrations Saturday at Sanaa University in Yemen's capital, the editor of the Yemen Post said.
The larger of the two groups demanded that Yemen's president, Ali Abdullah Saleh, step down, while the other group called for him to stay.
Saturday's demonstrations were the latest in Yemen since the Tunisian people forced their president to leave office and the north African country, according to the Yemen Post's editor-in-chief, Hakim Almasmari.
Citing his own reporting as well as that of other journalists who work for his newspaper, Almasmari said the gatherings, which were peaceful, were held on the campus of Sanaa University. Roughly 1,500 security personnel were present.
Protesters demanding that the president step down carried banners, several of which referred to the recent protests in Tunisia -- dubbed the Jasmine Revolution -- that started last year and ended 23 years of President Zine El Abidine Ben Ali's rule.
The uprising in Tunisia, one of the Arab world's most secular countries, has ignited unrest elsewhere in the region, including Algeria and Egypt.
One of the banners held up Saturday read, "If you are threatening that Yemen could be another Somalia, we're threatening that Yemen could be another Tunisia."
Another stated, "Blessings for the Jasmine Revolution -- it woke us up."
The other group of protesters in Sanaa, who supported their country's president, carried posters that showed Saleh's picture.
Earlier this year, Yemen's parliament began debating proposed amendments to the country's constitution. The measures, which would cancel presidential term limits, have sparked concerns among the opposition that Saleh might try to appoint himself president for life.
People are also upset at fuel shortages that have caused long lines as gas stations throughout the impoverished nation.