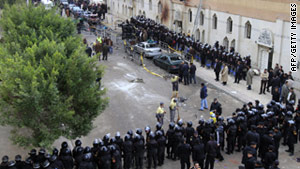 European Coptic churches are on high alert following the New Year's Day bombing of a Coptic church in Alexandria, Egypt.
STORY HIGHLIGHTS
NEW: Spokesman for the group denies a link to the attack
It's not clear whether anyone has been arrested
23 people died in the attack on a Coptic church in Alexandria on January 1
There has been a series of attacks on Egyptian Christians
Cairo, Egypt (CNN) -- The Palestinian Islamic Army, which has links to al Qaeda, carried out the New Year's Day attack on a Christian church in Alexandria, Egypt, that left almost two dozen people dead, Interior Minister Habib al-Adly said Sunday.
It was not immediately clear what evidence he had or whether anyone had been arrested.
A spokesman for the Army of Islam, Abu Musanna, denied the allegation Sunday, saying the group had no link to the attack.
Egyptian authorities earlier this month released a sketch of a man they think is responsible for the attack.

Outrage over Egypt's church attack
"The man in the picture is unknown and authorities are trying to confirm his identity," Col. Alla Mahmoud of the Interior Ministry said at the time.
The Interior Ministry used forensic technology to re-create the face of the suspected suicide bomber.
Some Muslims attended Christmas services in solidarity with Coptic Christians after the bombing, and demonstrators marched in support of them at Egypt's prestigious Al-Azhar University.
The bombing of the Coptic Church of the Two Saints killed 23 people -- the deadliest attack on Christians in majority-Muslim Egypt in some time, but far from the only one.
Ten days later, a gunman killed a Christian man and wounded five other Christians on a train in Egypt. One of the victims said the gunman opened fire after yelling in Arabic, "There is no God but God."
The suspect was later identified as a deputy policeman.
And last week, a man was sentenced for his part in an attack on another Coptic church a year ago, Egypt's state-run Al Ahram newspaper reported January 16.
Mohamed El-Kamouny, one of three people accused in the targeted killing of members of the Coptic Christian sect after a Christmas mass, is the first to be sentenced.
Seven people were killed -- six Copts and a Muslim guard -- in the January 2010 incident outside a church in the southern town of Naga Hammadi. Coptics observe Christmas Day on January 7.
The judge who sentenced El-Kamouny postponed the sentencing of the other two defendants until next month, Al Ahram reported.
About 9% of Egypt's 80 million residents are Coptic Christians.
They base their theology on the teachings of the Apostle Mark, who introduced Christianity to Egypt, according to St. Takla Church in Alexandria, the capital of Coptic Christianity.
The religion split with other Christians in the fifth century over the definition of the divinity of Jesus Christ.
CNN's Housam Ahmed and Talal Abu Rahma contributed to this report.
FOLLOW THIS TOPIC