STORY HIGHLIGHTS
Amnon Weinstein and his son restore violins confiscated from Holocaust victims
Weinstein: "Today I am like a policeman. I can identify which one suffered, which didn't"
They endeavor to restore battered violins, some which bear the Star of David
The instruments have been played in orchestras throughout the world
Tel Aviv, Israel (CNN) -- Hidden in a basement in central Tel Aviv, amidst the smell of sawdust and varnish, is a musical workshop whose owner and son have spent the past 15 years tracking down violins played by Jewish Holocaust victims and bringing the instruments back to life.
"The Germans confiscated from the Jewish people every violin, viola, cello they could and we are talking about thousands, gone with the wind," said Amnon Weinstein, working amongst the dozens of violins and bows hanging from the walls and ceilings of his unique workspace.
Weinstein is a luthier, an artisan and craftsman of string instruments. He is a relic of a bygone era, whose moustache and spectacles do little to hide his eccentric streak. He says almost all of the survivors who played in the concentration camps owed their lives to their instruments.
"The Germans needed them, to cheat the Jewish people. In the camps, if somebody was playing the violin nobody would think the next door was a gas chamber. That was the plan of these horrible people," said Weinstein, who lost close to 200 members of his family during the Holocaust.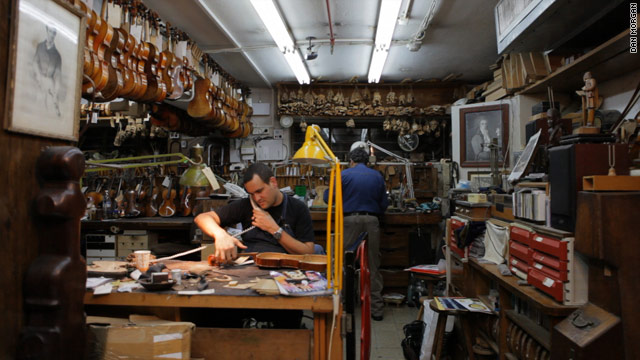 Gallery: Violins of Hope
Weinstein's own journey began after hiring a German apprentice who convinced him to lecture the German association of luthiers in Dresden on the subject of how German and Austrian instruments found their way to Israel.
Bronislaw Huberman, a violin prodigy who was born in Poland in 1882, and Arturo Toscanini, the acclaimed Italian conductor, decided to form a Philharmonic Orchestra in Palestine in 1936, Weinstein explains.
"Of course they could never have fathomed what the Nazis had planned for the Jewish people during the Holocaust, but they knew the situation was deteriorating," he said.
When the first rehearsals were held in 1936, most musicians coming to Palestine from Europe were still very fond of the German violin makers and bow makers, Weinstein said.
Weinstein's father, Moshe, emigrated in 1938 from Vilnius, then a part of Poland. Also a luthier, Moshe began servicing the instruments of Huberman and Toscanini's Orchestra.
As news of the Nazis savage campaign against the Jews of Europe reached Palestine, these musicians refused to continue playing German instruments, said Weinstein.
"People who played on German instruments either broke them or burned them, and some came to my father telling him they would throw them away if he did not buy them," said Weinstein.
It is a very complicated period that is impossible to understand, but the sound of the violin is taking us back
--Amnon Weinstein, luthier
After Weinstein's initial lecture, he launched a radio appeal for people to come forward with more stories about "Holocaust violins."
Only then did he start receiving instruments that were played in camps and that the true search for survivors began.
Scouring warehouses, antiques markets and violin shops, he found violins belonging to Jewish artisans in Poland and to Klezmer families in central Europe, from the ghettos in Warsaw and concentration camps such as Auschwitz.
Each violin, some of which bear the Star of David, tells another extraordinary story. The luthier claims he can identify a violin's history from the scuffs and scars on it.
"Today I am like a policeman. I can identify which one suffered, which didn't. Those which were in the Holocaust, came in horrible condition, so the workshop made the decision to make a concert instrument out of each one," said Weinstein, who now safeguards more than 26 of these instruments.
By his own estimation, he has volunteered the equivalent of almost $200,000 in labor on this project, but the more time passes, the harder finding these instruments becomes.
Following the end of the World War II in 1945, very few survivors came to Palestine. They could not fathom another war, and so a large percentage of them went to the United States, Weinstein said.
Upon arrival, the majority of them "put the violin in the attic and forgot about it," he said.
Violins, like memories, faded in the decades following the war as years passed and generations that followed knew little about the instruments left behind. Many of them were thrown away, but some found their way to antique dealers and violin makers, where Weinstein tracked them down.
"It is a very complicated period that is impossible to understand, impossible to explain, but the sound of the violin is taking us back to this time. Today it is difficult to convince people something like this happened. This is our mission, that everybody will understand a little bit the friction. The violin is a friction, but you can hear a sound and it is making life a little bit more understandable," he said.
The "Violins of Hope" have been played in orchestras throughout the world, including Turkey, Switzerland, Israel and the United States.
Weinstein says his search will continue so that their music and memories can continue to be shared.
FOLLOW THIS TOPIC