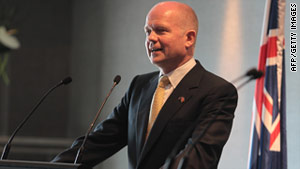 British Foreign Secretary Wlliam Hague on Sunday called for peaceful reform in Egypt.
STORY HIGHLIGHTS
NEW: U.S. military leaders talk with Egyptian counterparts and pledge to "stay in touch"
NEW: Clinton says Mubarak's promises for reforms "have to be acted upon"
Cameron and Obama "united" on "orderly, Egyptian-led transition," a UK official says
British Foreign Secretary William Hague says peaceful reform is necessary
On CNN at 9 p.m. ET Monday, "Piers Morgan Tonight" brings you the latest developments from CNN correspondents on the ground in Egypt. Then at 10 p.m. ET on "AC360║," Anderson Cooper reports live from Cairo with firsthand accounts of what's happening, and where the situation might go from here. Don't miss CNN prime time Monday, starting at 9 p.m. ET.
(CNN) -- U.S. armed forces leaders continued high-level talks Sunday with their Egyptian counterparts, applauding their "continued professionalism" and reaffirming the two militaries' partnership, a spokesman said.
U.S. Defense Secretary Robert Gates has talked by phone this weekend with Egyptian Defense Minister Mohamed Hussein Tantawi, as well as Israeli Defense Minister Ehud Barak, according to Pentagon spokesman Geoff Morrel.
Also, Egyptian Lt. Gen. Sami Enan spoke Sunday afternoon with his equivalent in the United States, Chairman of the Joint Chiefs of Staff Adm. Mike Mullen, according to Mullen's spokesman.
Mullen got an update from Enan on the situation in Egypt, and "expressed his appreciation for the continued professionalism of the Egyptian military," said Capt. John Kirby, his spokesman.
"Both men reaffirmed their desire to see the partnership between our two militaries continue, and they pledged to stay in touch," Kirby added.
These contacts came as Western diplomats continued to sound off on the situation in Egypt, where widespread lawlessness was reported following massive demonstrations calling for the ouster of President Hosni Mubarak.

Egypt: Revolt or revolution?

Will global community back protesters?

The future of politics in Egypt

Which side in Egypt does U.S. support?
U.S. Secretary of State Hillary Clinton said Sunday that Washington, among others, had "made very clear that the concrete steps for democratic and economic reform that President Mubarak mentioned in his speech have to be acted upon."
Meanwhile, British Foreign Secretary William Hague warned Sunday about the danger that Egypt -- should Mubarak exit, after 30 years in power -- could fall into the hands of extremists or a more authoritarian government.
"That is why the way forward is peaceful reform," he said.
"That requires the government of Egypt now to allow the right to peaceful protest," Hague urged. "It also requires the Egyptian people to express their aspirations in a peaceful way and it requires (a) more broadly based government, the inclusion of opposition figures in the government."
He declined to say whether Mubarak should stay in power, or whether he was capable of reform, saying it was not for the United Kingdom to choose Egypt's leader.
British Prime Minister David Cameron spoke with Jordan's King Abdullah and U.S. President Barack Obama on Sunday, according to a spokesman for the prime minister who was not identified, in line with government policy.
The prime minister and U.S. president "were united in their view that Egypt now needed a comprehensive process of political reform, with an orderly, Egyptian-led transition to a government that responded to the grievances of the Egyptian people and to their aspirations for a democratic future," the spokesman said.
The previous day, Cameron joined with France and Germany to urge Mubarak to do all he can to prevent bloodshed and speedily fulfill his promises of reform.
They called on Egypt's leader to institute substantive policy changes in short order as well as new, open elections.
"It is essential that the further political, economic and social reforms President Mubarak has promised are implemented fully and quickly, and meet the aspirations of the Egyptian people," said a joint statement issued by Cameron, French President Nicolas Sarkozy and German Chancellor Angela Merkel.
"The Egyptian people have ... a longing for a just and better future," the statement continued. "We urge President Mubarak to embark on a process of transformation, which should be reflected in a broad-based government and in free and fair elections."
Acknowledging the "moderating role" played by Mubarak in the Middle East, the Western leaders urged him to "show the same moderation" in Egypt and allow people to demonstrate peacefully. They also called for "full respect for human rights and democratic freedoms, including freedom of expression and communication."
Meanwhile, Washington kept up pressure on the Egyptian leader while also convening regular national security meetings to assess the situation and decide how to safeguard U.S. citizens and interests.
One such meeting, led by Deputy National Security Advisor Denis McDonough, was held at 9 a.m. Sunday, according to National Security Council spokesman Tommy Vietor. Later in the day, Obama got a briefing from members of his national security staff.
A day earlier, Obama talked by phone with Turkish Prime Minister Tayyip Erdogan, Israeli Prime Minister Benjamin Netanyahu and Saudi King Abdullah. In those calls, Obama expressed support for "an orderly transition to a government that is responsive to the aspirations of the Egyptian people," according to a White House statement.
FOLLOW THIS TOPIC