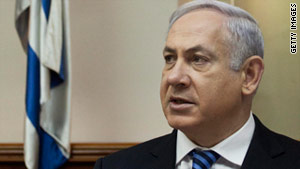 With Egypt in turmoil, Prime Minister Benjamin Netanyahu says the Israeli-Egyptian relationship hangs in the balance.
STORY HIGHLIGHTS
Israel's prime minister calls fundamentalism a threatening prospect in Egypt
One expert cautions against drawing comparisons between Egypt, Iran
Israelis in Jerusalem express mixture of hope and fear for the outcome of unrest
(CNN) -- The possibility of Islamic fundamentalists taking power in Egypt represents a "tremendous threat" to three decades of cooperation between Egypt and Israel, Prime Minister Benjamin Netanyahu told reporters in Jerusalem Monday.
"Our real fear is that you have a situation that may develop of very quick changes taking place" that are devoid of modern democracy and "where you see the form of fundamentalist Islam," Netanyahu said at a news conference to mark a visit by German Chancellor Angela Merkel.
Referring specifically to the Muslim Brotherhood (banned in Egypt, it is nonetheless that nation's largest opposition group), Netanyahu noted that although the causes of the current upheaval in Egypt lay in economic and social strife rather than religious extremism, "there is a possibility that an organized force will take advantage of the situation."
Comparisons of the uprising to that preceding the Iranian Revolution have abounded in the Western media. In 1978, a popular revolt against the shah was co-opted by Islamic fundamentalists, leading to the establishment of a strongly anti-West, anti-Israel theocracy in Tehran.
At least one expert on Middle East politics cautions that the comparisons don't hold up, and downplayed both the perception of the Muslim Brotherhood as "fanatic religious militants" and the influence of radical fundamentalism in the uprising against Egyptian President Hosni Mubarak.
"The popular upheaval in Egypt is composed of a mosaic of groups and organizations, almost all of which advocate the establishment of a civilian and democratic regime," Yoram Meital, chairman of the Chaim Herzog Center for Middle East Studies at Ben Gurion University, wrote in an opinion piece published Monday in the daily newspaper Yedioth Aornoth.
"Furthermore, the people who turned Egypt into a strategic ally of the U.S. are alive and well," Meital wrote. "The army, the main seat of power, is well aware of the critical importance of continuing to cooperate with the West."
However, according to Meital, the "the isolation policy that Israel forced on the Gaza Strip with help from Mubarak" will have consequences.
A new Egyptian regime likely will "turn over a new leaf" in relations with Hamas, which controls the Palestinian territory sandwiched between Israel and Egypt, and "may play up the harsh criticism among many sectors in Egyptian society toward Israeli policy," Meital wrote.
The U.S.-brokered Camp David accords, signed by Israeli Prime Minister Menachem Begin and Egyptian President Anwar Sadat in 1978, ended a generation of hostilities between the two nations. It forged a relationship that has endured, in part, because of the stability of the Mubarak regime -- which came to power after Sadat was assassinated in 1981 -- and in spite of deep animus among rank-and-file Egyptians toward Israel.
Some Israelis at a cafe in Jerusalem told CNN they are afraid the accords might be swept aside, even as they were hopeful for positive change within Egypt.
"This is a dangerous neighborhood that we live in, and stability is a good thing," Rabbi Levi Kelman said, "and these changes in Egypt make us very nervous.
"On the other hand, of course, we want there to be more openness in Egypt. That would also be good for our region. But there is no way to know which way the changes are going to go."
Barbara Goldstein said Camp David represented "a bold step on our part and on the part of Anwar Sadat."
"We hope it's forever," Goldstein said, "(and that) it will last as long as the ... well, what should I say ... as the Pyramids."
CNN's Kevin Flower in Jerusalem contributed to this report
FOLLOW THIS TOPIC