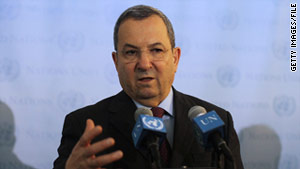 Israeli Defense Minister Ehud Barak says he is not worried about his nation's relationship with Egypt.
STORY HIGHLIGHTS
Ehud Barak cautions against rushing into elections
Barak says he's inclined not to trust the Muslim Brotherhood
Ambassador says Egypt-Israel treaty will remain intact
(CNN) -- Israel's defense minister said Sunday he is not concerned the relationship between his nation and Egypt will fray with the departure of longtime Egyptian President Hosni Mubarak, but cautioned against rushing into elections.
"I don't think the relationship between Israel and Egypt is under any risk or that there is any kind of operational risk awaiting us," Ehud Barak told ABC's "This Week."
But, he said the "real winners" of any short-term election, held within 90 days, for example, will be the Muslim Brotherhood, "because they are already ready to jump."
"Usually (in) revolutions, if they are violent, there is an eruption of idealist sentiment at the first moment," he said. "And later on, sooner than later, the only group which is coherent, focused, ready to kill and be killed, if necessary, takes power. That should be avoided in Egypt. That could be a catastrophe for the whole region."

Egypt's influence on region

Egypt suspends constitution

Egypt's new government in six months?
The Muslim Brotherhood, an opposition Islamist umbrella group that is officially banned but tolerated in Egypt, said last week it wants to promote democracy but does not intend to field a candidate for president. It has also taken a low profile during the revolution.
Asked whether he believes its claims, Barak said, "I tend not to believe radical Muslim movements. I should admit, to the best of my understanding, they did not initiate (the revolution)." However, he said, "they are always deployed to take advantage of it."
He did note that the organization should not be compared to the more extremist groups, saying, "many of (the Muslim Brotherhood) are less extremist."
Lt. Gen. Sami Anan, the chief of staff of Egypt's armed forces, said Saturday that Egypt will still honor international treaties and commitments -- a statement perhaps aimed at calming a jittery Israel, which has quietly watched the dramatic change unfold in its Arab ally. The two nations signed a peace treaty in 1979.
Israelis welcomed the Egyptian statement. Barak spoke on the phone with his Egyptian counterpart Hussein Tantawi, who heads the supreme council, the Israeli Defense Ministry said.
"Egypt is a country of institutions, and has always made it a point to honor its legal commitments," Sameh Shoukry, Egypt's ambassador to the United States, told CNN's "Fareed Zakaria GPS" on Sunday. "This is a legal commitment that's undertaken, one which one could expect, and rightfully so, that it would be upheld. The peace treaty has benefited Egypt, has benefited the region in terms of creating stability and peace and giving an opportunity for Egypt to concentrate on its development. ... It has been in the best interests of the Egyptian people."
FOLLOW THIS TOPIC