At least 14 injured in northern Iraq protests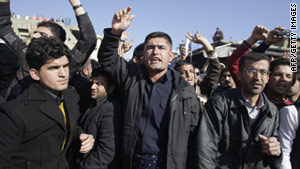 Clashes Saturday between police and protesters in Iraq's autonomous Kurdish region left 14 people injured.
STORY HIGHLIGHTS
At least 14 people are injured as protesters and police clash again in Sulaimaniya
Protesters are angry over the police response to demonstrations Thursday that left one person dead
Government and opposition leaders are scheduled to meet Monday for talks
(CNN) -- Clashes Saturday between police and protesters in Iraq's autonomous Kurdish region left 14 people injured, according to a regional health official.
Witnesses said police used water cannons and fired weapons over the heads of rock-throwing demonstrators in Sulaimaniya, who had taken to the streets to protest the violent response of security forces that killed one demonstrator and injured 57 after they attacked the local offices of ruling Kurdistan Democratic Party.
The Kurdistan regional president, Massoud Barzani, heads the party and became a target of protesters' anger on Saturday.
"We demand an apology from Massoud Barzani to the people of Sulaimaniya for his guards' shootings," one banner carried by protesters read.
Saturday's protesters shouted "Down, down with Massoud Barzani" in a demonstration that began at 11:30 a.m. and lasted several hours.
The clash with police happened when dozens of protesters attempted to attack the local KDP headquarters for a second time. Among the injured was a police officer.
Most of those hurt suffered minor injuries, according to Raytok Hama Salih, the head of the health department in Sulaimaniya province.
The violence followed another demonstration by hundreds of students at Sulaimaniya University seeking the release of people arrested in previous protests and the prosecution of a local party official they said ordered security forces to open fire.
On Thursday, Barzani issued a statement saying the protests were the work of a "very small group of people determined to undermine the stability of the region."
In a statement issued Saturday on the Kurdistan Regional Government website, provincial officials said an investigation into Thursday's shooting is under way.
Thursday's demonstrators were angry about corruption, the quality of basic services and unemployment, Salih said.
Provincial officials urged calm and respect, even as Iraq's parliament was forced to take a one-hour break following a shouting match between a lawmaker loyal to Barzani and a member of the opposition Goran Party.
The regional government is organizing a meeting between government leaders and representatives of opposition groups scheduled for Monday, according to the statement.
Kurdistan region Prime Minister Barham Salih said the Goran Party, as well as the Kurdistan Islamic Union and the Kurdistan Islamic Group were being invited, according to the statement.
The protests Saturday are the latest in a string of recent demonstrations across Iraq, apparently inspired by popular uprisings in Egypt and Tunisia and focusing on complaints of rampant unemployment and poor government services.
In Baghdad Saturday, hundreds of people rallied to demand that the government give orphans and widows monthly stipends.
CNN's Mohammed Tawfeeq and journalist Shirko Abdullah contributed to this report.
FOLLOW THIS TOPIC