4 killed in attack on Iraq's largest oil refinery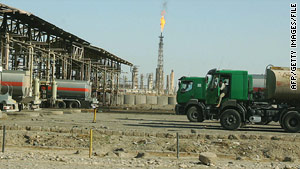 The Baiji oil refinery, north of Baghdad, is Iraq's largest such facility, producing 150,000 barrels a day
STORY HIGHLIGHTS
NEW: The refinery's five units produce gasoline, benzene and kerosene
NEW: Oil pipelines and refineries have been the target of terrorists in past attacks
Attackers plant 10 bombs in the oil refinery, police say
Two engineers and two technicians are killed
Baghdad (CNN) -- Gunmen attacked Iraq's largest oil refinery Saturday, killing four workers and forcing the facility north of Baghdad to shut down completely, authorities said.
A crew of at least four attackers entered the Baiji oil refinery at about 4:30 a.m., killed two engineers and two technicians and planted about 10 bombs around one of the production units, police said.
The explosion caused a large fire, and technicians at the refinery said it could take two years to fix the damage caused by the attack.
The five production units at the Baiji refinery produce 150,000 barrels per day of gasoline, benzene and kerosene, refinery officials said.
During sectarian violence in Iraq in 2005 and 2007, al Qaeda militants and other terrorist groups carried out many attacks on oil pipelines and refineries.
FOLLOW THIS TOPIC