No decision yet on Egyptian presidential run, Moussa says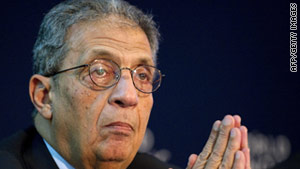 State news agency MENA reported Sunday that Arab League chief Amre Moussa had decided to run for president in Egypt.
STORY HIGHLIGHTS
Egyptian state media reported that Amre Moussa is running for president
Moussa told CNN that he has not made up his mind yet
He is the chief of the Arab League
(CNN) -- Arab League chief Amre Moussa told CNN Sunday that he has not decided whether he will run for the Egyptian presidency, denying a report in Egyptian state media.
Earlier Sunday, the state news agency MENA reported that Moussa would run for president.
A high profile Egyptian, Moussa had joined demonstrators in calling for former President Hosni Mubarak's ouster, but has not said whether he would run to succeed him.
After Mubarak fell, Moussa said that Egyptians are "looking forward to a different future" and hoping for "a better future."
Moussa has said he would like to see free and fair elections held in the next six to seven months, and that Egypt needs to have a "modern constitution" that promises tolerance in light of what he called a "renewed, positive relationship (across) all sections of Egyptian society."
FOLLOW THIS TOPIC