Oman to investigate unrest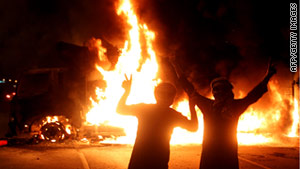 Omani protesters jump in front of burning vehicles during demonstrations in Sohar on February 27.
STORY HIGHLIGHTS
Authorities cite fires, vandalism, property damage
Protesters have had many demands
Much of world's oil shipping passes through strait near Oman
(CNN) -- Authorities plan to launch probes into rioting and vandalism in Oman, where protesters recently have staged anti-government demonstrations, the Gulf state's news agency reported Saturday.
Oman's public prosecutors cited the setting of fires, damaging public and private property, blocking roads and impeding traffic flow in the city of Sohar and other locations. It said it will "initiate investigations against those who incited and carried out such acts.
"All these acts are against the laws, the tenets of the Islamic Sharia and the morals of the Omani society are known for," the prosecutors said in a statement reported by the Oman News Agency.
"While the freedom of opinion and expression is secured by the Basic Law of the State, the Basic Law also provides sanctuary to the public property. It also makes it obligatory for the citizens and residents as well to preserve them. It also provides for protection and prevention of assault on private property."
There have been protests recently in the key port city of Sohar and other places this week, and one person was killed on Monday. There have been reports of attacks on property and sources said demonstrators in Sohar have blocked routes to the port and the industrial zone, prompting port staff to leave work.
Protesters' demands include greater freedom of expression, higher salaries, a clampdown on government corruption, a new constitution, and the prosecution of security officials whose actions led to the death of demonstrators.
Oman's sultanate is making changes on the heels of the Sohar protests. The news agency said Saturday that Sultan Waboos bin Said replaced three high-level government figures.
Oman is not a major oil producer, but a significant share of the world's oil shipping passes through the Strait of Hormuz, along the Omani coast.
FOLLOW THIS TOPIC


Part of complete coverage on

Pro-Mubarak supporters believe Egypt's former president is innocent of charges of corruption and killing protesters.

Fighting in Libya started with anti-government demonstrations in February and escalated into a nationwide civil war.

After months of seeming stalemate, Libyan rebels declared they were moving in on Tripoli. But who are they?

Six months and more than 17,000 air sorties after it began, NATO's Operation Unified Protector in the skies over Libya grinds on.

Click on countries in CNN's interactive map to see the roots of their unrest and where things stand today.

Are you in the Middle East or North Africa? Send iReport your images. Don't do anything that could put you at risk.

Behind the official smiles for the cameras some people in Libya's capital are waiting for the rebels, reports CNN's Ivan Watson.

Tunisia's Mohamed Bouazizi not only ignited a series of revolts but heralded the first appearance of Arab youth on the stage of modern history.


Today's five most popular stories