UAE citizens petition for direct elections and legislative powers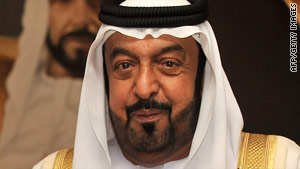 A group of UAE nationals has petitioned President Sheikh Khalifa bin Zayed Al Nahyan for direct elections.
STORY HIGHLIGHTS
Petition asks that parliament be democratically elected and be given legislative powers
The group includes academics, former government officials, journalists and activists
The UAE is made up of seven emirates
For a clickable map of the Middle East and Africa that shows the latest news and explains the roots of the unrest, go to www.cnn.com/interactive/2011/02/world
/map.unrest.fullpage/.
(CNN) -- A group of 133 United Arab Emirates nationals have petitioned the president of the country for direct elections.
It includes academics, former government officials, journalists and activists, said Ahmed Mansoor, one of the petitioners.
The petition comes in the midst of a wave of unrest and political change across the region that has brought new leadership to Egypt and Tunisia.
The petition is addressed to President Sheikh Khalifa bin Zayed Al Nahyan and the members of the Supreme Council of the seven Emirates that form the U.A.E.

Rudd: Desire for freedom is universal
In addition to elections, the group is also asking that the Federal National Council be granted legislative powers. The body only works in an advisory capacity and has no regulatory powers.
"The group called for a comprehensive reform of the parliamentary system of the Federal National Council (the Parliament), and included demands for free elections by all citizens," Mansoor said in an email. "It also demanded reform of legislation governing the work of the Parliament to include legislative and monitoring authorities and calling for necessary constitutional amendments to ensure that."
Despite widespread political unrest across the Middle East and North Africa, there have been no protests in the U.A.E. Demonstrations aren't technically illegal, but police never grant permits for them.
CNN's Jennifer Fenton contributed to this report.
FOLLOW THIS TOPIC


Part of complete coverage on

Pro-Mubarak supporters believe Egypt's former president is innocent of charges of corruption and killing protesters.

Fighting in Libya started with anti-government demonstrations in February and escalated into a nationwide civil war.

After months of seeming stalemate, Libyan rebels declared they were moving in on Tripoli. But who are they?

Six months and more than 17,000 air sorties after it began, NATO's Operation Unified Protector in the skies over Libya grinds on.

Click on countries in CNN's interactive map to see the roots of their unrest and where things stand today.

Are you in the Middle East or North Africa? Send iReport your images. Don't do anything that could put you at risk.

Behind the official smiles for the cameras some people in Libya's capital are waiting for the rebels, reports CNN's Ivan Watson.

Tunisia's Mohamed Bouazizi not only ignited a series of revolts but heralded the first appearance of Arab youth on the stage of modern history.


Today's five most popular stories