STORY HIGHLIGHTS
NEW: IDF says Israeli planes carried out two airstrikes on Gaza
Clinton says continued violence endangers peace process, Palestinian state
The Jerusalem mayor labels the blast a "cowardly terrorist attack"
The Palestinian prime minister condemns the incident, calling it "disgraceful"
Jerusalem (CNN) -- A woman was killed and more than 50 other people were wounded in a blast near Jerusalem's central bus station, as the evening rush hour began Wednesday, authorities said.
Mayor Nir Barkat condemned the terrorist attack as "cowardly."
The explosion took place in a crowded area with "a lot of civilians and two buses," said Yonatan Yagadovsky, a spokesman for Israel's emergency services.
"Three to four are in critical condition. The rest of the casualties are moderately to lightly injured," he said before the woman's death was announced. The injuries came from both the force of the blast and from flying shrapnel, he said.
Wednesday's explosion was caused by a medium-sized device in a bag that had been left near the bus station, Israeli police and medical officials said. There was no immediate claim of responsibility for the terrorist attack.
David Horovitz, the editor-in-chief of the Jerusalem Post, said it was odd for an unattended bag to go unnoticed in security-conscious Israel.
All the people hurt in the blast were located between the bus station and a bus, police spokesman Micky Rosenfeld said.

Jerusalem's first fatal bombing in years

Bomb attack stuns Jerusalem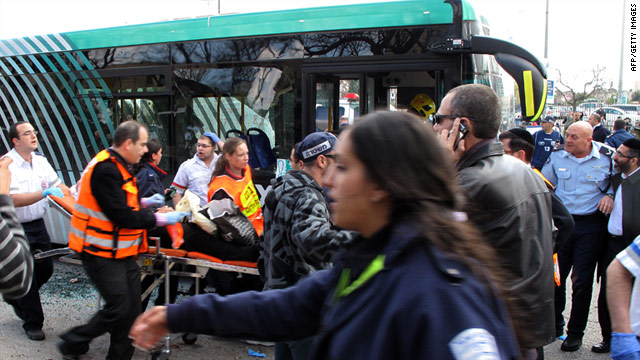 Explosion rocks central Jerusalem

Jerusalem mayor calls attack 'cowardly'
The wounded included two pregnant women, Yagadovsky said.
The attack occurred just two days before Jerusalem was scheduled to host its first marathon. Runners on Wednesday were picking up race packets at a convention center near the bus station.
Among them was Wisconsin pastor Roger Ellis, who had just left the convention center when the explosion occurred. Ellis told CNN he and his wife were on a tour of the city when a taxi driver pulled up beside the bus and yelled at their guide.
"We heard him say there was a bombing, and where it had happened, and I thought, 'No way. Are you kidding me?'" Ellis said. "Just the look of our tour guide's face -- she got teary."
For the next several hours, Ellis said he saw numbers of people trying to reach loved ones and talking on their cell phones about the explosion.
"What I didn't see was panic," Ellis said. "Word of mouth was spreading like crazy, but I never saw anyone panic."
Prime Minister Benjamin Netanyahu announced that he was delaying a trip to Moscow by several hours to consult with security officials about the incident.
Defense Minister Ehud Barak issued a statement saying, "We will not tolerate the harming of Israeli citizens, not in the towns in the south and not in Jerusalem ... There will be ups and downs, not everything will end tomorrow, but we are determined to bring back security and calm."
Word of mouth was spreading like crazy, but I never saw anyone panic
--Roger Ellis, a U.S. pastor visiting Jerusalem
Palestinian Prime Minister Salam Fayyad condemned the bombing as a "terrorist act" and said it was counter-productive to the Palestinian cause.
"It is disgraceful ... and greatly damaging to the struggle ... that there is still a Palestinian party that insists on these actions and the disgraceful scenes under empty slogans that are no longer valid for our people," he said in a statement.
"These actions are in contravention with the legitimate quest to obtain freedom by peaceful means," he said.
International condemnation -- from Britain, the United Nations and the United States -- was swift.
"I condemn in the strongest possible terms the bombing in Jerusalem today, as well as the rockets and mortars fired from Gaza in recent days," U.S. President Barack Obama said in a written statement. "There is never any possible justification for terrorism."
The blast came after an unusually intense period of hostilities between Israel and the Palestinians. At least 10 Palestinians have been killed since Saturday, including four militants and two children who died in an Israeli strike that appears to have missed its intended target.
Obama underscored Israel's "right to self-defense" but also expressed condolences for the Palestinian deaths in Gaza.
"We stress the importance of calm and urge all parties to do everything in their power to prevent further violence and civilian casualties," he said.
Israel submitted a letter of complaint to the U.N. Security Council, calling the bombing a terrorist attack and noting an increase over the past several days in violence targeting Israeli civilians "by Hamas and other Palestinian terrorist organizations."
U.S. Secretary of State Hillary Clinton, in a statement, warned that continued violence could damage the national aspirations of both Israelis and Palestinians.
"Violence only erodes hope for a lasting and meaningful peace," Clinton said, "and the final realization of two states for two peoples."
Also Wednesday, two Katusha rockets fired into Beer Sheva in southern Israel wounded a man and damaged buildings, including a synagogue, Israeli U.N. Ambassador Meron Reuben wrote in the letter, and a third rocket landed near the city of Ashdod. In addition, he said, eight mortars were launched into southern Israel.
He said the attacks on Beer Sheva and Ashdod "provide another clear example of the dangerous and destabilizing consequences of the continued illegal smuggling of arms into the Gaza Strip." Israel expects the council and U.N. Secretary-General Ban Ki-moon, as well as the international community, "to condemn all of these attacks in very clear terms and send a firm message to these terrorists and their patrons, which seek to escalate conflict," the letter said.
Jerusalem was put on heightened security after the blast, Rosenfeld said. There had been no specific intelligence warning of plans for an attack in the city before the explosion, he said.
"This is something that happens rarely, and we hope to keep it that way," Barkat told CNN.
He said he hoped security forces would find the people responsible and "bring them to justice."
The blast "brings very bad memories to us," Yagadovsky said. "It was relatively very quiet," he said, adding that Israel had not had "this type of terror attack for a very, very long time."
Ellis said he still planned to run in the marathon and carry out his plans to travel to Egypt and Jordan in the coming weeks. "I'm going to do what I came to do," Ellis said.
Separately, a spokeswoman for the Israel Defense Forces said Israeli warplanes carried out two strikes overnight in Gaza. One of them struck a smuggling tunnel in southern Gaza and the other a "terror activity site" in northern Gaza, she said.
The attacks were carried out in response to a barrage of Grad and Qassam rockets and mortar shells fired from Gaza into southern Israel in recent days.
Since Saturday, the spokeswoman said, 50 mortars and more than 25 military projectiles, including four Grad rockets, have been launched into the Israeli cities of Ashkelon, Ashdot, and Beer Sheba.
She said the IDF was not aware of any casualties.
CNN's Kevin Flower, Michal Zippori and Kareem Khadder contributed to this report
FOLLOW THIS TOPIC