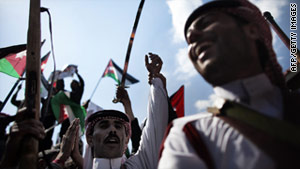 Jordanian government supporters gather in front of the old palace Saturday in Amman.
STORY HIGHLIGHTS
Clashes between government forces and protesters injured dozens on Friday
Opposition groups are renewing their calls for government reforms
The death of one protester appears to be spurring the opposition movement
Amman, Jordan (CNN) -- Calm settled over the Jordanian capital Saturday, a day after bloody clashes between protesters and government loyalists left dozens injured.
But tensions remained high as opposition groups continued to demand the resignations of the country's prime minister and senior security officials.
One anti-government group appeared to gain more support from other members of the opposition. Several heads of trade unions announced they have joined the March 24th movement, a youth group that includes Islamists, leftists and independents. And the main Islamist opposition group in the country also said it would support the movement's demands -- mainly the call for Prime Minister Maarouf al-Bakhit to step down.
Firas Mahadeen, a leading member of the movement and a young leftist activist, told CNN that the group will continue "peaceful protests" and that the situation now is at a "point of no return."
"The Jordanian people will rise. ... All Jordanians are 24th of March," said Mahadeen, his head bandaged after he was injured in Friday's clashes.
The group branded itself as the March 24th movement after the start of a sit-in Thursday near Jamal Abed Alnasser square.
The second day of the demonstration turned violent as government loyalists clashed with protesters calling for the dissolution of parliament, an elected government and constitutional reforms.
Dozens were injured as the two sides converged in a hail of rocks and swinging sticks, according to protest organizers and the government. At least 62 people and 58 security force members were injured, the country's General Security Directorate said.
Al-Bakhit blamed the clashes on the country's powerful Islamic Action Front -- the political wing of the Muslim Brotherhood -- accusing the group of trying to stir strife in the country.
He said members of the group were receiving directives from other brotherhood figures in Syria and Egypt.
Mahadeen rejected the claim, saying that while there were Islamists among the protesters, there were also others from leftist groups and independents.
One man died of a heart attack in Friday's protests, officials said. Among those calling for the dismissal of government officials were family members of the 56-year-old protester.
The brothers and sons of Fakhri Jamil blamed the heart attack on beatings they say he sustained from security forces and "thugs."
The family rejected the official death certificate and said they will not bury him until they have an investigation into the circumstances of his death, an amended death certificate that reflects what they believe was the real cause of death and the firing of the prime minister, interior minister, head of intelligence and other top security officials.
"We will not move from this hospital until his majesty the king comes here and sees who is to blame," Jamil's brother, Said Jamil, told CNN. "We want justice for our brother so his blood is not wasted in vain."
Fakhri Jamil's death appears to be spurring the growing protest movement. Protesters said they will hold a large funeral procession for him, and new leaflets have been posted with the slogan "We are all Fakhri Jamil," mirroring one used during the uprising in Egypt that toppled President Hosni Mubarak. Protesters there rallied behind the campaign "We are all Khalid Said," referring to a man allegedly beaten to death by police in Alexandria.
Meanwhile Saturday, Jordanian Interior Minister Saad Hayel Srour and Gen. Hussain al-Majali, the head of Jordan's Public Security Department, held a press conference to address Friday's clashes.
The officials said gatherings such as the one held Friday that occupy a main area and disrupt life will not be tolerated, adding that security forces have allowed peaceful protests in the kingdom for more than 12 weeks.
Al-Majali said security forces should not be accused of any shortcomings or negligence during Friday's protest, noting that had they not intervened during the clashes, "today we would have had funerals that cannot be counted."
Instead, al-Majali said, security forces practiced a high level of restraint Friday and intervened only to prevent bloodshed and protect the lives of citizens.
A CNN team in Amman on Friday witnessed some security forces beating up anti-government protesters.