Kuwait ministers resign, news agency says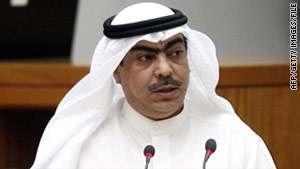 Members of the Kuwait Cabinet, including Minister of State for Cabinet Affairs Roudhan al-Roudhan, have resigned, according to the state-run Kuwait News Agency.
STORY HIGHLIGHTS
The emirate's cabinet quits, citing "negative aftershocks" of recent developments
Rulers and governments have resigned across the Arab world in the face of protests
(CNN) -- The Kuwaiti cabinet has resigned, the state-run Kuwait News Agency reported Thursday.
The government ministers made their move "following the recent local developments and their relevant negative aftershocks on the country's national unity, security and stability," the agency cited cabinet minister Roudhan Al-Roudhan as saying.
The decision came during a special meeting Thursday afternoon, the agency said.
The emirate's ruler, Sheikh Sabah Al-Ahmad Al-Jaber Al-Sabah, is expected to appoint replacements.
Last month, protesters clashed with security forces in Kuwait, demanding greater rights for longtime residents who are not citizens of the country.
Kuwait has been wrestling with the question of rights for non-citizen residents for decades. The country is believed to have roughly 100,000 residents who are not citizens.
Popular protests have forced the resignations of governments in Syria and Jordan, while leaving rulers in place.
Demonstrations forced out the presidents of Egypt and Tunisia. Violence continues between demonstrators and security forces in Yemen, and anti-government protests in Libya have descended into civil war.