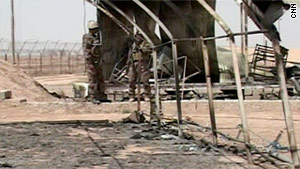 The Iraqi military organized a trip for journalists to Camp Ashraf, the site of deadly violence earlier this week.
STORY HIGHLIGHTS
The Iraqi military takes reporters to Camp Ashraf
Protests met the journalists, who were prevented from talking to the camp's residents
The Iranian exiles in the camp say Iraqi security forces killed at least 31 people
An Iraqi spokesman says exiles attacked troops, injuring eight
Camp Ashraf, Iraq (CNN) -- Angry protests met members of the Iraqi military and reporters Saturday at Camp Ashraf, a refugee camp sheltering Iranian dissidents and the site of deadly violence earlier this week.
Camp Ashraf is located in Diyala province, the base of the People's Mujahedeen of Iran. The PMOI, also known as the Mojahedin-e Khalq Organization, has opposed the Iranian government for decades.
The Iranian exiles in Iraq have said that security forces invaded their refugee camp and killed at least 31 people. Hundreds more were injured in the Friday assault, the PMOI said.
Iraqi officials, meanwhile, have said that security forces were attacked by members of the PMOI and were forced to respond.
"They have carried out illegal actions against Iraqi security forces and wounded eight of them," Defense Ministry spokesman Mohammed al-Askari told reporters at the camp.
The ministry organized a trip for journalists to Camp Ashraf, but officials prevented reporters from speaking with residents. Camp dwellers staged angry protests, hoisting banners and inviting journalists to talk to them.
"Please journalists -- come visit us and check on our people," one sign read.
"Suppression of civilians is a crime and the perpetrators should be punished," read another.
Some Ashruf residents carried pictures of people they say were killed in the violence.
At one point, a local journalist tried to interview Ashraf residents but security forces pushed him back. The reporter began shouting at a solider. Other journalists and soldiers intervened and the situation was defused.
Iraqi defense officials later took journalists to a military clinic inside Camp Ashraf to film and interview a number of security forces they say were wounded in the Friday violence.
"We were at a checkpoint to provide protection for them (Ashraf residents), but all of the sudden they attacked us with stones and iron bars," said Haider Adel, a wounded policeman.
Mark Toner, the acting deputy State Department spokesman, said Friday the United States "is deeply troubled" by the reports of violence and casualties.
"Although we do not know what exactly transpired early this morning at Ashraf, this crisis and the loss of life was initiated by the government of Iraq and the Iraqi military," he said in a statement. He did not elaborate.
People's Mujahedeen representatives have posted videos online showing what appear to be Iraqi troops shooting at small crowds of men and at least one case of a military vehicle ramming into a man. They also show at least seven dead and an unclear number of wounded men.
CNN could not confirm that the videos, which are edited, were filmed at the camp overnight.
In July 2009, similar clashes between citizens of Camp Ashraf and Iraqi police led to the deaths of 12 residents. The camp has been the subject of debate in Iraq since American forces relinquished control of it in 2009.
The Iraqi government has previously proposed dismantling the camp, a move its residents strongly oppose, as they fear being deported to a hostile Iran.
Since the U.S.-led invasion in 2003, relations between Iran and Iraq have improved. A majority of Iraq's new government is composed of Shiite Muslims, the majority religion in Iraq.
Some top Iraqi government officials lived in Iran in the Saddam Hussein era.
Iran has long urged Iraq to get rid of Camp Ashraf and the opposition group there, and Iraq's failure to do so is a point of tension between the two countries.
Tehran considers the PMO to be a terrorist outfit, as does the United States. The European Union does not.
CNN's Mohammed Tawfeeq contributed to this report