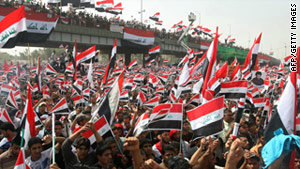 Iraqis protest on the eighth anniversary of the fall of Saddam Hussein's regime against the American troop presence in Iraq.
STORY HIGHLIGHTS
NEW: Bombs kill 10 in Khan Bani Saad
NEW: A blast in northeast Baghdad kills a police officer
The death toll rises to six in a Falluja bombing
A blast in Baghdad kills three
Baghdad (CNN) -- Violence in Iraq killed 20 people and injured 37 on Monday, authorities said.
In Khan Bani Saad, a city in the eastern Diyala Province, two roadside bombs exploded, killing 10 and wounding two, officials with the Iraqi Interior Ministry said. The first blast occurred outside a house. The second blast hit as residents gathered to help people wounded in the initial attack.
Separately, an Iraqi police officer was killed and his driver critically wounded Monday when a sticky bomb attached to his car exploded in a northeast Baghdad neighborhood, the ministry officials said.
In Falluja, the explosions of a roadside bomb and two car bombs killed six and wounded 23, police said. First a bomb in a trash container exploded. It caused no casualties but attracted security forces and a bomb-disposal team, police said. Then a parked car exploded, killing and wounding several, police said. A third bomb exploded later, killing and injuring more people, police said.
At least three Iraqi security forces were among the dead in central Falluja. Local authorities imposed a full curfew on pedestrians and vehicles in the Falluja's al-Andulus neighborhood, where the explosions occurred.
Meanwhile, in southeastern Baghdad, a roadside bomb explosion in a commercial area killed three civilians and wounded 11 others, officials at the Iraqi Interior Ministry said.
One person was seriously hurt in another explosion in central Baghdad.
Government figures show the death toll in Iraqi violence has been rising. In March, 247 Iraqis were killed, up from 197 people in February. Another 370 people were wounded in March.
Overall, violence in Iraq has dropped dramatically since the peak of the sectarian violence between 2005 and 2007, but mortar attacks, bombs and assassinations are still commonplace.
The latest wave of violence in the country, especially in the past two weeks, has raised questions over the ability of Iraqi security forces to protect the country as U.S. troops plan to leave Iraq.
American troops are scheduled to depart from Iraq by year's end under a bilateral agreement between the Iraqi government and the United States.
But if violence increases and instability persists, it is possible both countries could agree to keep some U.S. troops in Iraq, which now has about 47,000 American soldiers. The figure is down from a high of 171,000 in 2003.
Kurdish lawmaker Mahmoud Othman told CNN there is a possibility that Iraqi government officials could ask the U.S government to keep some troops in Iraq beyond 2011.
"There is a possibility, you can't exclude it, but till now the government says that they will not ask for it and, you know, the U.S. government, they think it's necessary ... but they don't want themselves to ask for it because if they ask for it will affect (President Barack) Obama's position," Othman said.
"So they (U.S. officials) ask the Iraqis to ask for it," he added. "The Iraqis are reluctant because of different reasons, internal and external reasons."
U.S. Defense Secretary Robert Gates recently made an unannounced visit to Iraq and discussed American troop presence with top officials, including Iraqi Prime Minister Nuri al-Maliki.
"My message to them was if there is to be a presence or they still need help, we are open to that possibility. But they have to ask, and time is running out in Washington because we have a lot going on around the world and we've got to make some decisions," Gates said.
"It obviously would be a presence that's a fraction of the size of the one we have here now. But it's really up to the Iraqis at this point." he added.
FOLLOW THIS TOPIC