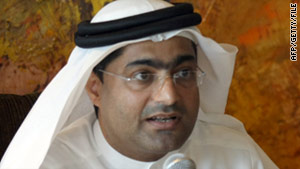 One of the five detained is Ahmed Mansour (pictured in January), a prominent human rights activist.
STORY HIGHLIGHTS
NEW: Elections to a national advisory board have been scheduled for September
NEW: UAE authorities recently dissolved the board of a prominent non-governmental organization
The five are being held in "preventative custody," a state-run news agency said
They face accusations including opposing the government
Abu Dhabi, United Arab Emirates (CNN) -- Authorities in the United Arab Emirates have arrested a prominent human rights activist and four others on accusations that include opposing the government, the state-run WAM news agency reported Monday.
The five were "held in preventative custody" on accusations that they committed crimes that include undermining the public order, opposing the government system and insulting the president, vice president and crown prince of Abu Dhabi, the news agency said.
It identified one of the five as Ahmed Mansour Ali Abdullah Al Abd Al Shehi, more commonly known as Ahmed Mansour. He is a "leading human rights activist who had publicly called for political freedoms and an elected parliament," Human Rights Watch said. Mansour also is a member of Human Rights Watch's Middle East advisory committee.
Attorney General Salim Saeed Kubaish said the five "were arrested on order of the public prosecution and questioned in the presence of their lawyers," the news agency said.
The others who were arrested are Nasser Ahmed Khalfan bin Gaith, Fahad Salim Mohammed Salim Dalk, Hassan Ali Al Khamis -- all of the United Arab Emirates -- and Ahmed Abdul Khaleq, who "does not carry identification papers," the news agency reported.
The arrests came on the heels of a recent decision by the UAE's government to dissolve the elected board of directors of the Jurist Association, a prominent civil rights organization in that country, and replace it with state appointees, according to Human Rights Watch.
The Jurist Association was one of four non-governmental organizations that sent a petition last month to UAE President Sheikh Khalifa bin Zayed Al Nahyan and other authorities asking for direct elections. The petition also requested greater legislative power in the small Persian Gulf country, which is comprised of seven emirates, including Abu Dhabi and Dubai.
Authorities said the association violated a law banning non-governmental organizations from interfering "in politics or in matters that impair state security and (the) ruling regime."
Joe Stork, the deputy Middle East director at Human Rights Watch, blasted UAE authorities on Friday for "reacting to domestic criticisms by banning websites, detaining peaceful activists, and intensifying its chokehold on civil society."
Analysts say government officials in the UAE appear to be adopting a two-track approach to political activity -- clamping down on dissent while promising reform and taking a limited number of steps to stave off potential unrest.
In March, the government ordered a 70% increase in pensions for retired military personnel. It also approved the construction of hundreds of new villas for citizens, and announced new initiatives to increase employment opportunities.
New elections to the Federal National Council -- a national advisory board -- have been scheduled for September. The last elections for the board were held in 2006.
The country has not faced street protests, but authorities are sensitive to the unrest sweeping the Arab world. Long-standing regimes in Tunisia and Egypt were toppled earlier this year, and Damascus has launched a violent crackdown against protesters in Syria. Libya is currently in the midst of a full-blown war involving supporters and opponents of strongman Moammar Gadhafi.
Both the UAE and Saudi Arabia recently sent troops to nearby Bahrain to help quell an uprising there.
While concerned with rising ethnic and sectarian strife in the region, authorities in the UAE also have to contend with potentially explosive immigration concerns. More than 8 million people live in the UAE, but Emiratis account for only 11.5% of that total. Migrant workers comprise the bulk of the population in the country.
CNN's Alan Silverleib contributed to this report
FOLLOW THIS TOPIC