STORY HIGHLIGHTS
Pathik "Tik" Root's first name is Bengali for "traveler," fitting for who he became
The world is this college student's classroom, the Middle East his current passion
For two weeks he was detained in a Syrian prison, after already fleeing revolution in Egypt
He learned even in a prison cell, as did his anxious family back in idyllic Vermont
(CNN) -- Numb. He decided early on he'd go numb. Getting worked up, scared, angry or even too hopeful would do him no good in a Syrian prison.
Pathik "Tik" Root focused on making it through small chunks of time, which he measured by the arrival of meals or when his Muslim cellmates bowed down in prayer.
The 21-year-old Middlebury College junior was just 10 days into a semester abroad in Damascus when, on March 18, he stumbled upon what he can only guess was an anti-government protest in the Old City. He pulled out his BlackBerry, for reasons he can't even remember, and within seconds plain-clothed state police were on him. They whisked him off to prison.
It was not the first time the young American had gotten caught up in revolution. Less than two months earlier, he'd been evacuated from Egypt with other foreign students after protests erupted there.
Even for Tik, who had traveled widely, it was humbling to see the Egyptians rise up against their government and put themselves at risk for the freedoms Americans enjoy. It was an education he'd never anticipated. Now he was getting another one, in a windowless 3-by-7 foot cell.
Two times that first day, his captors led him to a small office where he was blindfolded and interrogated.
Speaking Arabic, his accusers peppered him with questions, weaved stories about who they thought he was and threatened violence. Tik, who began taking Arabic as a freshman, understood what they said, but under pressure his language skills faltered. He struggled to tell them who he was, that he had simply been roaming the city and waiting for a college friend visiting from Beirut.
"We don't believe the tales you tell," he remembers them saying.
They focused on the stamps in his passport: Saudi Arabia, Yemen, Egypt, Jordan, Lebanon. They said he was a CIA agent or a journalist; that he planned to share secrets with his friend to take back to Beirut.
Over and over, Tik tried to clarify matters. Eventually, he was led back to his cell.
Day and night passed under the glare of fluorescent lights. To fill time, Tik knocked on the wall separating him from the prisoner one cell over and waited for a response. Back and forth, each imitated the taps of the other. It was a language of desperation and boredom, communicating only that they were not alone.
He thought about the American hikers detained in Iran in July 2009. Sarah Shourd was released for medical reasons in September 2010. But her fiancé, Shane Bauer, and friend, Joshua Fattal, remain behind bars.
How did they sustain themselves as time rolled forward? What had imprisonment done to them? Like Tik, they'd argued that their detainment was a mistake. They weren't spies, they said, but young adults whose love for the region and travel led them to Iraqi Kurdistan, to a waterfall tourists recommended. They were arrested by Iranian border guards who accused them of illegally entering Iran.
But Bauer's and Fattal's pleas had fallen on deaf ears for 20 months now. Not knowing how long he'd be imprisoned, Tik walled off his feelings. Instead of succumbing to emotions, he'd rely on his intellect.
The world was Tik's classroom, and it had broadened his perspective. He'd grown up traveling with his family in Central and South America, Europe and South Asia. In college, the Middle East had become his passion. He'd completed an environmental internship in Saudi Arabia and spent a summer studying Arabic in Yemen before heading to Egypt and touring around when he could.
He took comfort knowing, even as he sat in prison, that what was happening to him was not a reflection of the region or people he'd come to love.
Harsh awakening
About 5,500 miles away, in rural Vermont, Tik's family slept soundly.
The harsh realities of the world had not yet hit the small town of Ripton, where the nearby Green Mountains nurtured Tik's love of the outdoors and the college in neighboring Middlebury sharpened his mind.
Ripton, population 600, is the kind of place where cell service fails more often than it works and the country store is really just that. Otter Creek rages along snow-packed banks during springtime, Tibetan prayer flags wave outside a weather-worn home, and the fog lifts to reveal a white horse grazing in a field. Robert Frost once lived there.
Tik came a long way to land in idyllic Vermont. Adopted at 14 months from Calcutta (now Kolkata), India, his first name, Pathik, is Bengali for "traveler."
It was Saturday morning, March 19, before news of their young traveler reached the Root family. On the phone was the mother of another American student in Damascus. She was Skyping with her daughter, who said she thought Tik was missing.
"Those are the sort of words that as a parent you never want to hear," recalls Tom Root, 59, a biology professor at Middlebury College. "My heart just sank and my stomach went into knots."
You don't imagine anything like this could happen. ... These are worldly kids, a generation that's connected in ways we were never connected.
--Tom Root, Tik's father
In the days that followed, Tom would torture himself. Had he been crazy to allow his son to study in the Middle East?
He remembered the toddler's "cinammony" scent when he first breathed him in at Boston's Logan International Airport. The 3-year-old boy who took to skiing and would later serve on ski patrol. The young man who he struggled to keep up with while hiking Glacier National Park. The college student whose curiosity about the world never ceased to amaze him.
Tom knew he wasn't crazy. He couldn't squash his son's interests any more than he could stop loving him.
"At the time, you don't think it's dangerous. You don't imagine anything like this could happen," he says. "These are worldly kids, a generation that's connected in ways we were never connected."
Plus, they'd done their homework.
When Tik's year abroad in Alexandria, Egypt, got cut short, the family carefully weighed his options. It was too late to get into second-semester classes at Middlebury, and the international politics and economics major wanted to finish what he'd started.
But the unrest that had spread from Tunisia across North Africa into Egypt and the Middle East continued to bloom. Of the countries that remained an option for Tik, Syria was a safe bet, their research told them, precisely because it was a police state. A full-on revolution there, experts said, seemed highly unlikely if not impossible.
Syria's role in a regional puzzle
Who fully knew how powerful the desire for freedom and change would become? Or how unpredictable. The protests against President Bashar al-Assad's regime, one that began 11 years ago and followed 29 years of his father Hafez al-Assad's rule, have been unprecedented. The younger al-Assad was once considered a moderate, but that international perception has changed. The cries for reform and a regime change in Syria began after security forces last month violently cracked down on peaceful demonstrators who came out after youths were arrested for scribbling anti-government graffiti.
Tom contacted the U.S. Embassy in Syria. It would be the first of many frantic calls to senators, congressmen and the State Department. Ambassadors, university colleagues and officials. Anyone he could think of with connections in Syria.
He had learned years ago to trust Tik's instincts. Yes, his son was adventurous -- "up for trying anything," Tom says -- but he'd always been responsible and had a good head about him when it came to safety.
As a boy, Tik had a tendency to go missing on long hikes. Intensely athletic and inquisitive, he would race ahead down the trail. But he never failed to come back and check in. Even from the other side of the world, he'd call every two to three days.
Some speculated that Tik wasn't really missing. Maybe he'd just taken off to travel.
Tom knew better.
Believing in the goodness of others
On March 19, Tik's second day in prison, a young Syrian joined him in his small cell. The man was sick and coughed constantly. Tik tried to avoid him.
His mind was on his father -- he wondered how he was holding up -- and on his mother, who died of brain cancer in 2005.
Lorraine Zak was an adored member of the Middlebury College community. For 20 years she worked at the Center for Fine Arts, organizing performances on campus. She helped build the "commons" initiative, a system of smaller communities and neighborhoods where students live. As coordinator for one of the commons, she became a mother-like figure to many.
Tik helped care for her when she was bedridden, spending the summer before her death with her and coming home on weekends from the ski academy he attended for high school.
Though not a religious person, Tik says he figured if anyone was watching over him, it was her.
His mother had raised him and his sister to believe in the goodness of others. And Tik had seen that in his Mideast travels.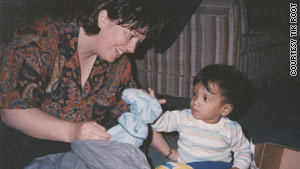 Lorraine Zak gets to know her son, Pathik "Tik" Root, soon after he came into her world.
There was the hospitality of Arabs who'd taken him in for meals and the thoughtfulness of those who'd gently shown him the way when he was lost. He'd seen kindness in the Egyptians he played soccer with in Alexandria. And when revolution stirred chaos, violence and fear, it wasn't the PVC pipe Tik carried that made him feel safe. It was the neighbors who looked out for him.
His mom's lesson had proven true before -- that no matter where you are, someone will be there to watch your back.
He'd seen her play that role for so many people. He knew if there was even just one person like her out there, he would be OK.
Navigating foreign places
Normalcy disappeared from the Root household.
The embassy in Syria confirmed Tik had been reported missing, but knew nothing about where he was, what his condition might be or if he was alive.
Tik's father and stepmother, Andrea "Andi" Lloyd, didn't even try to sleep in the beginning. When their stamina flagged, and they did try, their phones and laptops beside them made it next to impossible.
Andi attempted to make sure Tom stayed nourished. But toast went cold on the counter, and she found chicken stew still in the microwave hours after Tom said he'd eaten it.
Tik's 19-year-old sister, Radhika, wanted to maintain sanity and even offered distractions. She rented "Dinner for Schmucks," but the sound of incoming messages sent her dad and stepmom darting from their seats.
In December, before Tik came home for Christmas, his father had flown out for a visit. From Egypt to Lebanon, through Syria and Jordan, he watched with pride as Tik took charge, navigating foreign places while seamlessly connecting -- not just interacting -- with cabbies, shopkeepers and people of all religious stripes.
Witnessing his son's confidence, competence and happiness had given Tom great comfort when Tik left for Syria. Now, his daughter saw him cry for the first time.
On Wednesday, March 23, five days after Tik went missing, the family got tangible news from the U.S. ambassador to Syria. He said the Syrians admitted they "almost certainly" had the college student in custody. There were hints that he was safe and well, but nothing was certain. No one knew where he was or why he'd been detained.
But Tom's boy was alive, and Tom trusted he'd soon be free.
Explaining the incomprehensible
Tik's third interrogation focused again on his identity. But this time, prison officials were less interested in his passport and for whom he might work. They became obsessed with understanding his family history.
He was used to being an enigma in the Middle East. He learned early just to tell people he was a Christian, when prodded about his faith, because not believing in something seemed impossible for most in the region to understand. Traveling with his dad last December, he was held at the Jordanian border for an hour and a half after calling the white man beside him his father. No one ever pegged Tik as being from America. Mexico, Yemen, Uzbekistan -- he'd heard it all, but never America.
Now here he was saying he was American, but he was Indian. He had a younger sister, also adopted from India, but not from the same Indian birth parents.
Tik Root celebrated his high school graduation with his father, Tom, and sister, Radhika.
Adoption was a concept his interrogators couldn't comprehend. Add to the confusion that his parents divorced when he was young and both remarried. That meant stepparents and stepsiblings.
It's the kind of background that might require a scribbled diagram even in America, where families come in all sorts of configurations.
Imagine explaining it to Syrian officials while blindfolded and being interrogated in Arabic.
Surely, Tik thought, they'll realize they've made a mistake. He wasn't out to do harm; he was in the wrong place at the wrong time -- nothing more. No way could they justify keeping him.
One day, Tik overheard his cellmate whispering to another prisoner, telling him Thursday nights were when people got released. As his first Thursday in prison approached, Tik allowed anticipation to take over.
He let himself taste freedom.
Thursday night came and went. Tik buried himself beneath his army blanket on the cell floor.
The force of focus
On Friday, March 25, Tom learned some prisoners had been released in Syria the night before. His son was not among them.
That news sent Tik's father reeling. He began talking to national media

and hustled to Washington to meet with senators, the State Department and the Syrian ambassador to the United States.
At Middlebury, the rumors about Tik's arrest were now being confirmed in the school paper and on the student-run blog. Administrators and faculty members, everyone from the college president to Arabic instructors, wanted to help.
Paul Rosenfeld, an Arabic major who had studied in Egypt with Tik, learned by text message that his friend was missing. He couldn't imagine what Tik was experiencing and remembered the good times they'd shared. He'd met Tik the first day of freshman year. Together, when Tik launched a paperless campaign for school president, they'd taken sidewalk chalk to their cinder block dorm walls, scribbling "Tik 4 Prez" everywhere.
The campus was letting out for spring break, and Paul had to do something. He launched the Facebook page, "TIK ROOT IS MISSING!! HELP US FIND HIM!!"
Within hours, more than 500 people had signed on.
Hearing screams
A week in, Tik was moved to a new cell. It was larger -- 12-by-12 feet -- and had a small window up high. But it wasn't his alone. Crammed inside were 15 to 22 prisoners.
They were all men, and they ranged in age from their 20s to 70. Some had been picked up around the same time as Tik. Others had been there much longer -- one, for a year.
They received three meals a day. Large bowls of food were slid through the door; Tik stayed away from everything but bread, rice and potatoes. Three times each day, they were escorted to toilets. As far as Tik knew, there were no showers. To sleep at the same time in such little space, the men had to lie on their sides, lined up like sardines.
Almost all the prisoners appeared uneducated. A couple were mentally disabled. Most were Syrian, but several were from Iraq, at least one was from Lebanon, and Tik thought he overheard Jordanians and also an Algerian.
Since 1963, Syria had in place an emergency law that allowed arrests without regard for constitutional laws. Al-Assad recently and allegedly lifted this law, and abolished a court designed to prosecute those who challenge the government, but critics say the ongoing violence against protesters shows such claims were empty.
Tik believed some of his cellmates to be innocent, victims of false identification. Others might have committed crimes, but he says none deserved what they got.
Two times, men in his cell were taken out and beaten. Tik heard tales of electrocutions. Even through the cell's steel door, he could hear the screams.
Passing through an entrance hall, not yet blindfolded, he glimpsed bloody rags, a man slumped against a wall. The roll-call sheet the guards used each day was splattered with what appeared to be blood.

Limited U.S. influence in Syria?

Unrest continues in Syria

Syria crackdown under way

Daraa violence, defiance escalating
In his mind, Tik began crafting a letter to Syrian President Bashar al-Assad. He'd demand the end of emergency law.
One early morning, he was paraded in front of a Syrian TV camera. A prison official fed questions to the reporter, who asked where Tik's money came from and why he'd been traveling in the Middle East. Once again, he explained who he was. As far as he knows, that interview never aired.
He was also jostled by guards. One tried to drag him by his hair, but stopped when someone said Tik was American.
The passport that made him a target of suspicion also saved him.
Journey to freedom
Tik was taken alone from the cell, his arms tied behind his back, on Friday, April 1. He didn't know where he was going, and the guards certainly weren't saying.
Loaded into the back of a vehicle, his handlers ordered him to keep his head down. He stayed calm, as he had for two weeks.
It turned out this time he was being driven through Damascus to freedom.
He was passed off to a uniformed Syrian official, the first he'd seen since his ordeal began. He was offered tea, allowed to use the bathroom, treated well for what he believes was show in front of the U.S. official who greeted him. He says it was clear his government never knew where he was, and that the Syrians wanted it that way.
At one point, he found himself in a room with a journalist being deported back to Jordan. When the guard stepped out of the room, the journalist passed Tik his phone. Frantically, he dialed home.
Tom and Andi were on a flight bound for New York, where they'd be meeting with someone who'd had experience dealing with the nightmare they were living. As the airplane taxied to the JFK terminal, Andi checked her cell phone.
There was a message from their senator, Democrat Patrick Leahy. She listened, then gave Tom the phone. Leahy said something about a release, but they couldn't catch it all -- and, frankly, they didn't quite believe it.
They called the senator back and got confirmation. Still in their seats as the plane pulled up to the gate, they began yelling with excitement, talking about Syria, prison, their son. The passengers around them looked at the couple as if they were crazy.
Tom and Andi broke down at the JFK gate, where they planted themselves amid a new flurry of calls. In spurts they spoke to Tik -- while he was en route to the U.S. embassy, again when he'd arrived there.
Finally, he was safe.
Numbness lifted
It was hard for Tik to accept that it was over. He still had to get his belongings from his apartment, figure out where he was going to sleep that night, make his way to the airport, through immigration and onto an airplane. Given what he'd just been through, there was no telling how smoothly all of that would go.
But under the watchful eyes of embassy officials, he was on his way home.
The numbness he'd used to protect himself the past 14 days lifted only after his flight did.
He pulled out a pen and paper and feverishly jotted down notes. Everything he could remember about the prisoners he met, the tales they told him, the treatment they endured. He's not ready to offer details but hopes to share their stories someday when he knows they are out of harm's way.
Flying into Boston, Tik finally let his emotions wash over him. That joy and relief, however, was dampened when U.S. Customs officials began their interrogation. They spent an hour and a half going through his bags and asking him questions.
Tik didn't think he'd want to talk to media or share his story, but something one official said about Arabs changed everything.
"They're still living in the seventh century," the man muttered under his breath.
That's not true, he wanted to say. If only others could see the people and region through his eyes.
He realized then: There was a purpose for what he'd endured.
"The least I can do is reciprocate"
After his arrival home, Tik made contact with Sarah Shourd, the freed American hiker who was detained in Iran for more than a year. Their conversations have underscored the affinity he felt in prison for Shourd and her two fellow hikers, who are still being held in Tehran's infamous Evin Prison. This week, he called for their release in a piece he wrote for Huffington Post. Their next trial date is set for May 11.
He's also corresponded with Muhammad Radwan, 32, another American who was held in Syria for a week. Born in Houston, Radwan is a dual-citizen of Egypt and America. He appeared on Syrian state television making a "confession" that he'd been "paid to destabilize Syria."
Like Shourd, her friends and Radwan, Tik doesn't want his experience to sour others on the Middle East or fuel the demonization of Arab people.
"I met an Iraqi in prison. He said, 'I can separate American people from the American government,'" Tik says. "If he can do that for me, the least I can do is reciprocate."
Wearing ripped jeans, an untucked flannel shirt and a mop of hair he's been meaning to cut since he returned from Egypt months ago, Tik shares photos on his laptop from his time abroad. They include the beaming faces of those he met hiking the mountains of Yemen. The ruins of Baalbek in Lebanon, the Umayyad Mosque in Damascus, the bins of colorful spices that fill storefronts in vibrant old cities across the region.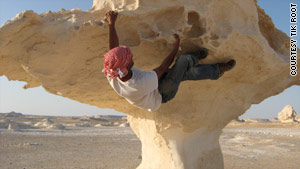 Nicknamed "Monkey" by some, Tik Root climbs in Egypt's White Desert.
In one photo, Tik wears a kaffiyeh, an Arab head covering, and is shown suspended upside down from a rock formation in Egypt's White Desert.
But in the climbing gym at Middlebury one recent afternoon, he struggles. His arms give out on routes he once tackled with ease.
"The secret is in the forearms," he says. "And I definitely lost 10 or 15 pounds in prison," most of it muscle, and a hefty amount given his frame. Tik stands about 5 feet 4 inches and weighed 125 pounds before being detained.
He'd like to get on Al Jazeera so he can share with everyone in the region the whereabouts of the secret prison, which he believes was on Baghdad Street in Damascus.
Tik and Tom tell their story in a CNN exclusive
He wants to thank those who helped him at Middlebury and in Washington, including Syria's ambassador to the United States, Imad Moustapha. He insists students shouldn't be deterred from going abroad. He's already thinking about internships this summer.
The precautionary TB test he took was negative, and sleep has come easy for Tik since his return. He says he's not haunted by his experience, but his father can't say the same.
"I went through another depression after he got home," Tom says, after learning about the bloody rags, the beatings, the electrocutions. "This actually happens to people. If he didn't have an American passport, it would have happened to him."
Tom took Tik to a counselor, who says the young man is doing just fine. Tom's the one who may be more traumatized. As the two part ways one evening, Tom can't help but say, "If you're going to be late, call me."
Tik keeps tabs on the news coming out of Syria and elsewhere in the region. Earlier this week, he reinstated his blog, Mideast Reports.
I want them to have the same rights we have. And I would love to see them go through the process as peacefully as possible.
--Tik Root
As of Wednesday morning, at least 447 people had been killed amid the uprising in Syria, according to the Syrian Human Rights Information Link. The first of those deaths, the group says, came on the day Tik was detained. (CNN has not been granted access into Syria and is unable to independently verify this information.)
While his heart breaks for those who've died, Tik is awestruck by the determination of Syrians.
"I want them to have the same rights we have," he says. "And I would love to see them go through the process as peacefully as possible. I hope they will do what's best for them."
He's still wary of spending a lot of time on Middlebury's campus. It's not that he doesn't want to see people, but he's not ready yet to answer the question, "What happened?"
It's a huge question for a thoughtful young man who strives for context in a sound-bite culture.
"There are good people everywhere, and there are bad people everywhere," he says. "Unfortunately back in the U.S., we mainly find out about the people who interpret (Islam) radically, and they mainly find out about people who interpret Christianity radically. They hear about Terry Jones," the pastor of a small Florida church who burned a Quran and spawned protests that led to the deaths of dozens in Afghanistan, "and we hear about people issuing fatwas against 14-year-old girls."
Wednesday evening, Tik attended a dinner during which an award was given in his mother's name. The award honors students who demonstrate Zak's concern for -- and belief in -- others.
Ever his mother's son, Tik is looking to find the good, even in a dark story set in a Syrian prison.
He still doesn't know why he was detained and likely never will. But for his own purposes, he recorded his account of what transpired during those two weeks. That audio recording, he says, is three hours long.
He'll need time to come up with a two-minute version.
FOLLOW THIS TOPIC