STORY HIGHLIGHTS
Bin Laden and followers killed, injured thousands on days other than September 11
Victims, families sometimes feel forgotten because they were not part of 9/11
Reactions to bin Laden's death range from somber to celebratory to scorn

Their stories include Bali bombings, USS Cole attack and U.S. Embassy blasts
(CNN) -- An Australian roofer is enjoying beers with pals when an explosion rips off most of his calf. A mother in Florida would like to tell her son about Osama bin Laden's death, except her son, too, is dead. A Texas woman, blinded by a blast in Kenya, marvels at the irony of fate.
They sometimes feel forgotten because they weren't part of 9/11.
Not to downplay the devastation and loss of life on September 11, 2001, they say, but Osama bin Laden and his followers have been committing atrocities for the better part of two decades. Many innocents were killed or maimed in places other than Washington, New York and a field near Shanksville, Pennsylvania.
Perusing a handful of the most ferocious al Qaeda-linked attacks outside 9/11, one can easily add another 1,000 to the 3,000 people killed that day. Nearly 9,000 were injured in those other attacks -- including the 2002 Bali nightclub bombings, the 2000 USS Cole attack and the 1998 U.S. Embassy blasts in Africa -- about double those at the Pentagon and World Trade Center.
And that's not counting al Qaeda's smaller-scale attacks or the carnage bin Laden and his followers have wrought in Iraq and Afghanistan.
West Point's Combating Terrorism Center put the scale and breadth of that violence in perspective in a 2009 report. Between 2004 and 2008, al Qaeda staged 313 attacks, killing 3,010 people, according to the report. Eighty-five percent of the victims were not from the West, the report said, and most were Muslim, even though bin Laden promoted himself as their guardian and denounced the West as the bane of Islam.
In 1998, bin Laden and the World Islamic Front issued this fatwa, or declaration of war: "We, with Allah's help, call on every Muslim who believes in Allah and wishes to be rewarded to comply with Allah's order to kill the Americans and plunder their money wherever and whenever they find it."
Al Qaeda was formed in the late 1980s, inspired by the Mujahedeen's struggle against the Soviets in Afghanistan. It was based on the idea that Muslims could band together and make the West -- namely the United States -- pay for "occupying" the Arabian peninsula, attacking Iraq and supporting Israel.
The early 1990s saw assaults targeting American forces in Yemen and Somalia, and the first World Trade Center bombing kicked off al Qaeda's full-bore campaign of terror in 1993. The casualties are now in the thousands, and tens of thousands more have anguished over the death or injury of a friend or loved one.
Like 9/11, each attack has brought tales of triumph and bravery to accompany those of heartbreak and loss. Some survivors have found opportunity amid the pain; others can neither forgive nor forget.
Their reactions to the terror mastermind's death run the gamut, from somber to celebratory to scorn. Here are some of their stories:
Peter Hughes, Bali, 2002: 'When I found out, I was gobsmacked'
Peter Hughes wiped his arm, and at first he thought his skin was coming off. Paddy's Pub in Bali, Indonesia, had turned black and smoky after the blast. Bottles of alcohol were exploding, and the thatch roof over the bar was ablaze.
"I thought I was peeling my skin off my own body, but it was the suicide bomber's," said the 51-year-old roofer from Perth, Australia.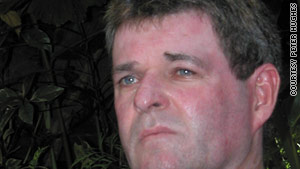 For years, Peter Hughes said he put on a strong face to hide his pain after surviving the 2002 Bali bombings.
It was a few minutes past 11 p.m. on October 12, 2002. He had just dropped off three beers at the table where his mates were sitting and returned to the bar for his own pilsner. That's when the bomb detonated, hurling a young woman into him.
"Maybe a gas explosion?" he surmised.
He made his way to the front door and was one of the first people out of Paddy's. That's when the second bomb -- 12 filing cabinets full of explosives in a Mitsubishi van parked outside the Sari Club -- exploded, throwing him back into Paddy's.
His hair was torched. Most of his left calf was missing. There was shrapnel in his body and a shard of glass in his stomach. Yet he felt no pain because, a doctor would later tell him, third-degree burns had destroyed the nerve endings on most of his body.
Read about Hughes' burn foundation
At the hospital, he downplayed his injuries to a television reporter in a clip that riveted his countrymen back home. He said he was doing "real good," was "a bit swollen" and assured the journalist, "There's a lot worse people than me."
Hughes would die three times in the following two weeks. Upon being resuscitated the third time, doctors induced a coma for more than two weeks. He had only a slim shot at survival.
He was still in pain months later when he returned to Bali to testify against one of the bombers. He sat three feet from the grinning Amrozi bin Nurhasyim and resisted the urge to "take off his head with an elbow, the best elbow I could give anyone." Nurhasyim would later be executed along with two other men convicted in the bombings that killed 202 and injured more than 300.
Hughes put on a strong face to hide his pain. Letting the bombers know he still hurt would only embolden them, so he put up a front that lasted until May 1, 2011, when he found out bin Laden was killed by U.S. Navy SEALs.
He was at home when he heard the news, and, "When I found out, I was gobsmacked." When reporters began calling for comment, he felt like a different person, as if he could finally say what he was feeling, like he was no longer traumatized by the blasts.
In describing his catharsis to CNN, his language became peppered with profanities for the first time during the interview.
"F---in' A, this is good. ... You can actually give it up to people now. It's a bit of closure," he said. "He's gone -- the mastermind behind all the things going on in the world, the guy who tried to f---ing kill me and my mates -- and good riddance. I don't have to wear this mask anymore because the f---er is gone.
"I didn't want them to know I was suffering, but now that he's gone, who gives a s---?"
Johann Gokool, USS Cole, 2000: 'He did not hold a grudge'
Johann Gokool never blamed bin Laden for his missing left leg. When his mother, Liah, would say, only half-jokingly, that she hoped to one day beat the al Qaeda leader to death with one of her son's prosthetics, he'd reply, "It will not stop your pain."
"He was just a crazy person that did something crazy," his mother recalled Gokool telling her. "He did not hold a grudge (against bin Laden). ... I still cannot forgive him."

2008: Kenya's forgotten al Qaeda victims

Journalist says bin Laden grew cranky

Repercussions over bin Laden killing?

Bin Laden's son: I want answers
Gokool, a Navy petty officer 3rd class born in Trinidad, was in the mess hall when two suicide bombers steered their boat of explosives toward the USS Cole. The ensuing blast ripped a 40-by-60-foot cavity out of the destroyer's hull, killing 17 and injuring 39.
Gokool was knocked out after falling four stories into an engineering room. He woke up with his legs mangled and hauled himself up a ladder to beat on a steel door until rescuers found him.
He was flown to a hospital in Germany, then to another in Virginia. By then, his leg was succumbing to gangrene. He later agreed to have the leg taken off to prevent the infection from spreading.
Back in Homestead, Florida, Gokool's parents had been given scant information about their son. They knew he was alive and injured, but that was it.
In Virginia, Ramish Gokool, his father, was met with a scene befitting a visiting head of state. Gokool and other injured troops arrived on a military transport plane. Ramish Gokool got in the ambulance with his son, who was incoherent from morphine, and rode with him to Naval Medical Center Portsmouth.
Along the 5-mile route, there was a military parade with a band playing. Folks young and old lined the route. Former and current military officers saluted the ambulance as it passed.
"I was touched," Ramish Gokool said. "I couldn't believe this was my son they were doing this for. I feel real proud."
It would be more than a year before Johann Gokool would go back to South Florida, which he had called home since he was 8. He was honorably discharged with a Purple Heart.
Gokool wanted to return to the Navy. There was no problem with a one-legged sailor, but his post-traumatic stress disorder prevented him from going back into the service.
His parents said Gokool was a different person when he came home.
There were times when he was the old Johann -- bighearted, fun, gregarious, a practical joker -- but other times, he would turn grouchy and reclusive. He would stay in his room for days at a time without eating.
His panic attacks would strike even as he slept, and he would thrash so violently that he regularly opted to sit in the back seat of the car so he wouldn't hurt the driver. Gokool rarely remembered the episodes.
His parents tried everything -- hypnosis, even a hyperbaric chamber -- but medical professionals didn't seem to understand the panic attacks, Ramish Gokool said.
In December 2009, just days after his 31st birthday, Gokool died in his sleep. His mother said she believes his death was related to the panic attacks.
Liah, 54, and Ramish, 63, were at a friend's house when bin Laden was killed. Another friend called and told them to turn on the TV. Liah Gokool said she thought she was dreaming at first.
"I picked up the phone to call Johann and tell him the news," she said through tears, "then I remembered he passed away."
Though Liah Gokool said she will never forgive bin Laden for taking her son, Ramish Gokool said he was "glad to have him for nine years" after the bombing.
For the beleaguered father, news of bin Laden's death brought some closure.
"I just said to myself, 'Now my son's soul can rest in peace.' "
Al Tischler, Riyadh, 1995: 'Oh good, the bastard's dead'
Al Tischler, 53, keeps a photo of his former boss and best friend, William "Dub" Combs, on the wall next to a TV image of the savaged office building in the Saudi capital.
The Minnesotan worked as a U.S. Army civilian for 14 years and knew several of the victims of the car bombing: He had played on a softball team with Jim Allen; he had once taken a trip with Wayne Wiley and his wife; and he chatted regularly with the two Indians working in the snack bar.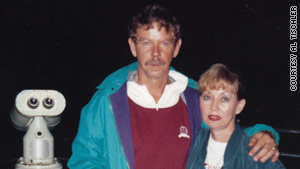 William "Dub" Combs and his wife, Georgetta; Combs was among those killed in the 1995 Riyadh bombing.
After Tischler's first wife died of cystic fibrosis in 1990, his wanderlust and thirst for adventure led him to take a Defense Department position in Saudi Arabia.
His second year there, in 1992, he was sitting in his villa late on Christmas Eve. He was morose, drinking alone and feeling sorry for himself when there was a knock at the sliding glass door.
It was Combs and his wife, Georgetta, whom Tischler fondly recalls were always holding hands like they were in high school. They dropped by because "they had figured I'd probably been feeling down because it was Christmas Eve," Tischler said.
Combs was his boss in the contracts department, but he quickly became Tischler's closest pal.
During his time in Riyadh, Tischler learned there wasn't much for an American to do. The culture was so different that Americans didn't typically mingle with Saudis. There were no movie theaters or bars, so he'd socialize with folks on the compound, the same people he lived and worked with.
Booze was forbidden in the kingdom, but the Saudis often turned a blind eye to U.S. government employees consuming alcohol as long as they stayed in their housing complexes, Tischler said.
"Dub and I spent hours and hours together every day," he said. "We'd sit and talk and drink and BS."
Tischler was slated to stay in Riyadh till 1995, the year of the bombing, but he began dating a nurse and followed her home to the United States in 1993.
"If I'd stayed, I would've been in the same building as Dub, and I might not be here today," he said.
Tischler's relationship with the nurse later fell apart. He also became disenchanted with government work and began working on his MBA so he could take a Peace Corps job focusing on helping Russian companies transition to a free-market economy.
He was earning cash driving for a courier service, awaiting his diplomatic passport, when he got a call from a friend: "Turn on CNN. There's been a bombing," she told him.
It would be a day before his fears were confirmed: Combs, Allen, Wiley and two other Americans had been killed, along with the two snack bar employees.
"It's a numbness, a disbelief. At the same time, I saw the pictures, I saw the video. If he was in his office, it was likely he didn't make it," Tischler said. "I can see that wall's gone in his office, and I hoped he wasn't in there."
Alone in his apartment, he broke down crying. When he gathered his composure, he scrapped his Peace Corps plans and called Riyadh to see if they needed help. They did. Many staffers had been injured.
On May 1, Tischler had just come upstairs when his wife of 15 years told him bin Laden had been killed.
"Oh good, the bastard's dead," Tischler recalled thinking as memories of Combs and the Riyadh bombing resurfaced.
He was glad bin Laden was killed for several reasons, the least of which being the nightmarish logistics of taking him alive and bringing him to trial.
"I'm OK with retribution as a reason to kill somebody. If it didn't shorten the war on terror by a day, I'd still be OK with it happening," Tischler said. "I believe in an afterlife, so whatever a suitable place for someone like that is, I'll leave that to a higher power."
As for his old friend, "Wherever Dub is, if he gets some satisfaction, that works for me."
Ellen Bomer, Nairobi, 1998: 'We're tickled to death'
Ellen Bomer and driver Moses Namayi heard the hand grenade but thought it was a car backfiring. Namayi jumped up on a transom to have a look.
"That was the last thing I saw. Many hours later, I woke up under the rubble flat on my back. I couldn't move or see or hear," Bomer said.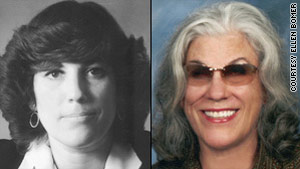 Ellen Bomer seen in photos from before the bombing and after dozens of surgeries.
She called out to God, "Please don't let me be blind," then began bargaining with him, "Just take one eye; let me have one."
Bomer was a U.S. Commerce Department employee on special duty at the embassy in Kenya. She had been scheduled to return to Jeddah, Saudi Arabia, on August 7, 1998, but Commerce Secretary Bill Daley was bringing a delegation to Nairobi and she was asked to help facilitate the visit.
It was the same day two bombers parked trucks packed with explosives outside the U.S. embassies in Nairobi and Dar es Salaam, Tanzania. In Nairobi, 213 were killed and about 4,000 were injured. The toll in Tanzania was 11 dead, 85 wounded.
Namayi was among the dead. Bomer was numb under the rubble, she said. She began to panic then told herself to remain calm and asked God for strength. She raised her right hand -- paying no mind to her dislocated shoulder -- waved it and said, "I'm over here."
Within minutes she could feel slabs being lifted off her. She was rushed to a clinic. She remembers pain every time the vehicle hit a bump.
"Nairobi streets are full of potholes," she thought.
She arrived at a clinic and was placed on a blood-soaked floor. That's where she suspects she contracted HIV. When nurses saw she was American, they transported her to a hospital.
She didn't know how badly she was injured. Judging from how people were crying upon seeing her, she figured it had to be bad. Her husband would later liken her face to ground beef.
But she said she remained strong with the help of God and her deceased son.
As she was being taken for treatment in the hospital, everything went black and the room started getting brighter and brighter.
"OK, God," she thought, "if this is what it's like to die, I can do this."
She saw folks walking around. She could hear them talking but couldn't see their faces. She felt safe. She looked left, and beside her was John, her 20-year-old son who was killed in 1987 when he was hit by a tractor-trailer while changing a tire on a snowy highway.
"He was smiling at me, like, 'I'm here, Mom. I'm safe. I'm with God. I'm here,'" Bomer said, recalling how she extended her arm to take her son's hand. "Right as I was about to touch his hand, I got sucked back. 'No, no, I want to stay here!' but a voice said, 'Ellen, you have to go back and let them heal you.' "
The experience would help steel her because "knowing my son was in heaven and there really is a God, it makes everything OK."
Her hair was burned off and her face was heavily lacerated. Her left eardrum had to be reconstructed, but she avoided further internal injuries because the rubble had covered her from her neck to the middle of her thighs.
The majority of her injuries were to her eyes. They were full of glass, and the damage from the blast was extensive. At first, Bomer was buoyed by her ardent hopes that the injuries were temporary. But more than 30 surgeries later she remains legally blind. She finds strength now in raising her granddaughter, Allie, who is 9.
Tears stream down my face and I just thought, 'Thank you, Lord.'
--Ellen Bomer, on hearing bin Laden was dead
"I've never seen her, but I'm told she looks like her dad, and I remember what he looks like," Bomer said.
She also found solace recounting her tribulations in a book. After seven years in the writing, it was released in early April. "Miss Gloria: A Survivor of Terrorism" derives its title from the code name she was given after arriving at Walter Reed Army Medical Center.
Bin Laden's death couldn't have come at a better time, she said, three weeks after her book was released.
"How apropos is that?" asked the 64-year-old Texas resident. "He meant evil, but good is coming from it. We're tickled to death."
Her son, Michael, called late May 1 with news of the U.S. special operations forces mission in Abbottabad, Pakistan.
"Mom, get up. Osama bin Laden is dead."
"What?" she queried sleepily.
"Osama bin Laden has been killed."
She turned on the TV, confirmed her son's report and went back to sleep, she said. She woke up again at 5 a.m. and turned on the TV.
"The anxiety, everything just starts bubbling up," she said. "Tears stream down my face and I just thought, 'Thank you, Lord.' "
A fan of Bruce Willis and Sylvester Stallone flicks, Bomer said she always had been frustrated that soldiers couldn't swoop in like Hollywood's special forces and take bin Laden out. She was delighted by the news that his killing "was such a clean, surgical deal."
She never hated bin Laden, she said, and she was never angry with him. In fact, she expressed relief that "they buried him with dignity, which I think is fit."
"I never judged him. I prayed justice would be done, but I didn't think it would happen in my lifetime," she said, adding, "I was really relieved that he is gone. He can never hurt me again."
FOLLOW THIS TOPIC