STORY HIGHLIGHTS
Egyptian border town faces big changes in aftermath of revolution

With former President Hosni Mubarak gone, the new rulers are looking to open the border crossing

Rafah makes money from tunnels smuggling goods into Gaza

Locals expect more legitimate trade and smugglers say some items will still need their tunnels
Rafah, Egypt (CNN) -- El-Aseel restaurant - which translates as Original or Pure in Arabic -- is tucked away on the third floor of a run-down building in the Egyptian border-town of Rafah, minutes from Gaza.
Moustafa, 22, wearing an Adidas jumpsuit, stands in the smoldering kitchen preparing chicken. He explains: "We are a border city, divided by two sides, so in a way we're both Palestinian and Egyptian. If you go up on the roof, you'll see Gaza. It's very close, but very far."
I spent four days in Rafah and nearby cities to see how places far from the revolutionary Tahrir Square are grappling with life in Egypt now that former President Hosni Mubarak is gone.
Rafah -- an isolated town right on the border with Gaza -- now finds itself in the eye of the change sweeping the region, socially and economically if not geographically.
Egypt to open Gaza border crossing at Rafah
As old autocracies crumble, how will lives change on the streets and how will new rulers handle one of the biggest questions in the Middle East -- the Israeli-Palestinian conflict?
Rafah is one of only two official entry and exit points -- the other is in Israel -- for human traffic into Hamas-ruled Gaza, but since a 2007 blockade supported by Mubarak, the impoverished town has thrived on tunnel-onomics -- an extensive underground system of smuggling goods into Gaza.
People working the tunnels ... see the siege as suffocating their family, friends in Gaza, but on the other hand, the siege feeds their families
--Khalid Saad Al-Jaboor explains tunnel economics
With talk of Egyptian plans to open the border with Gaza permanently, that trade is now compromised, leaving smugglers with mixed feelings of hope for Palestinians, but anxiety over losing money.
Gaza, home to an estimated 1.5 million people, has been under an Israeli blockade since June 2007, when Hamas -- which sweeped Palestinian parliamentary elections in 2006 but are also deemed a terrorist organization by Israel, the United States, and the European Union -- militarily forced supporters of the rival Fatah group from the strip.
Rafah's closed border crossing is a strikingly tangible symbol of former Mubarak's Israel-allied regime, but after revolutionary protests toppled him, recent events have led some to forecast a possible sea change in Egypt's foreign policy.
Earlier this month, Egypt successfully brokered a reconciliation deal between the Islamist group Hamas and Fatah, who are considered more mainstream, or moderate, by the West.
And in April, the Egyptian government temporarily reopened the Rafah terminal, with foreign minister Nabil al-Araby saying the decision to seal it off was "shameful."
He said then the opening would soon be permanent. Alla Iraqi, an Egyptian Armed Forces spokesman, told CNN on Wednesday the border will open permanently on May 28.
Two weeks ago, the Arab world commemorated Nakba, what Arabs call "the catastrophe" when thousands of Palestinians were dispelled from their lands or fled as a result of the creation of Israel in 1948.
In Al-Arish, a town near Rafah which is also home to many Palestinians, hundreds rallied, chanting: "To Jerusalem we go, millions and martyrs."
During the protest, resident Ahmed Baqi, 23, said: "We must use our new platform to extend a hand to Palestinians. It's our fight, too."
Large protests were planned in Rafah but the Egyptian military blocked demonstrators from entering the Sinai Peninsula.
Amid rising demands from Egyptians for the state to cool its relations with Israel, the military crackdown angered demonstrators in Cairo, who staged protests at the Israeli embassy. Ensuing clashes left 350 people injured.
Sitting in a gated security compound in Rafah, a military lieutenant who asked not to be named, said: "Egypt cannot afford an escalating situation right now."
He said activists were wrongly prioritizing the Israeli-Palestinian issue over Egypt's poor economy and rising sectarian tensions.
"It's not the time to help our neighbors ... and it's not the time to aggravate Israel," he said.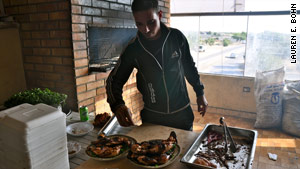 As Moustafa cooks at El-Aseel restuarant, diners discuss what Egypt should be doing next.
Back at El-Aseel, a group of men sat around a table under iconic imagery of Jerusalem's Dome of the Rock.
"The Egyptian revolution isn't finished until we resolve this," Palestinian-Egyptian Nael Almassiny, 44, said. "But it's true we do have our own problems to sort out."
The Egyptian side of Rafah, where many Palestinians have sought refuge, is a desert-town speckled with peach stands, military checkpoints, and families split between two lands.
Residents speak of a village that's become a no-man's land, marred by an almost nonexistent education system, poor healthcare, and inadequate infrastructure.
"There's a feeling in Rafah, that Mubarak neglected us, that he abandoned us," said Zakria Ahmed, 19.
Save Mubarak's investment in lavish resort towns in southern Sinai, including Sharm El-Sheikh, the site of one his notorious presidential residences, Ahmed says the Sinai region has suffered from decades of economic stagnancy.
"During the revolution, there weren't protests here, there was war. And the Bedouins won against the police," Ahmed said.
The Bedouins, who make up much of Rafah's population, are a historically nomadic people who migrated to Egypt from the Arabian Peninsula centuries ago.
"We've always been treated like second-class citizens," said Bedouin Salah Gabar.
But over the past several years, the Bedouins have seen financial gains as a result of the Gaza blockade.
Smuggling into the 140 square mile (360 square kilometer) territory has become Gaza's lifeline with an extensive underground network of tunnels between Egyptian Rafah and Gaza, transporting everything from people and weapons, to livestock and cars.
Egypt will rule in June, according to the Al Masry Al Youm newspaper, on the legality of an underground steel wall being constructed along Egypt's borders with Gaza, a measure Mubarak proposed to halt the smuggling trade.
"What are my other options for money? For life?" asked 18-year-old Ibrahim Kasheef, who makes $20 a day building and managing tunnels in homes. "I can do things like work at a cafeteria, naturally, but the tunnels are everything,"
Some tunnel-workers and owners acknowledge that a permanent opening of the border could translate to obvious drops in their profits.
"The siege, for us, is a business," Ahmed explained, claiming there are as many as 1,600 tunnels in Egyptian Rafah. "But even with an opening, there will always be things that can't legally get across."
His friend, 17-year-old Saleh Abdul added: "It might sound strange but after a long time, you can't think about Gaza emotionally, because it will hurt you."
Palestinian Khalid Saad Al-Jaboor, 30, who works at the border, assuring the passage of 'VIPs' like ministers and diplomats, says the blockade is complicated in the Egyptian Rafah-psyche.
"It's not so simple. People working the tunnels -- [that is] maybe three-quarters of Rafah -- see the siege as suffocating their family, friends in Gaza," he explains. "But on the other hand, the siege feeds their families."
But Al-Jaboor says the revolution has injected a newfound hope that alternatives will emerge in Rafah.
Last month, Prime Minister Essam Sharaf and military officials met with leaders of Bedouin tribes from Sinai in an effort to alleviate longstanding tensions. They promised an array of development initiatives and to end discrimination.
Many store-owners in Rafah and Al-Arish say a permanent opening of the border could bring a much-needed boast to the local economy, some citing revenue increases of up to 40 percent when the Egyptian government opened the border temporarily in the aftermath of Israel's fatal raid on a humanitarian flotilla in June 2010.
Karim Abou Ghafar, who works at a pharmacy in Al-Arish, said: "The Palestinians are good for our economy. A new Egypt can't ignore them."
At the Crossing Cafeteria, the Rafah terminal's own waiting room, a medley of activists, Egyptians, and Palestinians sit, anxious to hear if they'll be allowed to enter Gaza.
One activist, armed with a letter he says is from Nabil el-Araby in support of his crossing, wants to take 5,000 tons of cement into Gaza for construction.
An Egyptian man sits at a table across the way sipping black tea. He says he's a regular, having come several times before.
"I haven't seen some of my family in five years," says Wissam El-Bhateery. "We're not in Tahrir, but the chants are the same - freedom. So where is freedom?"
Both men were denied entrance by the Egyptian officials.
Outside, 13-year-old Asma Sherif sells almonds. She and her family relocated from Gaza to Egyptian Rafah five years ago.
"Look straight ahead," she instructed, pointing to a blurred horizon of greens and browns. "That's Gaza, our neighbor. One day, God willing, we'll see each other more."
FOLLOW THIS TOPIC