Mubarak deemed too ill for hospital transfer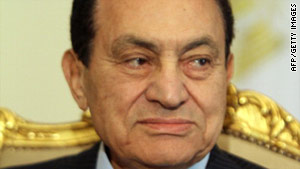 Mubarak is expected to be charged with consenting to a plan to kill protesters in Cairo's Tahrir Square on January 25.
STORY HIGHLIGHTS
Hosni Mubarak is considered too ill to be transferred to a prison hospital, prosecutors say
Mubarak was recently examined by a medical team
Mubarak could face trial in the killings of protesters and wasting public funds
Mubarak stepped down as Egypt's ruler on February 11
(CNN) -- Former Egyptian President Hosni Mubarak is too ill to be transferred to that country's Tora prison hospital, Egyptian prosecutors said Tuesday.
The prosecutors concluded that the hospital couldn't accommodate Mubarak's needs after the former president was examined by a medical team.
It was not immediately clear if another prison facility in the country will be able to house the deposed leader.
Mubarak and his two sons are currently facing a criminal trial for the deaths of protesters and wasting public money, according to the Egyptian general prosecutor's office.
Mubarak, who was forced from office in February, is expected to be charged with consenting to a plan to kill protesters in Cairo's Tahrir Square on January 25. He allegedly ordered police officers to use live ammunition while they fired into a crowd.
The former president, who denies the charges, could be executed if he is convicted of ordering any killings, Egyptian Justice Minister Mohamed Abdelaziz al-Juindy said earlier this month.
Mubarak has been held in a military hospital in Sharm el-Sheikh since mid-April, after complaining of heart palpitations and blood pressure problems. But Aly Hassan, a judicial analyst affiliated with the ministry, recently said Egyptian courts can proceed with a case if a defendant is in poor health.
"In previous cases, suspects appeared in court with life-support machines, so Mubarak's health now does not mean that he is paralyzed," Hassan said. "If he has heart problems and doctors indicate improvement, then he can appear in court for several hours."
Mubarak stepped down as Egypt's leader on February 11, after an 18-day uprising against his nearly three decades of iron-fisted rule. He and his family, as well as former officials in his government, have been under investigation ever since.
Mubarak's attorney, Farid El Deeb, told CNN Monday the former president is "very sad and sorry" about the allegations made against him, but has no regrets.
El Deeb denied that Mubarak gave any kind of authorization to use force or live ammunition against demonstrators calling for his removal.
The attorney also claimed Mubarak is now in "very bad health," suffering from a serious heart problem and a resurgence of colon cancer.
FOLLOW THIS TOPIC


Part of complete coverage on

Pro-Mubarak supporters believe Egypt's former president is innocent of charges of corruption and killing protesters.

Fighting in Libya started with anti-government demonstrations in February and escalated into a nationwide civil war.

After months of seeming stalemate, Libyan rebels declared they were moving in on Tripoli. But who are they?

Six months and more than 17,000 air sorties after it began, NATO's Operation Unified Protector in the skies over Libya grinds on.

Click on countries in CNN's interactive map to see the roots of their unrest and where things stand today.

Are you in the Middle East or North Africa? Send iReport your images. Don't do anything that could put you at risk.

Behind the official smiles for the cameras some people in Libya's capital are waiting for the rebels, reports CNN's Ivan Watson.

Tunisia's Mohamed Bouazizi not only ignited a series of revolts but heralded the first appearance of Arab youth on the stage of modern history.


Today's five most popular stories