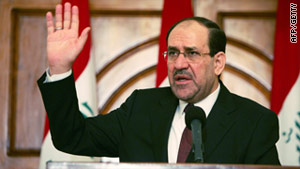 Iraqi PM Nuri al-Maliki has given Cabinet ministers until Monday to reduce corruption and improve basic services.
STORY HIGHLIGHTS
Iraqi activists are accusing the Iraqi government of a campaign of intimidation
Rights group: "Stop the attacks and charge, or release those being held"
Human Rights Watch is calling for the release of four protest organizers
Iraqi authorities say the four men are being detained for carrying fake identity papers
Baghdad (CNN) -- Iraqi Prime Minister Nuri al-Maliki's 100-day deadline is fast approaching for Cabinet ministers to make reforms or be fired, raising concerns of mass protests if the deadline passes without some sign of improvement.
Al-Maliki has given Cabinet ministers until Monday to reduce corruption and improve basic services, an ultimatum imposed after February demonstrations over corruption and lack of personal freedoms turned deadly.
But activists and a leading human rights group accused al-Maliki's government of a campaign of intimidation against protest organizers ahead of the deadline, even as an Iraqi government spokesman announced a news conference to showcase improvements.
Hundreds of demonstrators gathered Friday in Baghdad's Tahrir Square to demand the release of four protest organizers -- Jihad Jalil, Ali al-Jaf, Mouyed Faisal and Ahmed Al-Baghdadi -- who were detained during a protest at the same location a week earlier.
Carrying banners that featured pictures of the four organizers, demonstrators chanted: "Oh Maliki, don't muzzle the voice of the people/oh Maliki, release the four immediately."
The protest took place in Baghdad's Tahrir Square, the same name of the square where mass protests in Cairo sparked the Egyptian revolution that toppled Hosni Mubarak.
Iraq has denied it arrested protest organizers, saying in a statement posted on the Baghdad Operations Command website that the four men were detained for carrying fraudulent identity papers.
The Baghdad command accused the media of making up the story, calling on Iraqis "not to be enticed by the irresponsible media, which aims to create chaos and destabilize security and stability."
But Human Rights Watch said the detentions of the four did not appear to be an isolated event.
It also accused Iraqi forces of arresting 13 people and seizing computers and cellular phones following a raid this week at the Baghdad offices of the Iraqi youth protest movement "Where Are My Rights?"
The protest group says all but the four protest organizers have been released.
Meanwhile, in Iraqi Kurdistan, a protest organizer, Isma'il Abdullah, was abducted, stabbed and beaten on May 27, Human Rights Watch said.
Human Rights Watch called on Iraq to "stop the attacks and charge, or release those being held."
There has been little outward sign of improvement in Iraq in the months following the 100 days al-Maliki gave his ministers to deliver results, said Hanna Edwar, a leading Iraqi human rights activist.
She called the recent arrests "a wide campaign by Iraqi security forces because the government is concerned about what will happen after the 100 day deadline."
Al-Maliki took a pay cut and imposed the deadline on his Cabinet ministers after demonstrators, inspired by popular uprisings in Egypt and Tunisia, took to the streets across Iraq to protest corruption, poor basic services and lack of freedoms.
Demonstrations in Baghdad and elsewhere turned violent, leaving dozens dead and hundreds wounded.
In some cases, protesters called for an ouster of al-Maliki, who has been struggling to fill top security postings since the government was formed in December -- nine months after an inconclusive national election.
The government remains without ministers of defense, interior and national security -- a major concern for the U.S. military pushing to complete military operations as well as training of Iraqi security forces ahead of their scheduled January 1, 2012, withdrawal.
Currently, al-Maliki is serving as head of all three Iraqi security ministries.
"Even when it comes (to) decisions on targeting key individuals, things we have worked routinely with ministries in the past, they are just a little more problematic without a full-time minister," Army Maj. Gen. Jeffrey Buchanan, the top U.S. military spokesman in Iraq, told CNN recently.
"There is an impact on how the ministry runs and ... the resultant level of security provided by the security forces without having a full-time minister there. So we think it is important to complete the deal."
Al-Maliki's deadline and the threat of protests follows a spate of insurgent attacks that have targeted Iraqi government officials, attacks that come as the prime minister must decide whether to ask American troops to stay beyond the withdrawal deadline.
Two bomb attacks Friday in Saddam Hussein's hometown of Tikrit killed at least 23 people and wounded more than 60, two Interior Ministry officials said.
The first blast occurred outside of a mosque near the presidential palace, killing 17 and wounding 50, said the officials, who spoke on condition of anonymity because they were not authorized to speak to the media. That was followed, by a suicide bombing at a hospital that killed six and wounded 10, they said.
FOLLOW THIS TOPIC