Bahrain crown prince meets with Obama, welcomes his 'understanding'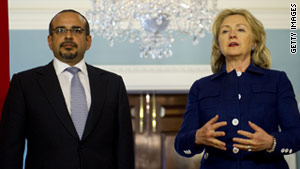 Bahrain Crown Prince Salman says he welcomes help from the U.S. to resolve his county's political issues.
STORY HIGHLIGHTS
The crown prince met with Barack Obama on Wednesday
Obama welcomes the ending of the "state of national safety"
The prince said the "national dialogue" beginning next month won't have pre-conditions
(CNN) -- Bahrain's crown prince, whose country has been wracked by anti-government protests, thanked U.S. President Barack Obama on Wednesday for his backing of a "national dialogue" to help resolve the country's political crisis.
"President Obama's support and understanding regarding Bahrain's forthcoming national dialogue were most welcome, as were his comments on the circumstances required to ensure its success," Crown Prince Salman said in a prepared statement.
Protests swept the strategically important island kingdom this year as populations across the Arab world rose up against their rulers. Bahrain, a small, predominantly Shiite country governed by a Sunni royal family, is home to the U.S. Navy's Fifth Fleet, and the United States has been concerned about the instability there.
Obama had a "productive discussion" with the crown prince on Tuesday, the White House said. He "reaffirmed the strong commitment of the United States to Bahrain" and said both the government and the opposition must compromise.

Mosley: 'Bahrain race will not go ahead'
The president welcomed Bahraini King Hamad's decision to end the "state of national safety" early and the announcement that the national dialogue on reform would begin in July.
Obama said the "stability of Bahrain depends upon respect for the universal rights of the people of Bahrain, including the right to free speech and peaceful assembly, and a process of meaningful reform that is responsive to the aspirations of all."
The crown prince said Wednesday he shared the president's "outlook concerning respect for universal rights and the continuance of Bahrain's process of meaningful reform, which is a fundamental priority for the kingdom." He said Bahrain's commitment to reform "remains steadfast."
"His Majesty has already made clear that a national dialogue will start next month, that it will be serious and without pre-conditions. Most significantly, Bahrain's leading political groups have both welcomed and are committed to joining this process; providing a critical indication, from all sides of the political spectrum, that Bahrain's continued democratic development should be underpinned by stability and driven by consensus."
The crown prince also met with National Security Adviser Tom Donilon.
FOLLOW THIS TOPIC