Jordan's King Abdullah II announces sweeping reforms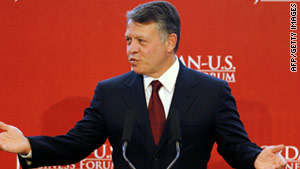 Jordan's King Abdullah II has announced major political and economic reforms.
STORY HIGHLIGHTS
He calls for a parliamentary government to be implemented
"The Jordan of the future" includes democracy, justice and tolerance, he says
His nationally televised address comes after six months of protests in the country
(CNN) -- Jordan's King Abdullah II announced sweeping reforms in a nationally televised address Sunday, promising to establish a parliamentary majority government -- a key demand of protesters calling for changes to the regime.
"Today, and on this occasion, we announce our reform vision for the Jordan of the future, in which democracy and popular participation take root as a consistent approach for the sake of building the Jordanian state, in which promoting justice is a purpose, tolerance is a mission and respect for human rights is the goal," Abdullah said.
As part of the announced reforms, Abdullah emphasized that the new law should "guarantee the fairness and transparency of the electoral process through a mechanism that will lead to a parliament with active political party representation; one that allows the formation of governments based on parliamentary majority and political party manifestos in the future."
The king also announced economic reforms, including changes to the country's tax system in order to "raise the level of competitiveness, enhance the atmosphere for investment, secure work opportunities for youth and maintain the state's active, observatory role in an open market economy."
It was not clear when the reforms would be implemented.

February: Jordan's king orders reform
The address comes six months after protests broke out in the country. Most of them, unlike demonstrators in Arab countries that have seen uprisings, have not been seeking regime change but changes to the regime.
In February, Abdullah fired his prime minister and cabinet and instituted a number of economic measures and promises of political reform in an effort to appease those demands. But the protesters' list of demands grew longer as many Jordanians felt emboldened by the popular uprisings in the region.
Jordan's economy has been hit hard by the global downturn and rising commodity prices, and youth unemployment is high. Officials close to the palace have told CNN that Abdullah is trying to turn a regional upheaval into an opportunity for reform.
U.S. tycoon helps jobless in Mideast
In his speech Sunday, Abdullah sought to paint Jordanians as one family, "and as head of the family, I favor no one individual or group ... or differentiate between them," he said.
"I am one of you, and I am all for you," he said.
FOLLOW THIS TOPIC


Part of complete coverage on

Pro-Mubarak supporters believe Egypt's former president is innocent of charges of corruption and killing protesters.

Fighting in Libya started with anti-government demonstrations in February and escalated into a nationwide civil war.

After months of seeming stalemate, Libyan rebels declared they were moving in on Tripoli. But who are they?

Six months and more than 17,000 air sorties after it began, NATO's Operation Unified Protector in the skies over Libya grinds on.

Click on countries in CNN's interactive map to see the roots of their unrest and where things stand today.

Are you in the Middle East or North Africa? Send iReport your images. Don't do anything that could put you at risk.

Behind the official smiles for the cameras some people in Libya's capital are waiting for the rebels, reports CNN's Ivan Watson.

Tunisia's Mohamed Bouazizi not only ignited a series of revolts but heralded the first appearance of Arab youth on the stage of modern history.


Today's five most popular stories