Clashes mar visit by Jordan's king, witnesses say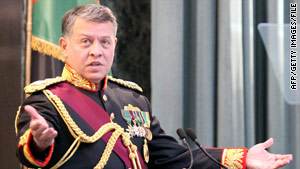 King Abdullah has announced sweeping political changes that may put Jordan on the path to a constitutional monarchy.
STORY HIGHLIGHTS
Youths clash with security forces, witnesses say
King Abdullah appears in Tafileh, Jordan, to announce a development initiative
Government spokesman plays down incident
King announces major government reforms over weekend
Amman, Jordan (CNN) -- Clashes broke out between citizens and anti-riot police during a visit by King Abdullah to southern Jordan on Monday.
According to eyewitnesses, festivities welcoming the monarch in the southern city of Tafileh, 180 kilometers (111 miles) south of Amman, turned violent when pro-reform activists were denied access to a royal event to launch a development initiative.
Youths threw stones at security services who responded with force, according to eyewitnesses in the city, home to anti-government protests in recent weeks.
Taher Odwan, Jordanian minister of communications and government spokesman, downplayed the clashes, denying media reports that the king's motorcade came under attack.
"A group of citizens attempted to greet the king and started shoving security personnel who responded back. This is something you would find at any event," Odwan said.
The incident comes a day after King Abdullah's royal address to the nation announcing sweeping political reforms that political observers see as steps to place the country on the path to a constitutional monarchy.
In a speech designated to mark the anniversary of the Great Arab Revolt, the monarch announced a number of reforms, including relinquishing his power to form a government to the parliament, a greater separation of powers and further constitutional amendments.
King Abdullah's Monday visit came to announce $21.1 million worth of development projects in Tafileh, where protesters have recently called for the government's dismissal, the dissolution of parliament and greater efforts to combat corruption.
Unlike other Arab states witnessing popular uprisings, weekly demonstrations that have taken place in Jordan -- a moderate state and key U.S. ally -- have called for regime reform, not regime change.
FOLLOW THIS TOPIC


Part of complete coverage on

Pro-Mubarak supporters believe Egypt's former president is innocent of charges of corruption and killing protesters.

Fighting in Libya started with anti-government demonstrations in February and escalated into a nationwide civil war.

After months of seeming stalemate, Libyan rebels declared they were moving in on Tripoli. But who are they?

Six months and more than 17,000 air sorties after it began, NATO's Operation Unified Protector in the skies over Libya grinds on.

Click on countries in CNN's interactive map to see the roots of their unrest and where things stand today.

Are you in the Middle East or North Africa? Send iReport your images. Don't do anything that could put you at risk.

Behind the official smiles for the cameras some people in Libya's capital are waiting for the rebels, reports CNN's Ivan Watson.

Tunisia's Mohamed Bouazizi not only ignited a series of revolts but heralded the first appearance of Arab youth on the stage of modern history.


Today's five most popular stories