Israel won't deport foreign journalists who travel in Gaza flotilla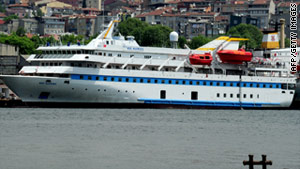 Foreign journalists in Israel won't face deportation for traveling to Gaza on an activist flotilla, the government said.
STORY HIGHLIGHTS
The Israeli government lifts a travel ban threat for foreign journalists on flotilla coverage
The flotilla is illegal says Israeli government
Flotilla activists hope to protest Israel's maritime blockage of Gaza Strip
(CNN) -- The Israeli government has dropped threats to deport foreign journalists and to impose a 10-year ban on those journalists traveling to Gaza on an activist flotilla, said a statement from the prime minister's office Monday.
Prime Minister Benjamin Netanyahu instead instructed authorities in his statement to create a special procedure regarding the foreign journalists arriving on what the Israeli government called an illegal entry into the country. What that new procedure might be was not clarified in the statement.
The statement also said that members of Israeli and international media would be attached to Israel Navy ships to "promote transparency" in coverage of the events.
The Foreign Press Association in Israel was happy with the decision.
"We are pleased to see that Israel has recognized the value of allowing reporters to cover an important news event," the association said in a statement. "...Journalists should be treated differently from political activists."
Oren Helman, director of Israel's government press office, sent a letter to Israel-based foreign journalists Sunday warning them of their possible expulsion for participation in the flotilla, which is expected to sail soon to the Gaza Strip.
"Participation in the flotilla is an intentional violation of Israeli law and is liable to lead to participants being denied entry into the State of Israel for ten years..." said Helman's letter. "I implore you to avoid taking part in this provocative and dangerous event, the purpose of which is to undermine Israel's right to defend itself and to knowingly violate Israeli law."
The activists' group of ships intended to challenge Israel's maritime blockage of the Gaza Strip.
According to organizers, the trip is meant to commemorate the one-year anniversary of a similar flotilla that resulted in a clash in international waters with Israeli navy commandos that killed nine people -- including an American citizen.
Activists on board Gaza-bound ships from Greece planning to join the flotilla claimed without showing evidence that Israel had used economic pressure to keep Greece from releasing the ships from port.
The Israeli foreign ministry refuted those claims Sunday.
FOLLOW THIS TOPIC