Egyptian court dissolves local councils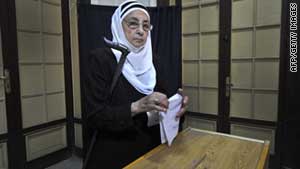 (file photo) Egypt's parliamentary elections are scheduled to take place in September.
STORY HIGHLIGHTS
The local council members were elected under Mubarak's rule
Pro-democracy protesters wanted them dissolved, said they were corrupt
Mubarak stepped down in February
Cairo (CNN) -- A Cairo Administrative Court Tuesday ordered the dissolution of local municipal councils that were elected under former President Hosni Mubarak.
Dismantling the local councils was one of the major demands of the pro-democracy protesters who took the streets January 25, and whose demonstrations helped bring down Mubarak's government.
"The revolution will never be complete without dissolving the existing corruption-laden municipalities and reforming the system as a whole," said a statement issued by the Revolution Youth Coalition.
"Dissolving the local councils is a step forward in restructuring Egypt's internal system. There were good and bad people in the councils and it's possible that many of the members had close affiliations with the former National Democratic Party," said Ali Abdel Rahman, the mayor of Giza.
Local councils can only be dissolved by judicial orders and elections must take place within 60 days, Abdel Rahman explained.
Abdel Ghafar Shukr, an expert in local administration, explained that the alternative is to issue a new law based on decentralization. The councils represent the people and provide their basic daily needs, be it education, housing, health or simply more jobs. Councils should have their own local administrative budget, he said, because they know the needs of the people and the spending priorities. They should also have authority to supervise the executive body through open dialogue with the mayors of the directorates. If the mayor of a directorate is not performing up to standards then the council should be able to challenge this authority, Ghafar Shukr said.
"There are 1,790 local councils and almost 52,000 thousand members. In 2008 municipal elections, National Democratic Party members won the majority of the seats through forgery. These were the people that received bribes from the executive body of the ruling party in order to make sure they are elected in their villages and cities. Dissolving the local councils is a victory to the revolution. It's like the mini-parliament and its suspended members should not continue in any political role for the years to come," Ghafar Shukr added.
He also explained that the local council period was scheduled to end June 30 and that elections would have to start in the level of the villages, cities, and directorates of Egypt.
The Supreme Council of the Egyptian Armed Forces, which took over when Mubarak resigned, has announced that parliamentary elections will take place in September. Esam Sharaf, prime minister of the caretaker government, is under pressure to delay the elections.
FOLLOW THIS TOPIC