Israeli FM says flotilla activists are 'looking for blood'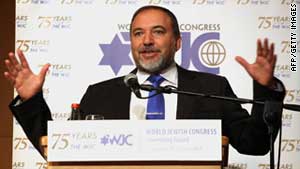 (file photo) Israeli foreign minister Avigdor Liberman described the flotilla participants as the 'hard core of the terror activists.'
STORY HIGHLIGHTS
Israel's foreign minister calls flotilla participants "hard core of the terror activists"
Israeli military says it has info that participants stockpiling sulphuric acid to use on commandos
Activists call allegation "patently false and absurd"
ADDITIONAL SNAPSHOT LINK
Jerusalem (CNN) -- As activists prepare a flotilla of boats to break Israel's naval blockade of Gaza, Israel's foreign minister Tuesday accused participants of "looking for blood".
Speaking to Israel radio the country's top diplomat, Avigdor Liberman, said that following the country's intense diplomatic campaign to thwart the activist flotilla the majority of those initially planning on participating were "convinced by our explanations regarding the humanitarian situation in Gaza." He said that "they understand that those who wish to help can do this through legal means" and branded the remaining participants the "hard core of the terror activists."
The comments came after the Israeli military claimed it had information that some of the flotilla participants were threatening to kill Israeli military personnel should their boats be boarded and that some passenger were stockpiling "considerable amounts" of sulphuric acid to be used in attacks on Israeli commandos.
Colonel Avital Leibovich, a spokeswoman for the Israeli military, told CNN that the allegations were based on "solid intelligence information", though she said she could not speak to the sources or methods.
"I think this proves to the international community that we are not talking about your ordinary peace keeping human rights activists"
Flotilla activists, many of whom are gathered in Greece, fervently denied the charges calling them "patently false and absurd."
"This really shows the desperation of the Israeli government" said Medea Benjamin, a spokeswoman for the American registered "Audacity of Hope" boat which is participating in the flotilla.
"They see this non-violent, rag-tag group of ships as such a threat they're using their entire propaganda apparatus and their diplomatic and economic clout to try to stop 300 peace activists. It's pathetic."
The flotilla, expected to sail soon, intends to challenge Israel's maritime blockade of Gaza.
Israel enacted the blockade of the Palestinian territory after the radical Islamist group Hamas took over Gaza in 2007 with the stated goal of preventing weapon smuggling into the coastal strip.
Hamas is considered a terrorist group by the United States and the European Union.
Flotilla activists say the blockade is illegal and has worked to undermine Gaza's already fledgling economy despite an easing of most import restrictions by Israel over the past year.
According to organizers, the flotilla is meant to commemorate the one-year anniversary of a similar flotilla that resulted in a clash in international waters with Israeli navy commandos that killed nine people -- including an American citizen.
In May 2010, the Mavi Marmara -- owned by the Turkish Humanitarian Relief Foundation, or IHH -- and five other ships were on their way to Gaza with humanitarian aid and about 700 activists from various countries when Israeli soldiers boarded it.
An independent Israeli commission, led by retired judge Yaakov Turkel, later found that the Israeli commandos "acted professionally and in a measured manner in the face of unanticipated violence" when they seized the Gaza-bound aid ship.
FOLLOW THIS TOPIC