STORY HIGHLIGHTS
Suspension takes effect Saturday
Saudi spokesman says the kingdom will focus instead on recruiting workers from "other sources"
Move comes after Indonesia announced its workers cannot travel to Saudi Arabia, beginning August 1
Saudi Arabia last month beheaded Indonesian worker -- without having first informed Indonesia
(CNN) -- Beginning Saturday, Saudi Arabia will suspend the issuance of visas to domestic workers from Indonesia, the latest move in what may be a tit-for-tat game of economics and human rights.
The statement came days after the Indonesian government declared it will refuse to allow its citizens to go to Saudi Arabia until human rights conditions there improve.
Indonesia issued its moratorium policy, effective August 1, after the Gulf kingdom beheaded an Indonesian worker last month. Ruyati binti Satubi had been accused of killing her employer's wife. Indonesia claims it was in the process of seeking her clemency, and was not notified before the beheading.
For years, international human rights organizations have criticized Saudi Arabia for its treatment of migrant workers. A 2011 Human Rights Watch report notes that domestic workers from Indonesia and elsewhere who travel to Saudi Arabia "frequently endure forced confinement; food deprivation; and severe psychological, physical, and sexual abuse."
Some of these cases have made international headlines. Last August, doctors at a Sri Lankan hospital operated for three hours to remove 18 nails and metal particles allegedly hammered into the arms, legs, and forehead of a maid by her Saudi employer.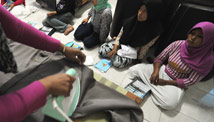 Fighting for rights of workers

Indonesian govt. reacts to execution
And, in what many said was a first for the kingdom, a Saudi woman was sentenced in January to three years in prison for abusing her Indonesian maid.
Twenty-three other Indonesians are on death row in the Arab kingdom.
Indonesian Foreign Ministry Spokesman Michael Tene told CNN that the Indonesian government was notified Thursday of the change in Saudi visa policy. He said, "We feel that this new policy by Saudi Arabia is in line with our moratorium policy and will in fact make it more effective."
Indonesia has demanded "an Indonesian-Saudi memorandum of understanding on the protection of migrant workers" and a joint task force to monitor the situation. Tene stressed that talks between the two countries are scheduled for later this month and have not been canceled, despite the Saudi declaration.
A Human Rights Watch analysis of a similar 2009 agreement between Indonesia and Malaysia indicates that such an agreement might not fix the problem. The website says, "When Indonesia froze migration of domestic workers to Malaysia in 2009 until a more protective Memorandum of Understanding could be concluded, recruiters from Malaysia turned to Cambodian workers instead."
Indeed, Saudi Ministry of Labor spokesman Hattab Bin Salah Al-Anzi said Wednesday that the kingdom will focus instead on recruiting workers from "other sources," according to the state-run Saudi Press Agency.
Several countries across the Middle East and Asia host significant numbers of migrant domestic workers, ranging from 196,000 in Singapore to about 1.5 million in Saudi Arabia, according to a report published last year by Human Rights Watch.
Many of the domestic workers are poor Asian women from Sri Lanka, Indonesia, India, Bangladesh, the Philippines and Nepal. Widespread abuse has been documented by global human rights groups.
Common complaints include unpaid wages, long working hours with no time for rest and heavy debt burdens from exorbitant recruitment fees, said the Human Rights Watch report.
CNN's Alden Mahler Levine and Kathy Quiano contributed to this report.
FOLLOW THIS TOPIC