Bahrain opposition joins talks with government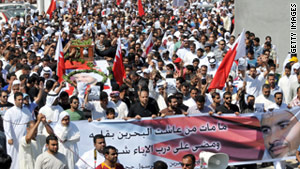 Bahraini Shiite Muslims with the coffin of Abdulrassul Hujairi, who went missing in the crackdown, near Manama on March 21, 2011.
STORY HIGHLIGHTS
NEW: A U.S. official calls Al Wefaq "an important voice" in Bahraini reconciliation talks
Talks between the opposition and the government begin in Manama
More than 100 prisoners are freed as a goodwill gesture, an ex-opposition MP says
Bahrain has seen months of unrest, with many suspected pro-reform protesters arrested
(CNN) -- Bahrain's government and the opposition started talks Saturday in a bid to agree on reforms following months of unrest in the Gulf state.
Representatives of the main Shiite opposition bloc, Al Wefaq, and the leftist Waad party are among the groups joining the so-called National Dialogue initiative in the capital, Manama, called for by Bahrain's King Hamad.
The dialogue is intended to focus on reform, with the aim of reaching a consensus on how to achieve it.
The government released more than 100 prisoners as a goodwill gesture early Saturday, former Al Wefaq lawmaker Sayed Hadi Al-Mosawi said.
Before the talks, Al Wefaq said it planned to present what it sees as fair demands.
The group's secretary-general told a rally of thousands Friday that the group would stick to its demands, which include the immediate release of all political prisoners and a democratic government for all.
Bahrain's majority Shiite community has long complained of discrimination by the ruling Sunni elite.
Sheikh Isa Qassim, the country's senior Shiite cleric, said in his Friday sermon that if Al Wefaq participated in the dialogue, it must make progress in supporting and putting into practice grass-roots demands.
He said the group should withdraw from such talks if it was not producing results.
U.S. State Department spokesman Mark Toner welcomed Al Wefaq's decision to join the talks, calling it "an important voice (in) a process that has the potential to serve as a vehicle for reform and reconciliation."
"We welcome the Bahraini government's committment to pursue this initiative and call on all participants in the National Dialogue to engage constructively in this process to produce reforms that will respond to the legitimate aspirations of the Bahraini people," Toner said in a statement Saturday.
The head of an independent commission appointed by King Hamad to investigate charges of human rights abuses during recent government crackdowns on pro-reform protesters vowed Thursday to carry out a fair, methodical and transparent investigation.
"Everything that has happened since the events started in February will be part of the commission," said Mahmoud Cherif Bassiouni, a law professor and United Nations war crimes expert.
He pledged to follow international standards in investigating alleged abuses and praised the king for setting up the commission.
FOLLOW THIS TOPIC