Bahrain journalists' trial adjourned until October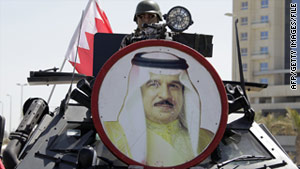 A picture of Bahraini King Hamad bin Issa al-Khalifa decorates a tank in Pearl Square, March 19, 2011.
STORY HIGHLIGHTS
Opposition journalists are accused of fabricating news to disrupt the peace
Their lawyer says false information was published unintentionally
Bahrain has been wracked by dissent for months, like much of the Arab world
The government and opposition have started talks
(CNN) -- The trial of Bahraini opposition journalists accused of fabricating news to disrupt peace during the civil unrest in the Gulf state was adjourned Sunday until October.
Khalil Adeeb, a lawyer for the Al-Wasat journalists, argued that false information had filtered into the newspaper's systems from an external website and had been published unintentionally. He called on the court to clear the defendants.
Bahrain's high criminal court adjourned the case until October 11.
Mansoor al-Jamri, former editor-in-chief of the publication; Walid Nouwaihidh, former managing editor; and Aqeel Mirza, former head of the local news department, are on trial after being forced to quit the publication in April. A fourth man, Ali al-Sharifi, is being tried in absentia.
"Al-Wasat newspaper has been charged with fabricating news knowingly and with the aim of spreading some sort of discord and unrest amongst the population, which is not true," al-Jamri told CNN last month.

Bahrain journalist on trial

Bahrain's national dialogue
The court ruling comes a day after Bahrain's government and the opposition started talks in a bid to agree on reforms following months of unrest in the Gulf state.
Representatives of the main Shiite opposition bloc, Al Wefaq, and the leftist Waad party are among the groups joining the so-called National Dialogue initiative in the capital, Manama, called for by Bahrain's King Hamad.
The dialogue is intended to focus on reform, with the aim of reaching a consensus on how to achieve it.
The government released more than 100 prisoners as a goodwill gesture early Saturday, former Al Wefaq lawmaker Sayed Hadi Al-Mosawi said.
Bahrain is one of several Middle East and North African countries embroiled in anti-government protests. To quell the protests, the Bahraini government called in troops from member states of the Gulf Cooperation Council.
Bahrain's majority Shiite community has long complained of discrimination by the ruling Sunni elite.
The kingdom is home to the U.S. Navy's Fifth Fleet.
CNN's Nic Robertson and Mohammed Jamjoom contributed to this report.
FOLLOW THIS TOPIC