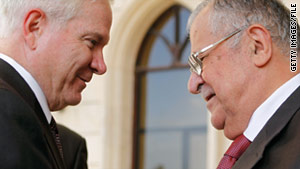 Then-U.S. Secretary of Defense Robert Gates, left, meets with Iraq President Jalal Talabani in April.
STORY HIGHLIGHTS
Muqtada al-Sadr says he'll reactivate the Promised Day Brigade if U.S. troops stay in Iraq
The brigade, which the U.S. says is backed by Iran, targets U.S. troops
He says he won't reactivate all the Mehdi Army, his military-social-political movement
Iraq's president says talks are under way to decide if American forces might stay into 2012
Baghdad (CNN) -- Radical anti-American cleric Muqtada al-Sadr threatened Sunday to revive a special armed unit devoted to attacking U.S. troops if the Americans did not withdraw from Iraq by next year.
His comments came as debate brewed in Iraq about whether to authorize a continued international military presence on its soil beyond an agreed-upon January 1, 2012, deadline. President Jalal Talabani announced Saturday that question should be decided in about two weeks.
On Sunday, in a statement posted on his official website, al-Sadr said he would not reactivate his Mehdi Army in full, even if U.S. forces remained in the Middle Eastern nation into 2012. He cited a spike in corruption and crimes perpetrated recently by people claiming to be members of his movement for this decision.
But the Shiite cleric, who is based in Najaf, about 100 kilometers south of Baghdad, did not rule out calling again on members of the so-called Promised Day Brigade, a small group of hand-picked fighters dedicated to attacking U.S. and coalition troops.
In his statement, he said he "decided to limit the military action" to the brigade -- assuming that 46,000 U.S. troops now in Iraq stay beyond the deadline agreed upon between the two countries.
This marks the latest in increasingly fervent anti-American rhetoric from al-Sadr in recent months, raising concerns that Iraq could again be awash in violence as it was several years ago.
In late June, U.S. military spokesman Col. Barry Johnson said that al-Sadr's recent remarks suggest he prefers violence over participating in a peaceful democratic process.
"It's the same attitude that has caused so much violence for the Iraqi people in the past," Johnson said.
An increase in attacks in recent months against American troops already has been blamed on Shiite militias, including the Promised Day Brigade. The U.S. military says the militia is using the bombings to try to take credit for driving U.S. forces out of the country.
Such attacks, as well as al-Sadr's latest threats, complicate the ongoing discussion within Iraq about foreign troops.
Talabani said Saturday in remarks broadcast on Iraqiya state television that leading politicians "are to consult their friends, their allies and their parties to come up with a final result after two weeks."
He talked after a meeting Saturday that he hosted at his residence involving members of key Iraqi political blocs, including Prime Minister Nuri al-Maliki's State of Law coalition and Ayad Allawi's Iraqiya bloc.
While troops are set to withdraw per the bilateral agreement, the two nations' leaders could agree to keep some U.S. troops into the new year. New U.S. Secretary of Defense Leon Panetta arrived in Baghdad on Sunday for talks with Iraqi leaders on this and other subjects.
U.S.-led forces invaded Iraq in 2003 to depose then-leader Saddam Hussein. In the time since, al-Sadr has emerged as one of their most formidable threats, in part due to the support he's mustered among tens of thousands of Shiites, especially the young and impoverished in Baghdad's slums and the Shiite south.
The U.S. military maintains that the Promised Day Brigade and other Shiite militias are backed by Iran, a charge Tehran has long denied.
The Mehdi Army, generally, was blamed for some of the worst sectarian violence in Iraq, including attacks on both coalition and Iraqi forces.
Then al-Sadr suspended most of its activities in 2007 and 2008, a move that corresponded with a dramatic reduction in violence. Al-Sadr announced then that most militia members would transition to a sociocultural organization that opposes secularism and Western thought.
And now, after three years of self-imposed exile, al-Sadr has become an important political player. His movement emerged as a kingmaker in Iraqi politics after last year's election when it won 39 parliamentary seats. This bloc's support played a major role in al-Maliki getting his second term in office.
FOLLOW THIS TOPIC