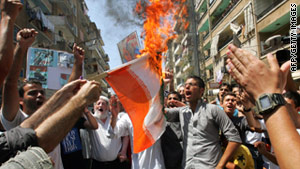 Demonstrators protest in the Lebanese coastal city of Tripoli on Friday, demanding the ousting of Bashar al-Assad.
STORY HIGHLIGHTS
Hundreds of Syrian exiles gather in Turkey to show unity
"Bashar al-Assad is finished," says a former political prisoner
Hillary Clinton expresses support for the opposition
Violence erupts in an eastern town a day after nationwide protests
Istanbul, Turkey (CNN) -- Hundreds of exiled Syrian activists meeting in Istanbul on Saturday elected a 25-member council as they sought to declare unity in their intention to oust the regime of President Bashar al-Assad.
The National Salvation Council, composed of independents, liberals, Islamists and members of other parties, will serve as an umbrella organization representing various factions of the Syrian opposition -- sometimes seen as fractured in their demands.
"Bashar al-Assad is finished," said Haitham al-Maleh, a political prisoner who was released from jail in March in an attempt to appease protesters. "He must leave the country, leave the power. We want to build our government, our regime, without them.
"We will move together to be one opposition ... because you know we spent 50 years under a dictatorship," he said. "The civil society in Syria is finished. Now we are building ourselves for the future."
The Syrian National Salvation conference -- attended by about 350 opposition members -- unfolded as U.S. Secretary of State Hillary Clinton, who was also in Istanbul for meetings with Turkish officials, expressed support for the opposition.
"What's happening in Syria is very uncertain and troubling, because many of us had hoped that President Assad would make the reforms that were necessary without seeing what we're now seeing in the streets of Syria, which are government tanks and soldiers shooting peaceful demonstrators," she said.
"There must be a legitimate, sincere effort with the opposition to try to make changes," she said. "I don't know whether that will happen or not."
Some opposition members were frustrated at what they perceived as a lack of response from the international community and hoped that a united Syrian opposition would ratchet up pressure on al-Assad.
"The international community seems to be still dancing around the issue of the Assad regime losing legitimacy and that could be due to a number of reasons," said M. Yaser Tabbara, a Syrian-American human rights lawyer.
"I think what we're trying to do is send these reassurances to the international community that a credible, competent council or body is being formed, and that we do not have to worry anymore about a vacuum of power or a vacuum for an alternative."
He said the Syrian opposition wants world powers to choke the regime economically, politically and diplomatically "to achieve a point of no return."
A similar opposition meeting was to have taken place in Damascus but because of violence Friday, the meeting was canceled. However, two prominent activists were able to connect to Istanbul via Skype and telephone.
But despite efforts to maintain a united front, there was disagreement still over whether to push for the ouster of al-Assad or to work to promote reforms within the current framework. And a banner that read the "Syrian Arab Republic" drew the ire of the Kurdish delegation for the inclusion of the word, Arab.
Meanwhile in Syria, more violence erupted following a day of nationwide protests.
At least one person was killed Saturday when Syrian security forces opened fire on protesters in the eastern town of Albu Kamal, according to the activist group Local Coordination Committees in Syria.
State television said, however, that "armed groups" attacked a police station, a mayor's home and other government sites in Albu Kamal and that two policeman was killed. It said a number of guards were injured.
At least 21 civilians and one soldier were killed Friday in demonstrations. Sixteen of the fatalities occurred in Damascus and its suburbs, one in Homs, three in Idlib and one in Daraa, said Rami Abelrahman, director of the London-based Syrian Observatory for Human Rights.
Videos that allegedly showed the funeral processions for those killed were posted Saturday on Facebook pages belonging to Syrian activists. They showed people marching on the streets, carrying coffins and chanting slogans against the regime of Bashar al-Assad.
As of Friday, the death toll for civilians since the unrest began more than four months ago rose to 1,440, with an additional 353 deaths among army and security personnel, Abelrahman said.
Protesters echoed the demands for reforms that they have voiced for months.
CNN's Yesim Comert and Mohammed Jamjoom contributed to this report.
FOLLOW THIS TOPIC