Report: Syrian President Bashar al-Assad to speak Sunday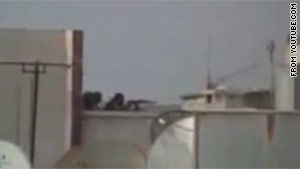 A video posted to YouTube.com purports to show snipers on a roof in Homs, Syria.
STORY HIGHLIGHTS
NEW: Al-Assad will discuss the country's future with Syrian TV, SANA reports
Heavy shelling is reported in Homs
There have been at least 21 deaths in Homs since Friday
One witness can't leave home because of snipers
(CNN) -- Syrian President Bashar al-Assad will give an interview to Syrian TV on Sunday to discuss the country's future, the state-run Syrian Arab News Agency (SANA) reported.
He is expected to address the "continuous steps of the reform process, the dimensions of the American and Western pressures on Syria politically and economically and Syria's future vision in light of the current regional and international scene," SANA said.
Al-Assad's interview is scheduled one day after violence engulfed the Syrian city of Homs, the latest city to undergo a tough assault by security forces, witnesses said.
"It's a war," a witness said. "It's a real war."
The security push in the western city of Homs follows tough crackdowns in other major cities, including Hama in the west, Deir Ezzor in the east, and Latakia on the coast. Anti-government sentiment is strong in Homs, as it is in the other towns.
The witness said tanks rolled into Homs early Saturday, snipers took positions, and shots were fired. He said homes burned and phones lines were down in various neighborhoods.
The witness said he is able to move around and avoid detection because of his knowledge of the city. He said people in the city are close-knit, and many of those who've fled their homes have gone to other neighborhoods.
Another witness reported bombing and shelling in the neighborhood of Bab Amr. He said Syrian forces were randomly detaining residents and he couldn't leave his house because of sniper fire.
CNN is unable to independently confirm reports from Syria because of limited access.
Even though al-Assad said this week that military operations have ceased, activists reported widespread crackdowns on Friday against demonstrators, including actions in Homs city and province.
Ammar Qurabi, chairman of the National Organization for Human Rights in Syria, said 40 people died in Friday demonstrations, many in Homs city and province.

Humanitarian mission heads to Syria
The Syrian Observatory for Human Rights, an activist group, said military vehicles carrying soldiers rumbled through Homs city and sounds of gunfire rang out through Bab Amr and other areas. The group said Saturday that 21 people have been killed in Homs province over the past 24 hours.
The development came as world pressure and international isolation mounted on Syria in recent days because of its brutal crackdown against demonstrators over the past five months.
President Barack Obama and other leaders have called for al-Assad to step down, and tough sanctions have been forged against the nation. A European Union panel has proposed an embargo on Syrian crude oil.
CNN's Arwa Damon, Kamal Ghattas and Salma Abdelaziz contributed to this report.
FOLLOW THIS TOPIC