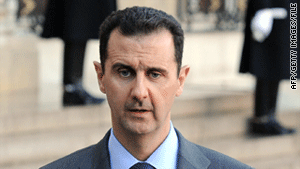 Syrian President Bashar al-Assad is expected to speak Sunday on state-run media.
STORY HIGHLIGHTS
NEW: Diplomat: Anti-government protesters greet the U.N. team in Damascus suburbs
"What they say means nothing to us," al-Assad says of European calls for his ouster
Al-Assad says parliamentary elections could come as early as February
The diplomat says evidence of crimes against humanity is "being scrubbed off the streets"
(CNN) -- Syrian President Bashar al-Assad on Sunday rejected calls for his ouster and promised steps toward political reform, even as protesters and human rights groups said Syria was continuing its bloody crackdown aimed at ending an uprising.
Speaking on Syrian state TV a day after a U.N. mission arrived in the country, al-Assad was asked about calls from European leaders for him to step down. "What they say means nothing to us," he replied, according to a CNN translation.
U.S. President Barack Obama made the same call on Thursday, and the United States followed up by imposing new economic sanctions.
The European Union's political security committee is considering an embargo on Syrian crude oil. Oil and gas make up about a quarter of Syria's economy, according to the International Monetary Fund.
In his televised interview, al-Assad continued to deny that his military has targeted peaceful protesters, despite widespread reports from witnesses, medical officials and diplomats in the country.
A resident of Damascus, whom CNN is not identifying for safety reasons, said it was the "same old" assertions from a government that "has no credibility at all" among Syrians.
"No one can trust talk about future coming reform," the resident said. "The situation is hopeless."
In Latakia province, a site of strife in recent days, the government on Sunday worked to clean away evidence of the bloody crackdown in advance of an expected visit by a U.N. humanitarian team, a diplomat said.

Humanitarian mission heads to Syria

Crackdown continues in Syria
"There is a whitewash -- evidence of crimes against humanity, being scrubbed off the streets before the U.N. mission arrives," said the diplomat, who is not in Syria but has reliable on-the-ground information.
Syrian state-run news agency SANA insisted that "competent authorities seized large amounts of firearms which were hidden by the armed terrorist groups in al-Ramel al-Janoubi neighborhood in Latakia province to use them later to attack the citizens and law enforcement members."
The diplomat said the U.N. mission on Sunday visited two Damascus suburbs, where it was met by hundreds of anti-government demonstrators within minutes of arriving in each place. Protesters demanded the release of family members in detention and called for the al-Assad regime's collapse, the diplomat said, adding that the government representatives on the trip were furious.
"So a whitewash has become a fiasco and with more anti-government protests expected wherever the U.N. delegation goes, the scale of that fiasco can only grow," the diplomat said.
Al-Assad said the "security situation" in his country "has turned into more of an armed situation," especially in the past week, but he blamed attacks on police and the military and ambushes against military and civilian targets.
"Security is important, but the solution is political," he added.
The U.N. humanitarian team that arrived in the country Saturday planned to visit Latakia, Homs, Idlib and Hama -- four areas that have seen some of the worst violence, said Amanda Pitt, spokeswoman for the U.N. Office for the Coordination of Humanitarian Affairs. But the team's itinerary was not yet clear, she told CNN Sunday.
The team's arrival came just days after a U.N. fact-finding mission reported having found "a pattern of human rights violations that constitutes widespread or systematic attacks against the civilian population, which may amount to crimes against humanity."
The fact-finding mission's report called on the Security Council to "address in the strongest terms the killing of peaceful protesters and other civilians in Syria through the use of excessive force and other grave human rights violations; to call for an immediate cessation of attacks against the civilian population; and to consider referring the situation in Syria to the International Criminal Court."
Bu al-Assad insisted the government is taking steps to ensure it only acts against those who have been behind crimes. "No guilty person will be released and no innocent person will be held to account," he said.
The U.N. team in Syria planned to meet with humanitarian and government officials.
Under enormous international pressure to end the crackdown, Syria granted the team's request for access last week after denying previous requests.
"There will be a series of meetings with U.N. country team members and partners," Elisabeth Byrs, spokeswoman for the Geneva-based United Nations Office for the Coordination of Humanitarian Affairs, told CNN Sunday.
The team will be in the country until Thursday, Byrs said.
International pressure on al-Assad to halt the crackdown on protesters demanding political change has grown steadily since March, when demonstrations began.
Speaking to Syrian TV, al-Assad promised to continue a "national dialogue" and to take steps to improve the economy, including working to make sure that young people are not "marginalized." He said they "represent the energy of the whole nation."
Parliamentary elections could occur as soon as February, he said -- a significant vow in a nation that has had effectively single-party rule for decades.
Even though al-Assad said this week that military operations have ceased, the opposition reported widespread crackdowns on Friday against demonstrators, including actions in Homs city and province.
"It's a war," a witness in Homs said. "It's a real war."
CNN is unable to independently confirm reports from Syria because of limited access.
Ammar Qurabi, chairman of the National Organization for Human Rights in Syria, said 40 people died in Friday demonstrations, many in Homs city and province.
The Syrian Observatory for Human Rights, an activist group, said military vehicles carrying soldiers rumbled through Homs city and sounds of gunfire rang out through Bab Amr and other areas. The group said Saturday that 21 people have been killed in Homs province over the past 24 hours.
CNN's Arwa Damon, Kamal Ghattas, Josh Levs and Chelsea J. Carter contributed to this report.
FOLLOW THIS TOPIC