STORY HIGHLIGHTS
People have camped out in tent cities for six weeks
Activists say they want social justice
Government has formed panel to draft ideas
Tel Aviv, Israel (CNN) -- In what organizers are proclaiming to be the largest social protest in Israel's history, hundreds of thousands of Israelis took to the streets of Tel Aviv and other cities to protest the high cost of living in the country and demand government action.
The rallies on Saturday night are the latest action in a six-week-long social protest movement that began with a small group of activists pitching tents in an exclusive Tel Aviv neighborhood to protest high rents. It has culminated in a nationwide movement made up of a wide cross-section of Israelis calling for social justice in the Jewish state.
Organizers billed the protests the "March of the Million" and hoped a high turnout would help reignite political momentum for a movement that had recently slipped from the center of public attention following a high-profile terrorist attack in southern Israel more than two weeks ago.
Eight Israelis were killed in the attack, which prompted an escalation in tensions between Gaza-based militant groups and the Israeli military. That resulted in the death of some two dozen Palestinians and one more Israeli.
Israeli police spokesman Micky Rosenfeld told CNN that authorities estimated a nationwide turnout of 300,000, while local media reported a higher turnout ranging from 400,000 to 450,000.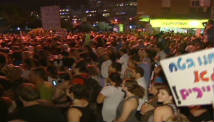 Israelis protest cost of living
The speed with which the protests grew took Israeli politicians by surprise. The day after more than a quarter of a million rallied in early August, Israeli Prime Minister Benjamin Netanyahu appointed a special panel of experts to draft a series of recommendations on how best to reduce the cost of living.
"In the recent weeks we have been witnessing a public protest that expresses a real distress," Netanyahu told his cabinet on August 7. "We cannot and we shouldn't ignore the voices coming out of the public. We want to give real solutions, and we will do so."
The panel is due to discuss the growing sense of disparity in Israel. Despite promising figures of growth and low unemployment rates, many Israeli feel the prosperity is not shared by all.
"The state has money that goes to the wrong places, there is no equality. The money doesn't come back to the people," Shmuel Lim, a protestor in Tel Aviv, told CNN.
The government panel, which is expected to look at ways to reduce taxes and improve access to social services, will make its list of recommendations public later this month. The government is not bound to follow them.
The tent cities in Tel Aviv and other cities have been a prominent and colorful feature of the movement but are expected to start dissipating, as the summer draws to a close. Many of the residents of the tent camps were students on summer break.
While some activists are concerned the protest movement might be losing steam, more optimistic participants predict this is just the beginning of a greater change. "It is like a tsunami wave, we are just in the middle of the tsunami in this protest, the wave is swiping us and we are in the middle of it," said Shai Sade of Tel Aviv.
"I really hope it is not the end. I really hope that we continue until we get what we demand," said Zachi Malka, a protestor in Tel Aviv. "Hopefully people will start thinking about social issues, not only about political ones. Social issues come first. I really hope we can see the change, I really hope we can see something different."
FOLLOW THIS TOPIC