Iran's nuclear plant connects to electric grid, the country says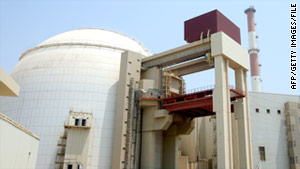 The Bushehr nuclear plant is connected to Iran's national grid, the government says.
STORY HIGHLIGHTS
NEW: Bushehr eventually will produce about 2.5 percent of Iran's electric needs
Iran says the nuclear power plant went online late Saturday
An IAEA report Friday cited increasing concerns Iran may be developing nuclear weapons
Tehran, Iran (CNN) -- Iran says its Bushehr nuclear power plant is now online, making it the first Middle Eastern country to produce commercial electricity from atomic reactors.
The Bushehr plant joined the grid Saturday night with a capacity of 60 megawatts, the Atomic Energy Organization of Iran announced. On its website, the agency said Bushehr "joined the national grid" Saturday night at 11:29 p.m. (2:59 p.m. ET)
The plant is expected to produce 1,000 megawatts of electricity when fully operational, about 2.5 percent of Iran's current electricity consumption, acording to the International Atomic Energy Agency. The state-run news agency IRNA said a ceremony to inaugurate the plant will be held September 12.
Iran began the Bushehr plant in 1975, before the revolution that created the current Islamic republic. The IAEA, the U.N. nuclear watchdog agency, lists no other nuclear plants under construction in the region, though several other Middle Eastern countries have taken steps toward nuclear power.
IAEA representatives did not immediately return calls Sunday from CNN.
The announcement comes just two days after an IAEA report said Iran continues to defy U.N. resolutions aimed at curbing its nuclear program and cited increasing concerns it may be developing nuclear weapons.
-Journalist Shirzad Bozorgmehr contributed to this report.
FOLLOW THIS TOPIC