STORY HIGHLIGHTS
Top officials are to testify next week
Protesters chant slogans against the police
Kuwaiti lawyers are in the country to defend both sides
Hosni Mubarak faces a possible death penalty if convicted
Cairo (CNN) -- Egypt's military leader and other top Egyptian figures will be testifying next week behind closed doors in the trial of ousted leader Hosni Mubarak, court officials said on Wednesday.
Field Marshal Mohamed Hussein Tantawi, head of the Supreme Council of the Armed Forces, will appear on Sunday and Gen. Sami Anan, Armed Forces chief of staff, will go before the court on Monday.
The former vice president and head of Egyptian intelligence, Omar Suleiman, will testify on Tuesday.
Interior Minister Mansour Essawy will appear on Wednesday and his predecessor, Mahmoud Wagdy, will testify on Thursday.
Court resumed Wednesday two days after clashes erupted outside the courtroom between security forces and families of those killed in this year's uprisings.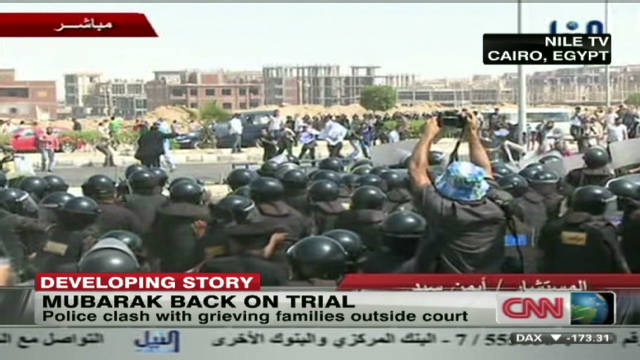 Clashes erupt outside Mubarak court

Mubarak trial won't be televised

Protester's family demands Egypt action

Ex-Egypt Interior minister trial delay
Four police officers testified Wednesday.
Capt. Mohammed Abdel-Hakim, a witness testifying against Mubarak, was in charge of ammunition for the Central Security Forces Cairo.
He denied any live ammunition was provided to riot police. But lawyers representing families of slain protesters accused him of changing testimony he gave to the prosecutors in his original affidavit.
Abdel-Hakim had stated that he issued hundreds of bullets to each member of his force during the protests. The judge immediately charged Abdel-Hakim with perjury and detained him in a separate room in the court.
But later, the judge released him before adjourning the court.
Amir Salem, a lawyer suing Mubarak on behalf of a family of a victim said, "The real trial started today. Confronting Mubarak with his former men will decide the future of this trial and clarify who is really at fault."
"I believe there is some sort of pressure on the witnesses, for them to change their testimonials in the last minute" Salem added. Salem said the general prosecutor will follow the media closely to ensure 'the details of the testimonials are not published even by the lawyers themselves"
Outside the courtroom, security forces set up railings and barricades to separate the crowd. Riot police surrounded the area to avoid a repeat of Monday's chaos.
Soon afterward, dozens of protesters arrived, chanting slogans against the police for an incident after a soccer game Tuesday night.
At least 130 people were injured after an Egypt Cup game when riot police, who were providing security at the stadium, attacked crowds of fans for "provocative shouts" against them and former Interior Minister Habib el-Adly.
Mubarak is charged with ordering the killing of protesters to quash the uprising in February that ended his 30-year rule.
He faces a possible death penalty if convicted.
A group of Kuwait lawyers are in the country to defend both sides.
The group is composed of five who will join Mubarak's defense team and 20 who will represent families of those killed, according to Naser Al Hefi, the head of the Kuwaiti lawyers syndicate.
On Monday, a police official testified that authorities trying to clamp down on anti-government demonstrations were told to use tear gas, not automatic weapons or live ammunition.
Two of the four people testifying changed their testimony in favor of Mubarak instead of siding with the families of those killed.
Outside the courtroom, clashes broke out Monday between police and families of those killed in the uprising.
They started when victims' families tried to push their way into Cairo's police academy, the site of the trial.
Police beat them with batons, and the family members hurled rocks and guard railings at the officers.
At least 22 people were arrested, according to the Interior Ministry. In addition to the arrests, 14 police officers and 12 protesters were injured.
A similar scene played out in August during a court appearance by Mubarak.
The trial resumed after a nearly three-week recess ordered in part to give officials time to review evidence in the case.
Egyptians got a glimpse of an ailing Mubarak during pretrial hearings in August when he was wheeled into court on a hospital gurney and put in the iron cage that holds defendants in Egyptian criminal trials.
About 840 people died and more than 6,000 were wounded in the 18 days of uprising that toppled Mubarak, according to Amnesty International.
In addition to accusations of ordering the killing of protesters, Mubarak faces corruption charges. He has pleaded not guilty to the charges.
He is the first leader since this year's Arab Spring revolts to face a judge. Tunisian President Zine El Abidine Ben Ali was tried in absentia after he was deposed in January and fled to Saudi Arabia.
The trial is expected to last at least six months to a year, according to Adel Saeed, a spokesman for the general prosecutor.
Journalist Mohamed Fadel Fahmy contributed to this report.
FOLLOW THIS TOPIC