Syrian defector says government has lost control of 'human monsters'
January 11, 2012 -- Updated 1233 GMT (2033 HKT)
STORY HIGHLIGHTS
A former defense official says government agents shot protesters from ambulances
"We have reached a phase of genocide," Mahmoud al-Haj Hamad says
Other ministries have seen budgets cut 30% to pay for the clampdown, he says
Al-Hamad defected to Egypt in December along with his family
Watch a half-hour documentary "Homs - City Under Siege" on CNN International's Connect The World on Wednesday at 2130 GMT/ 1630 ET/ 0530 HKT.
Cairo (CNN) -- Syria's embattled government has been holding jailed dissidents underground and paying pro-government gang members $100 a day to crack down on protesters as it tries to quell months of demonstrations against it, a former defense official said.
Mahmoud al-Haj Hamad was a financial inspector in the Ministry of Defense in Damascus until his recent defection to Egypt. In an interview with CNN this week, he provided a firsthand account of the wheels of repression at work, as seen from his former 12th-floor office.
"I used to see them bringing in blindfolded and handcuffed detainees on buses who are kept in underground prisons, even some built under the streets," he said. During protests in the streets of Damascus, city buses filled with armed gangs left the ministry, flanked by four-wheel-drive vehicles "filled with weapons," Hamad said.
"What is more horrific is the intelligence vans marked with the Syrian Red Crescent insignia that would drive through the protests as ambulances and start firing at protesters," he added.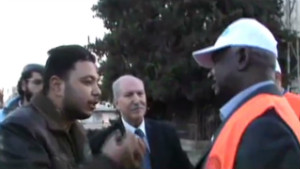 Arab League accused of failing Syrians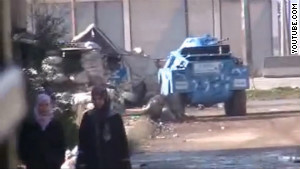 Critics question monitors' Syria mission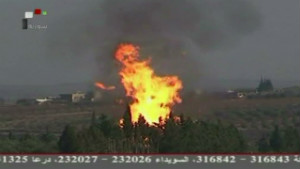 Syrian gas pipeline attacked
He blames much of the carnage not Syrian regular troops but on President Bashar al-Assad's intelligence service and the armed gangs he says were recruited to battle protesters.
"Bashar al-Assad is no longer able to control these human monsters," Hamad said. "We have reached a phase of genocide, and this can't be tolerated under any circumstances."
He said the gunmen were provided with accommodations "and high salaries of about $100 a day." But the nearly 10-month-old crackdown in Syria has cost the government so much that it has had to cut funding for other government ministries by 30%, Hamad said.
Hamad said he supported the revolution from the start, as did many of his colleagues. He said he would even disguise himself to join the demonstrators sometimes.
For a while, he said, "We were hoping the killing would stop and the regime would understand that the revolution will win, and maybe find a way to appease the people. But there was no hope."
As the opposition continued, the ministry began to put restrictions on its own staff, Hamad said. Vacations and travel had to be approved by the intelligence department. So he lied to get out in late December.
"I traveled to Egypt through the airport with the excuse of registering my son in college in Cairo," he said. "When the rest of my family followed me, I announced my defection in protest of what is happening in Syria."
CNN's Mohammed Jamjoom and journalist Mohamed Fadel Fahmy contributed to this report.

Part of complete coverage on
Syrian crisis
March 4, 2014 -- Updated 1328 GMT (2128 HKT)

Syria has submitted a revised proposal "that aims to complete the removal of all chemicals" from the country before the end of April.
February 18, 2014 -- Updated 1032 GMT (1832 HKT)

CNN's Arwa Damon reports on ISIS defector who says destroying ISIS as critical as defeating regime.
February 18, 2014 -- Updated 0353 GMT (1153 HKT)

The U.S. wants a United Nations resolution that will, among other things, bring humanitarian aid for refugees in Syria.
February 17, 2014 -- Updated 1259 GMT (2059 HKT)

When the radical Islamist militia ISIS arrived in the Syrian town of Addana a year ago, many welcomed them. What followed changed their minds.
February 17, 2014 -- Updated 1449 GMT (2249 HKT)

CNN obtained video clips from Syrian activists documenting the atrocities committed by members of the Islamic State in Iraq and Syria, known as ISIS.
February 18, 2014 -- Updated 2017 GMT (0417 HKT)

On Crossfire, Danielle Pletka discusses what the U.S. needs to do to resolve the Syria crisis.
February 6, 2014 -- Updated 0101 GMT (0901 HKT)

Her almond-shaped brown eyes shine through her sunken face as a doctor lifts her sweater to reveal a tiny rib cage pushing against her skin.
February 4, 2014 -- Updated 1746 GMT (0146 HKT)

The Zaatari refugee camp in Jordan is home to around 100,000 Syrian refugees. CNN spent several days meeting the residents of the camp.
January 22, 2014 -- Updated 1959 GMT (0359 HKT)

Renowned war crimes prosecutors and forensic experts have found "direct evidence" of "torture and killing" by the Assad regime.

Traumatized children who have witnessed the horrors of war are being helped to read -- and rebuild a normal life. CNN's Becky Anderson reports.
January 23, 2014 -- Updated 1207 GMT (2007 HKT)

A battle zone tour organized by the Syrian government for CNN and several other media outlets Wednesday was more than bizarre.
January 22, 2014 -- Updated 1735 GMT (0135 HKT)

CNN's Atika Shubert meets with the family of a little girl who was wounded in Syria, now living in a refugee camp.
January 27, 2014 -- Updated 1456 GMT (2256 HKT)

110 year old, Jabari Alawali walked for over 10 hours to reach Jordan from Syria.
Today's five most popular stories