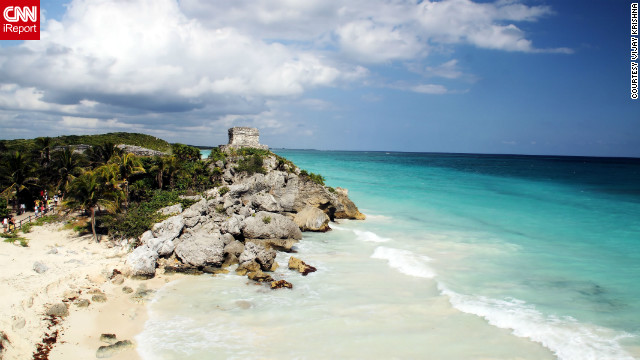 Vijay Krishna captured this view of "Mayan ruins along the blue ocean shores" of Tulum. "I would love to go there again for another relaxing vacation. The sea is absolutely stunning."
Steven O'Brien shot this photo of "a simple display of blankets and hats that bring out all the vibrant colors of Mexico."
"Dotting all of the Yucatan Peninsula are the openings to the undergound world of cenotes and subterranean rivers," Kristine Celorio said. "Cenotes were an important water source and sacred place for ancient Mayans. Swimming in the crystal clear waters is surreal."
Ronald Lee Breeze shared a photo of the "Temple of the Wizard, also called "Temple of the Dwarf." "I'm keenly interested in the history of the Mezo-Americans, specifically the Maya and have traveled to and photographed most of the Mayan cities."
Courtney McCrary shared this sunset photo she took during an anniversary trip to Riviera Maya. "We loved the gorgeous water and beaches. We would go back to the place because we were able to relax with great food, drinks and scenery!"
Natee Ramnarain took this serene photo while on her honeymoon in Cancun. "It was at the Hyatt Cancun Caribe at one of the the two swimming pools they had on site. I was sitting in a cabana and thought the sky looked perfect."
"In the middle of the Yucatan Peninsula is the beautiful city of Valladolid with its lazy plazas and grand churches," Kristine Celorio said. "There is amazing architecture to enjoy and I happened upon a great display of the traditional decoration 'papel picado' flying in the breeze."
Donna Panabaker captured this view from a palapa in Cancun. "If there's something more relaxing than lounging in a shaded, comfy bed while overlooking a beautiful beach like this one, I don't know what it is!"
Kristine Celorio loves photographing food and produce and shared this photo of chiles in Merida. "A colorful bowl of chiles represents all that is great about Mexican cooking."
Michael Hilburn took this photo of Valladolid plaza at night. "This city, like most Spanish colonial towns, had a huge central plaza, which was beautifully lit at night and full of majestic old trees and fountains."
Steven O'Brien captured this breathtaking perspective. "As the sun started setting of this pier on the Riviera Maya, the moon was high and cast a wonderful light on the water."
Chad Samiljan snapped this shot of an iguana in the El Rey Archaelogoical Ruins in Cancun. "We loved the beach and the friendly atmosphere," he said.
"Tulum is a beautiful place south of Cancun if you yearn for a place that is rustic and unplugged," Kristine Celorio said. "Unwinding is easy with the waves crashing outside your cabana. In this picture you can see the only three choices I had to make that day... hot tub, hammock, or ocean."
Ronald Lee Breeze took this photo of El Caracol, The Snail, Mayan celestial observatory. "I traveled throughout the Yucatan in 2005 starting in Merida and visiting Dzibilchaltun, Chichinitza, Uxmal and Tulum. I traveled to learn more about the history of the Maya."
"The colonial street of Paseo de Montejo in Merida is full of magnificent and colorful buildings of a time gone by," Kristine Celorio said of this photo. "But there is none quite as colorful as this hot pink restaurant which pops against the bright blue sky."
Lorena Isla snapped this shot of a seaside pool during her trip to Cancun.
Kristine Celorio took this photo while "cooling off with freshly made ice cream in Merida."
Michael Hilburn captured this view "with the Caribbean on the right and a crocodile infested lagoon to the left" from the top of the lighthouse at Punta Sur Ecological Reserve.
Tulum
Riveira Maya
Yucatan Peninsula
Uxmal
Riviera Maya
Cancun
Valladolid
Cancun
Merida
Valladolid
Riviera Maya
Cancun
Tulum
Chichin Itza
Merida
Cancun
Merida
Cozumel