Survivors recount frantic escape from sinking cruise ship
January 20, 2012 -- Updated 2216 GMT (0616 HKT)
STORY HIGHLIGHTS
"It was like the disaster movies," survivor Keiko Guest says
Several survivors say the ship's staff did not help them
Georgia Ananias: "We're standing there ... yelling, 'Save us, save us!'"
(CNN) -- Days after the Costa Concordia ran aground off Italy's coast, details of the harrowing escape from the ship are still fresh in survivors' minds. Here are some of the accounts they shared with CNN:
Nancy Lofaro of New Rochelle, New York: "It wasn't until approximately 30 to 40 minutes after the collision that we finally heard announcements being made, and in English, we heard that they were saying everything was under control ... that there was an electrical problem with the generator. My husband and I looked at each other and said, 'They're full of it. We have to get off this boat.'"
Valerie Ananias of Downey, California: "I kept telling my parents and I kept telling everybody else, we need to go. Time is of the essence. We need to get on (a lifeboat) as soon as possible because it continued to tilt. What happened was, when we finally got on the lifeboat, it took several minutes to get everybody on ... people were screaming and crying and they had us count."
Keiko Guest of Atlanta, Georgia: "We managed to get to a lifeboat that wasn't being overrun and the crew tried to keep us back and we felt all this pressure coming from behind ... stampeding, trying desperately to save their lives ... babies crying ... the siren was unbelievable. It was so piercing that the children and babies were screaming at the top of their lungs while everybody else was screaming to try to be heard. It was so chaotic. It was like the disaster movies."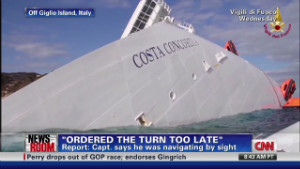 Cruise ship survivors describe chaos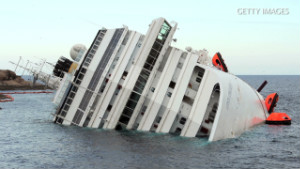 Survivor: 'It was like Titanic and worse'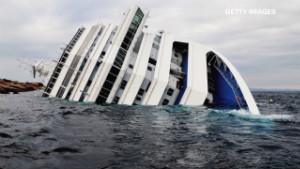 Ship survivor: We said our goodbyes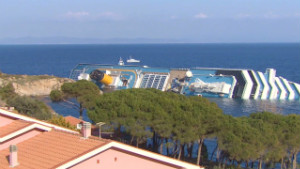 Ship sank quickly, 'like on the Titanic'
Georgia Ananias of Downey, California: "When the ship was listing ... we had to climb up and pull a human chain to pull ourselves up on to a stairwell. ... Another couple turned around and gave me their baby, and said, 'take my baby.' And I held a 3-year-old and I was holding on and the ship was moving and I was afraid the child was going to go down the stairwell. And I knew -- I looked at my husband who's been in the Navy, and he said, 'This is it,' and I handed the baby back to the parents and said, 'Be with your baby.'
"Not one person from the ship assisted us in any matter. There wasn't one officer. We got on a lifeboat that wouldn't function. We were all thrown out of the lifeboat and thrown against the walls of the ship. We crawled down under to try to get on the other side of the ship, because they said that if we got on the other side, we could get a lifeboat. And at the time, the ship shifted again, and we were thrown back.
"We had to crawl back out. We had to climb a 20-foot ladder. ... The real heroes were the people, the other passengers on board that lifted us up. And we had to go through crates of things. And then we get to the top of the ship, and we're up there with about 10 people. The rest of the people have left the ship, and you see coast guards and flashing lights, and you think they're coming for you, and the next thing you know, they're taking somebody from the bridge and airlifting them out. And we're standing there with our lights flashing and yelling, 'Save us, save us!'"
Justin Evans of Atlanta, Georgia: "The staff, you know, they seemed younger than me. They did not know what to do. They got on the lifeboats. They could not even drive the lifeboat. There was someone that jumped into the water, climbed onto the lifeboat and began to maneuver it to drive off. That saved us. He was a hero. Because we thought we were going to die."
CNN's Bonnie Turner contributed to this report.

Today's five most popular stories
Part of complete coverage on
Italy cruise ship disaster
January 19, 2012 -- Updated 1714 GMT (0114 HKT)

Thrust from obscurity to notoriety overnight, Capt. Francesco Schettino is the man at the center of the Costa Concordia cruise ship disaster.
January 18, 2012 -- Updated 2252 GMT (0652 HKT)

Chaos and a lack of communication plagued the evacuation, and getting to shore was only the beginning of a long ordeal.
January 18, 2012 -- Updated 1639 GMT (0039 HKT)

The shipwrecked Costa Concordia cruise liner can now be seen from space, lying on its side off the coast of the Italian island of Giglio.
January 19, 2012 -- Updated 0047 GMT (0847 HKT)

No matter how technologically advanced a cruise ship may be, passenger safety still depends on the captain's ability to make good decisions
January 16, 2012 -- Updated 2325 GMT (0725 HKT)

Meteorologist Alexandra Steele looks at the critical moments along the Costa Concordia's ill-fated route.
January 16, 2012 -- Updated 0030 GMT (0830 HKT)

At first, Vivian Shafer said, she thought it was part of the magic show aboard her Mediterranean cruise.
January 18, 2012 -- Updated 1111 GMT (1911 HKT)

CNN's Christine Romans looks at the logistics of hauling away the grounded cruise liner Costa Concordia, and what will happen to the ship next.
January 16, 2012 -- Updated 1213 GMT (2013 HKT)

CNN's John Vause explains how the Costa Concordia ended up running aground off the coast of Giglio Island, Italy.
January 16, 2012 -- Updated 1336 GMT (2136 HKT)

The disaster that wrecked a luxury cruise liner and has left maritime officials and experts on searching for answers -- fast.

Send CNN iReport your videos and photos. Please take care and do not put yourself or others in danger.
January 15, 2012 -- Updated 0212 GMT (1012 HKT)

CNN's Ralitsa Vassileva speaks with a passenger whose honeymoon was interrupted by the cruise ship disaster in Italy.
January 17, 2012 -- Updated 0832 GMT (1632 HKT)

Environmental campaign group Greenpeace has warned that if oil leaks from the stricken cruiser it could cause an environmental disaster.
January 16, 2012 -- Updated 1443 GMT (2243 HKT)

Dan Rivers reports on the capsizing of a cruise liner after it apparently hitting a reef close to Italy's coast.