Film director shares sights and sounds of Beirut's 'Little Armenia'
February 6, 2012 -- Updated 1101 GMT (1901 HKT)
STORY HIGHLIGHTS
Film director Nigol Bezjian takes CNN on a guided tour of the Bourj Hammoud neighborhood
Bourj Hammoud, on the outskirts of Beirut, is known as Little Armenia
Bezjian, director of "Chickpeas," says he is Armenian first of all
Bourj Hammoud, Lebanon (CNN) -- Film director Nigol Bezjian was born in Syria, raised in Lebanon and studied in the United States, but nowhere does he feel more at home than in Little Armenia.
Little Armenia is the vibrant Bourj Hammoud neighborhood of Beirut. Bourj Hammoud was developed mainly in the 1930s by Armenian refugees who arrived in Beirut after massacres of Armenians in 1915 and the collapse of the Ottoman Empire. Armenians and many historians refer to the massacres as genocide, but Turkey has always denied there was a genocide of the Armenian population.
Bezjian, 57, director of the 1992 film "Chickpeas," took CNN on a tour of his favorite parts of Bourj Hammoud, taking in a family restaurant, bookshop, church and art gallery, where he catches up with colleagues.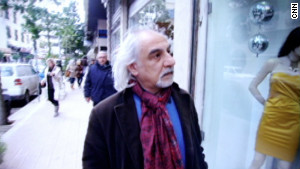 Film director Nigol Bezjian tours Bourj Hammoud district of Beirut
He said: "If you ask me what I am, I would tell you I'm Armenian.
"Bourj Hammoud has played a significant role especially after 1950s -- this is where the Armenian patriotism was born ... Armenian literature took root again.
"Armenian culture was reborn here in a way."
As he walked down the bustling streets, Bezjian shook hands with people he knew. "This is the thing I like, you run into people and friends without planning," he said.
In an Armenian bookstore, he said: "When I come here, I see lots of acquaintances and friends from all different walks of life, I directly connect to my people and I get lots of inspiration from them."
In 2003, Bezjian made a documentary called "Muron," named after the consecrated mixture of oil, flowers, and scents used in various rituals in the Armenian Church.
Armenian culture was reborn here in a way
Nigol Bezjian
Visiting a church Bourj Hammoud, he said: "Muron is basically used to consecrate icons and also for baptizing, and I wanted to see how this was made.
"When they do a new one what remains from the oil is mixed in the new one so in a way the Muron that is made today is directly connected to what was made in year 301. This sense of continuity is very important."
Bezjian said he is not religious, but loves the church for the silence it provides from the noise of the streets outside.
"Church has always played a central role in preserving the Armenian identity and culture," he added.
Bezjian takes CNN to an Armenian radio station where the news is read in Armenian and where he is a regular guest.
Ending his tour in a restaurant called Baroud run by a father and son, Bezjian ponders the question of identity.
"In this part of the world people don't talk about identity so much, it's a given. Identity is North American invention ... who am I? You are who you are."

Today's five most popular stories
October 9, 2014 -- Updated 0212 GMT (1012 HKT)

Managing over 2 million people during the Hajj takes some serious technology.
October 7, 2014 -- Updated 0611 GMT (1411 HKT)

More needs to be done so women from Saudi Arabia can become world champions in sports.
October 6, 2014 -- Updated 1309 GMT (2109 HKT)

Is nothing sacred? How tech allows narcissism to run riot.
September 26, 2014 -- Updated 1103 GMT (1903 HKT)

Where better to start a record-breaking solar powered flight than the desert?
September 24, 2014 -- Updated 1427 GMT (2227 HKT)

Ahmed Eldin is the 18-year-old behind the prog-rock band's new album cover. Shine on you crazy diamond.
September 17, 2014 -- Updated 1153 GMT (1953 HKT)

The Humans of New York photo project exposes the hopes and fears of ordinary people in Iraq and Jordan.
September 10, 2014 -- Updated 0206 GMT (1006 HKT)

Dubai's appetite for construction continues with multi-billion dollar boost to build the world's largest airport.
September 9, 2014 -- Updated 0302 GMT (1102 HKT)

The UAE is becoming a hub for plastic surgery with more Emiratis going under the knife each year.
August 21, 2014 -- Updated 1120 GMT (1920 HKT)

Meet Erdal Inci, a digital artist from Turkey who is transforming the medium.
August 14, 2014 -- Updated 1339 GMT (2139 HKT)

Iran is pumping billions of dollars into a scheme to save a lake. What's so important about it?