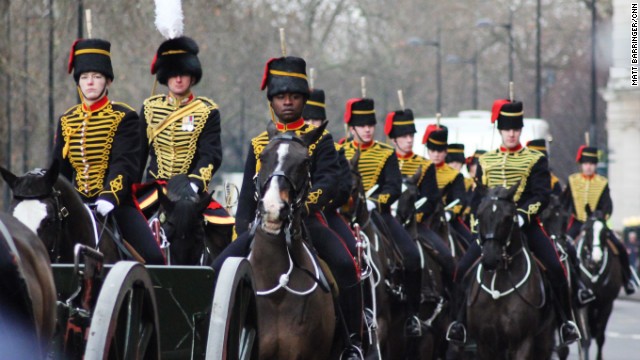 Today is the 60th anniversary of Queen Elizabeth's accession to the British throne. While she marked the occasion in modest surroundings at a school in Norfolk, north east England, a saluting battery made their way to London's Hyde Park for an altogether more sonorous tribute.
With snow lying heavy underfoot, the King's Troop Royal Horse Artillery trot into position in Hyde Park as part of the annual Accession Day celebrations.
The troop, who form a ceremonial unit within the British Army, line up the cannon for a spectacular 41-gun salute.
The young gunners kneel by the tradtional First World War 'thirteen pounder' state saluting guns.
Despite the blistering cold, spectators gather to watch the salute in the picturesque west London park, home to Kensington Palace -- Princess Diana's former official residence.
At the stroke of midday, the gunners commence the salute amidst a plume of smoke and muzzle flash.
A royal salute normally comprises 21 guns, increased to 41 if fired from a royal residence.
Through thick cannon mist, the gunners prepare to reload as the salute continues.
Smoke fills the air and London echoes to the sound of artillery fire as the traditional 41-gun salute come to an end.
The ammunition box is carefully cleared away.
The sound of pounding guns is replaced by the canter of horse's hoofs as the cavalry step in to collect the guns.
Meanwhile, the horses compete with the brass and drums of the marching band.
The salute marks the opening salvo of the Queen's Diamond Jubilee festivities -- which will continue around the UK for the next five months.
Although primarily a ceremonial unit, with responsibility for firing gun salutes on state occasions, the King's Troop has an operational role as part of the territorial defence of the United Kingdom.
The King's Troop are trained as fighting soldiers, six of whom are deployed in Afghanistan at any one time.
With their army-issue black boots protecting them from the melting snow underfoot, members of the King's Troop march off the field in file.
Queen Elizabeth's 41-gun salute
Queen Elizabeth's 41-gun salute
Queen Elizabeth's 41-gun salute
Queen Elizabeth's 41-gun salute
Queen Elizabeth's 41-gun salute
Queen Elizabeth's 41-gun salute
Queen Elizabeth's 41-gun salute
Queen Elizabeth's 41-gun salute
Queen Elizabeth's 41-gun salute
Queen Elizabeth's 41-gun salute
Queen Elizabeth's 41-gun salute
Queen Elizabeth's 41-gun salute
Queen Elizabeth's 41-gun salute
Queen Elizabeth's 41-gun salute
Queen Elizabeth's 41-gun salute
Queen Elizabeth's 41-gun salute