Italian cruise ship captain must remain under house arrest, judge rules
February 7, 2012 -- Updated 1506 GMT (2306 HKT)
STORY HIGHLIGHTS
NEW: Cruise ship captain's attorney calls house arrest ruling "quite positive"
An Italian court orders the captain of the shipwrecked Costa Concordia to remain on house arrest
Prosecutors wanted Francesco Schettino sent back to jail
Defense lawyers wanted him freed
Rome (CNN) -- The Italian captain of the shipwrecked cruise liner Costa Concordia must remain under house arrest while investigators look into possible charges against him, a court in Florence, Italy, ruled Tuesday, a defense lawyer said.
The court rejected a prosecution motion that Francesco Schettino be sent back to jail as well as a defense motion that he be set free, according to lawyer Alessandro Antichi.
Schettino's other attorney, Salvatore Parascandola, called the ruling "quite positive" as it rejected the prosecution's request to send the captain back to jail.
When informed of the ruling, Schettino "maintained his serenity," Parascandola said.
Attorneys will likely wait until February 9, when the full text of the court's decision is published, to decide whether to appeal, Antichi said.
The captain faces possible charges of manslaughter, shipwreck and abandoning ship in connection with the January 13 incident. The vessel struck rocks and rolled onto its side in the waters off the Italian island of Giglio. At least 16 people died. Authorities say 16 people remain missing from the roughly 4,200 people who were aboard the ship.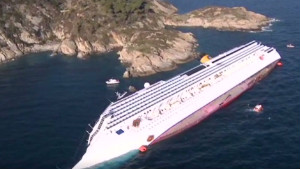 Lawsuit filed in deadly cruise crash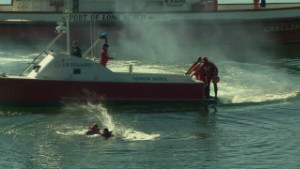 Training for maritime disasters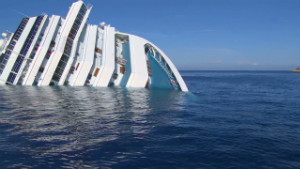 Concordia captain admits 'mistake'
Schettino has said managers of the cruise line instructed him to sail close to the island and has denied allegations that he was sailing too fast. He has said the rock the ship struck was not indicated on his charts of the area.

Today's five most popular stories
Part of complete coverage on
Italy cruise ship disaster
January 19, 2012 -- Updated 1714 GMT (0114 HKT)

Thrust from obscurity to notoriety overnight, Capt. Francesco Schettino is the man at the center of the Costa Concordia cruise ship disaster.
January 18, 2012 -- Updated 2252 GMT (0652 HKT)

Chaos and a lack of communication plagued the evacuation, and getting to shore was only the beginning of a long ordeal.
January 18, 2012 -- Updated 1639 GMT (0039 HKT)

The shipwrecked Costa Concordia cruise liner can now be seen from space, lying on its side off the coast of the Italian island of Giglio.
January 19, 2012 -- Updated 0047 GMT (0847 HKT)

No matter how technologically advanced a cruise ship may be, passenger safety still depends on the captain's ability to make good decisions
January 16, 2012 -- Updated 2325 GMT (0725 HKT)

Meteorologist Alexandra Steele looks at the critical moments along the Costa Concordia's ill-fated route.
January 16, 2012 -- Updated 0030 GMT (0830 HKT)

At first, Vivian Shafer said, she thought it was part of the magic show aboard her Mediterranean cruise.
January 18, 2012 -- Updated 1111 GMT (1911 HKT)

CNN's Christine Romans looks at the logistics of hauling away the grounded cruise liner Costa Concordia, and what will happen to the ship next.
January 16, 2012 -- Updated 1213 GMT (2013 HKT)

CNN's John Vause explains how the Costa Concordia ended up running aground off the coast of Giglio Island, Italy.
January 16, 2012 -- Updated 1336 GMT (2136 HKT)

The disaster that wrecked a luxury cruise liner and has left maritime officials and experts on searching for answers -- fast.

Send CNN iReport your videos and photos. Please take care and do not put yourself or others in danger.
January 15, 2012 -- Updated 0212 GMT (1012 HKT)

CNN's Ralitsa Vassileva speaks with a passenger whose honeymoon was interrupted by the cruise ship disaster in Italy.
January 17, 2012 -- Updated 0832 GMT (1632 HKT)

Environmental campaign group Greenpeace has warned that if oil leaks from the stricken cruiser it could cause an environmental disaster.
January 16, 2012 -- Updated 1443 GMT (2243 HKT)

Dan Rivers reports on the capsizing of a cruise liner after it apparently hitting a reef close to Italy's coast.