STORY HIGHLIGHTS
The Falkland Islands, or Las Malvinas, are the source of a long-running dispute between the UK and Argentina
Most residents on the British protectorate are loyal to the UK despite their proximity to Argentina
Life in the capital is reminiscent of an English village -- red telephone boxes, warm beer, and fish and chips -- with penguins
As international tensions simmer, locals are analyzing every word coming from Argentina's president
Stanley, Falkland Islands (CNN) -- They call it an airbridge, but it feels more like a flight to another planet.
The "easiest" way to get to the Falklands is on a British Royal Air Force charter flight from RAF Brize Norton in central England.
But it's not that easy. From the time I shut my front door in Britain to the time we touch down on these remote islands, 24 hours have elapsed.
An eight-hour leg to the Ascension Islands -- a tiny speck of land in the Atlantic -- and then another eight hours down to RAF Mount Pleasant on the Falkland Islands -- a slightly bigger speck of land.
But this speck is suddenly back in focus as Britain and Argentina spar again over its sovereignty.
The two countries went to war over the issue in 1982, and tensions between the two countries are rising again over the islands which Argentina calls Las Malvinas.
How royal visit fuels Falklands spat
My first impression on landing is how similar the base is to the one we'd left in Oxfordshire.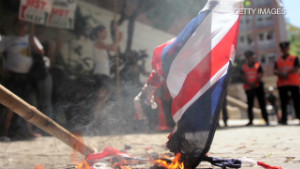 Explain it to me: Falkland Islands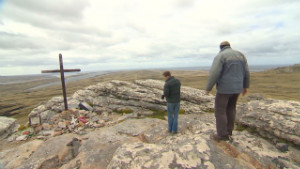 Falklands filled with reminders of war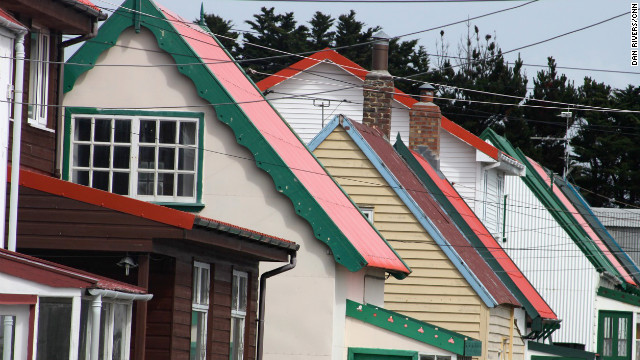 Colourful houses made from corrugated iron give the Stanley, the capital of the islands, a Scandinavian feel.
A Falklands Five pound note issued by the Falkland Islands Government; the disputed islands, which Argentina calls Las Malvinas, are viewed by Britain as a British Overseas Territory, like Bermuda or Gibraltar.
A red telephone box in Stanley is just one of a number of quintessentially British aspects to island life - the Argentines insist the islands were "stolen" from them by Britain in 1833.
The baker in Stanley takes a break at the only bakery on the island.
Outside Stanley, the Sapper's Hill minefield is being slowly cleared of mines by a private contractor BACTEC. 113 minefields have been identified containing some 13,000 mines.
Several species of penguins inhabit the Falkland islands.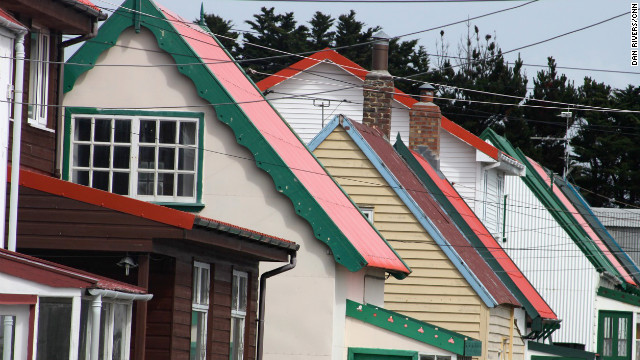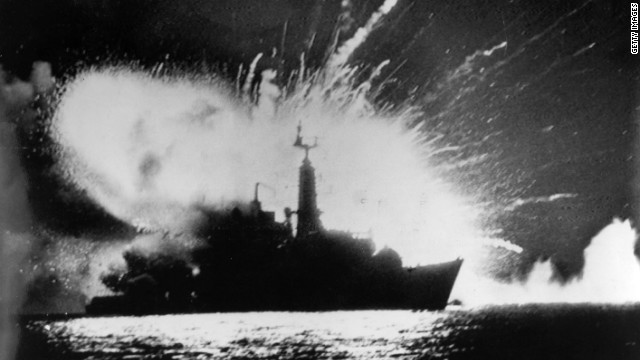 British Royal Navy frigate HMS Antelope explodes in the bay of San Carlos off East Falkland during the 1982 Falklands conflict.
British troops arriving in the Falklands Islands during the 1982 Falklands conflict.
A line of British soldiers in camouflage advancing during the 1982 Falklands conflict.
Britain's Prince William is deployed to the Falkland Islands on a six-week tour of duty as a search and rescue helicopter pilot.
David Cameron has accused Argentina of "colonial" attitudes towards the Falklands.
Argentinian President Cristina Fernandez de Kirchner has asserted her country's sovereignty of Las Malvinas.
A man stands next to a map of the Falkland Islands reading 'They are Argentinian' during a demonstration in front of the British embassy in Buenos Aires in January.
Argentinian activists burn a Union Jack during a demonstration in front of the British embassy in Buenos Aires in January.
Argentinian war veterans and relatives march with torches in Buenos Aires during the 28th anniversary of the 1982 conflict.
British Prime Minister Margaret Thatcher meets personnel aboard the HMS Antrim during a visit to the Falkands in 1983.
British Prime Minister Margaret Thatcher and her husband Denis, left, visit Stanley Junior School, Stanley on the Falkland Islands in 1983.
Pictured in 1980, leaders of Argentina (left to right): President General Jorge Rafael Videl, Admiral Armando Lambruschini , General Leopoldo Galtieri and Brig Gen O Domingo Graffigna.
Sukey Cameron hands in a petition at Downing Street demanding full British citizenship to 300 Falkland islanders whose grandparents were not born in Britain, 25th September 1981.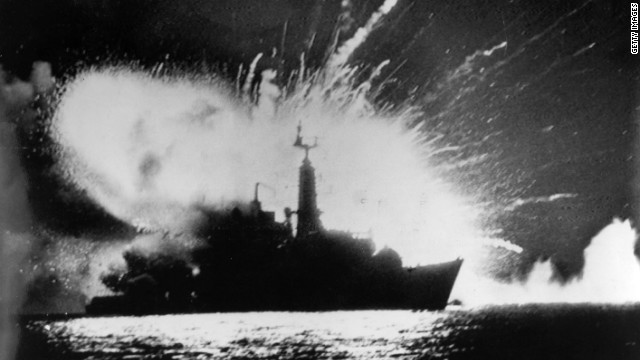 Photos: Britain and Argentina's standoff
Here though, posters on the walls advertize the penguin colonies. For nature enthusiasts this is a paradise with vast swathes of untouched wildness.
See high-res images of life in the Falklands
Outside the wire, a rough gravel road and barren countryside give the impression of being in the Highlands of Scotland. No trees, lots of sheep and every other car is a Land Rover. And lots and lots of ... well, nothing.
No houses, no people, no electricity pylons, nothing.
Finally we approach the capital Port Stanley, or just plain Stanley as the locals call it.
It's more like a village really -- a couple of food stores, a post office, some pubs and a gift shop. And everything is quintessentially British.
Red telephone boxes, warm beer, fish and chips. It reminds me of Cornwall or Scotland: windy, isolated and bathed in a similar dazzling light.
Our first stop is Gypsy Cove, where we see Magellanic Penguins waddling across powder white sand.
Perfect, apart from the signs warning you to watch your step, because this used to be an Argentine minefield.
The mines should have been cleared, but you never know, seems to be the message. It doesn't exactly encourage parents to take their kids down to the water to watch the wildlife.
The islanders are proud, tanned, rugged and permanently wrapped up against the chill of the south Atlantic.
They say they are Falkland Islanders first, British second, and most won't countenance the idea of becoming Argentine.
They are no nonsense to the point of being, at times, slightly stubborn. But they are also immensely hospitable.
Everyone seems to know everyone else -- many are related, distant cousins or connected by marriage. Hardly surprising in a community of just 3,000 people.
They seem slightly amused and perplexed by some of the rhetoric coming out of Buenos Aires, but they are analyzing every word. It matters here.
Many are withering about Cristina Kirchner, the outspoken Argentine President. They say their feelings have been utterly ignored in the war of words between Britain and Argentina.
Most are fervently loyal to Britain but in fact these islands are not part of the United Kingdom.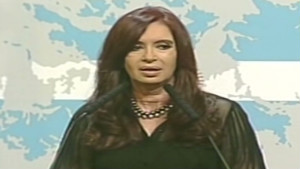 Kirchner to UK: 'Give peace a chance'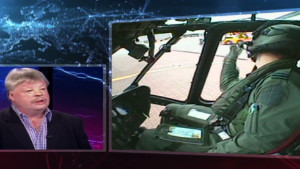 Falklands war vet on Prince's deployment
There are one of 14 British Overseas Territories like Gibraltar or Bermuda, a sort of halfway house between independence and colony.
The Falkland Islands government can raise its own taxes and has its own bank notes, but it relies on the UK for defense and foreign policy -- and a supply of home comforts, like PG Tips Tea, Chocolate Digestives and Spitfire Ale.
A couple of days into our trip, we get news of excitement at the only school on the island.
An RAF search and rescue helicopter has landed on the football pitch. Everyone's taking pictures, hoping Prince William, the Duke of Cambridge is piloting the chopper. It's difficult to tell, but the town is abuzz afterwards.
His presence here might be "routine" as the British Government says and "provocative" for the Argentines, but for the islanders it's special.
He hasn't been spotted drinking in the local pubs yet, but on such a small island with so little to do, it's surely only a matter of time.
We won't be here to share that first pint though -- the airbridge beckons for the long, long journey home.