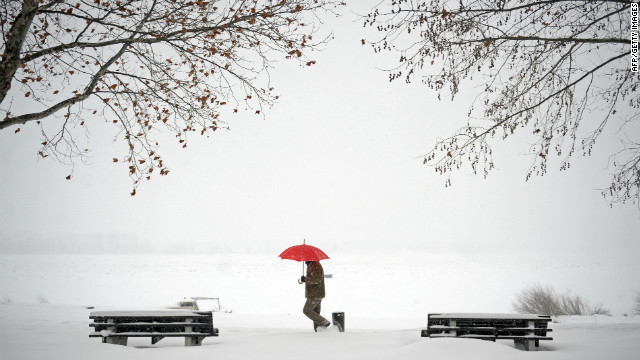 A man walks through snow covered banks of the Danube river in Zemun near Belgrade on February 12, 2012. Cold weather claimed seven more lives on Sunday in the Balkans -- two in Albania, one in Serbia and Bosnia respectively, while three more victims of an avalanche that buried several houses in a southern Kosovo village were found.
A picture taken on February 11, 2012 shows the frozen Damse Vaart in Damme. For the 13th consecutive day, temperatures in Belgium were below zero degrees Celsius. This is the longest cold wave for Belgium since 1941.
Mist rises from the partially frozen Great Ouse river on February 11, 2012 in Huntingdon, England. The Met Office recorded the coldest temperature so far this winter with -16C registered in Holbeach, Lincolnshire.
People walk on the frozen Aussenalster river during the 'Alstervergnuegen' on February 11, 2012 in Hamburg, Germany. The very popular annual city festival 'Alstervergnuegen' takes place around the Alster lake in Hamburg.
People walk on the frozen lake Zwischenahner Meer in Bad Zwischenahn, near Oldenburg, northern Germany, where blocks of ice have been cut out.
The castle and the old bridge are seen over the frozen river Neckar in Heidelberg, southwestern Germany, on February 12, 2012. Temperatures remain cold in Germany as the death toll from Europe's big freeze rose past 550.
Lighthouse and lampposts are covered with heavy ice in central Adriatic Croatian port of Senj, some 200 kilometres from Zagreb, as the sun sets on February 8, 2012. There are more than 100 villages still trapped by snow in remote, mountain parts in Croatia.
Bobsleigh riders walk at a small hill in the Olympic park in Munich, southern Germany, on February 7, 2012.
A man walks past concrete steles of the Monument for the Murdered Jews of Europe after fresh snowfall on February 9, 2012 in Berlin.
A woman sporting a fur hat walks in the center of Ukrainian capital of Kiev on February 9, 2012. Helicopters ferried food and medicine to iced-in villagers Wednesday as the cold snap tightened its frigid grip on the continent.
A man walks with his dogs next to Queen's Mere pond in the snow on Wimbledon common on February 10, 2012 in London, England. The Met Office cold weather alert remains at Level 3 as southern parts of England continue to suffer from cold weather and freezing conditions, with further snowfall overnight.
People skate on a frozen pond in Prague on February 6, 2012. Meteorologists this morning measured minus 39.4 degrees Celsius, the coldest temperature of this winter, in Kvilda village, in the South Bohemian Sumava mountains.
A picture taken on February 6, 2012 shows horses in a field covered with snow in the Corsican village of Cognocoli-Monticchi. In France, 39 of the country's 101 regions were on alert for deep cold or snow, down from more than half the regions at the weekend.
A monument is covered with snow in Kiev on February, 6, 2012 after heavy snowfalls in Ukraine. Ukraine on Monday blamed alcohol abuse as the main cause of deaths caused by a spell of abnormally cold weather that has claimed at least 135 lives over the last 10 days.
A man walks under an umbrella during a snowfall in downtown Skopje on February 6, 2012.
A man takes pictures of a Bartholdi fountain covered by ice on February 6, 2012 on Terraux square in Lyon, eastern France. In France, 39 of the country's 101 regions were on alert for deep cold or snow, down from more than half the regions at the weekend.
A dog plays in the icy Elbe River on Monday, February 6, in Hamburg, Germany. The Arctic cold snap in Europe has claimed nearly 300 lives, brought air travel chaos to London, and dumped snow as far south as Rome and even North Africa.
People walk through a park in Burgos as snow hits northern Spain on Sunday.
A man snowboards Sunday in Caen, France. Seventy-five French departments were under medium range (orange) alert for snow and ice Monday.
A frozen fountain stands in front of Buckingham Palace in London on Sunday. Heavy snow fell overnight across southeast England, causing many roads to become blocked.
iReporter Fabrizio Buzzi sent this shot taken in central Rome on Saturday. "People go out to enjoy the experience as snow is a rare sight in Rome," says Buzzi.
iReporter John Pe shot this photo of the streets of Rome blanketed by heavy snowfall. He said local residents have "gotten their snow gear and have taken to the slopes!"
Snow paralyzes traffic in Bucharest, Romania, on Monday.
Ice accumulates in the Trocadero fountain in Paris, as France faces low temperatures.
A man walks past an ice-covered car Sunday on the frozen waterside promenade at Lake Geneva in Versoix, Switzerland.
Two girls sled down the hill Sunday in London's Alexandra Park.
People stand in snow Saturday in front of the Colosseum in Rome.
A man puts snowchains on his car Saturday in Rome. Heavy snowfall caused the Italian capital to grind to a halt.
A boy and his mother skate on the partly frozen Elbe River on Thursday as the skyline of Dresden, Germany, is silhouetted in the background.
A man pets a dog next to frozen sea waters in Constanta, Romania, on Wednesday. Temperatures plunged to -34 degrees Celsius (-29 degrees Fahrenheit) in central Romania.
People walk on an ice-covered dam next to frozen Black Sea waters near Bucharest on Wednesday.
A man is seen through an icy window Wednesday on a tram in Sofia, Bulgaria.
In the Ukrainian capital of Kiev, temperatures dropped to -22 degrees Celsius (-8 degrees Fahrenheit) on Wednesday. The cold temperatures were blamed for at least 31 deaths in the country.
A skier takes advantage of the unusual snowfall in Istanbul, Turkey, on Tuesday. The snow paralyzed daily life there.
An ice fisherman waits for a catch on a frozen lake near Sofia on January 30.
Animal lovers helped remove the snow that covered the "second chance" dog shelter outside Glina, Romania on January 28.
Bulgarian women walk through heavy snow January 28 in Rakovski.
A man clears snow off a vehicle in Sofia on January 27.
Freshly plowed snow frames a road in Bucharest on January 27.
A dog takes shelter from a blizzard in Catelu, Romania, on January 26.
Pedal-boats and canoes sit in frozen water in Stockholm, Sweden, on January 26.
iReporter Cosmin Stan sent in this photo from Bucharest on January 26. "The problem was not the quantity of the snow, but the strong winds," he told CNN.
Skiers make their way through the snow near Oberhof, Germany, on January 25.
Europe's wintry weather
Europe's wintry weather
Europe's wintry weather
Europe's wintry weather
Europe's wintry weather
Europe's wintry weather
Europe's wintry weather
Europe's wintry weather
Europe's wintry weather
Europe's wintry weather
Europe's wintry weather
Europe's wintry weather
Europe's wintry weather
winter snap kiev
Europe's wintry weather
Europe's wintry weather
Europe's wintry weather
Europe's wintry weather
Europe's wintry weather
Europe's wintry weather
Europe's wintry weather
Wintry Pe
Europe's wintry weather
Europe's wintry weather
Europe's wintry weather
Europe's wintry weather
Europe's wintry weather
Europe's wintry weather
Europe's wintry weather
Europe's wintry weather
Europe's wintry weather
Europe's wintry weather
Europe's wintry weather
Europe's wintry weather
Europe's wintry weather
Europe's wintry weather
Europe's wintry weather
Europe's wintry weather
Europe's wintry weather
Europe's wintry weather
Europe's wintry weather
Europe's wintry weather
Europe's wintry weather
STORY HIGHLIGHTS
NEW: Some victims are alcoholics, others mistakenly drink to keep warm, a doctor in Kiev says
Alcohol causes blood vessels to dilate, so body heat is lost rapidly, an expert says
Ukraine's emergencies minister says 9 out of 10 of the deaths from cold have been alcohol-related
Temperatures throughout Europe are significantly lower than average for winter
Kiev, Ukraine (CNN) -- Alcohol has been involved in most of the deaths blamed on the extreme cold in Ukraine, the country worst affected by the icy temperatures gripping Eastern Europe, a government minister said Wednesday.
Nine out of 10 of the deaths reported have been alcohol-related, Emergency Situations Minister Viktor Baloga said.
At least 135 deaths have been reported in Ukraine in the past two weeks, but he suggested the actual number that can be blamed on the winter weather is somewhat lower, at 112.
About 3,000 people have been hospitalized because of the cold since January 27, officials said.
Authorities in Ukraine have set up an emergency hospital to deal with people suffering from cold-related conditions, and distributed 3,000 emergency relief tents across the country, they said. The tents are heated, and people with nowhere else to go can get hot food and drinks.
Ukraine's capital, Kiev, has more than 14,000 homeless people, authorities said. They are among the most vulnerable to winter's bitter chill.
Dr. Anatoliiy Vershigora, doctor-in-chief at an emergency help station in Kiev, told CNN many of those suffering frostbite, hypothermia and in some cases death were alcoholics -- but that others had been drinking in the mistaken belief it would help keep them warm.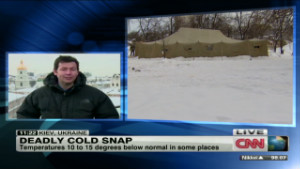 Cold snap strains Europe energy supplies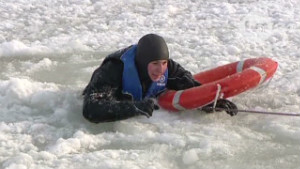 Shelters overwhelmed in Poland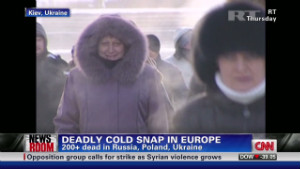 Europe's deadly deep freeze
Outdoor workers, such as those at market stalls, were also suffering frostbite in the extreme conditions, he said, as were some children whose parents had let them spend too long outside.
Joe Lowry, a spokesman for the International Red Cross in Europe, said: "It is an unfortunate fact that a lot of homeless people are alcoholic or dependent on other substances -- it may be why they are homeless in the first place.
"Alcohol creates the illusion of being warm, so it's not surprising that people are drinking and not surprising that they pass out," he said, adding that this is when hypothermia can occur.
"Our approach would be to try to get to these people before they have too much to drink, if we can find them and get them to safety. Obviously, a full belly or hot drinks is far, far better for you than vodka."
Red Cross volunteers have been working with authorities to help distribute warm clothing, boots, hot food and drinks in Ukraine and elsewhere, Lowry said, speaking to CNN from Slovakia.
But, he added, the people who are most in need of help are often hard to locate. "These people are outside the normal safety nets, difficult to find, and don't realize the great danger they are in."
Dr. Sam Zakhari, director of the Division of Metabolism and Health Effects in the National Institute on Alcohol Abuse and Alcoholism at the National Institutes of Health, said consuming alcohol is dangerous in cold weather for two main reasons.
One is that alcohol causes the dilation of blood vessels in the skin, which means they are wider and more blood passes through. This makes the person feel hot, which is not an issue if the person is warmly dressed and indoors, Zakhari said. But "if he or she is not wearing enough warm clothes they will lose heat rapidly, and that can contribute to hypothermia."
Secondly, he said, a person who is inebriated may not have the ability to judge what's happening or respond appropriately. He or she may slip and fall in the icy conditions and risk becoming unconscious, or fall asleep as alcohol depresses the central nervous system, he said.
Zakhari advises those who are inebriated to stay inside for safety, where possible, or if they must be outside to dress in several warm layers to stop heat escaping and try to ward off hypothermia.
Kiev marked its 24th consecutive day of below-freezing temperatures Wednesday, with a low of minus 18 Celsius (minus 0.4 Fahrenheit), CNN meteorologist Brandon Miller said. It could normally expect a high of minus 2 degrees Celsius at this time of year.
And there is little respite in prospect for those suffering in the unusual cold.
Another surge of frigid air is pushing westward out of Russia into the rest of Europe for the end of the week, with Central and Eastern Europe catching the brunt of the coldest air, Miller said.
Temperatures in some of the hardest hit countries, such as Ukraine, Romania, Hungary and Serbia, will once again drop below average by as much as 15 to 20 degrees Celsius (25 to 35 degrees Fahrenheit).
Warsaw, in Poland, which would normally expect a high of 2 degrees Celsius (36 degrees Fahrenheit), has now spent 15 days below freezing, while Sarajevo in Bosnia-Herzegovina has spent 14 days in subzero temperatures, well below the average for this time of year of 5 degrees Celsius (41 degrees Fahrenheit.)
Temperatures are likely to remain below average well into next week, at the least, with no significant warming likely until late February, Miller said.
Parts of the Danube River, one of the most important rivers in Europe for commerce, have nearly frozen over for the first time in 25 years, showing not only the intensity of this cold snap, but also its longevity.
The sustained cold spell is also putting a strain on power providers across the region and has raised questions over Europe's reliance on Russia for gas, as supplies sent via Ukraine have dipped below the expected levels.
Ukrainian Energy Minister Yuri Boyko said electricity consumption in the country is historically high.
But in an interview with CNN, he rejected suggestions that Ukraine has been siphoning off gas as it transits from Russia to Europe.
Boyko said the main reason for the 30% drop in gas reaching Europe was the extremely cold weather in Russia, which meant a smaller than usual amount of gas entered Ukraine. Instead of Ukraine receiving the expected 500 million cubic meters per day, only 400 million cubic meters came to its western border, he said.
Gazprom, Russia's gas monopoly, has denied sending lower volumes of gas to Europe.
But Boyko said he believes the real answer is that given by the deputy chairman of Gazprom, whom he quoted as saying the company was not ready to send additional supplies to Europe during the cold spell.
At least 250 people have died across the region during the cold snap.
In Romania, where at least 39 people have died because of the weather, snow blown by icy winds on the shores of the Black Sea has disrupted road and rail travel and cut power to 35 settlements in southeast Constanta county, state news agency Agerpres reported Wednesday. Water supplies were also cut to 16 of those settlements.
Meanwhile, holiday villas, beaches and resort buildings have been flooded by waves up to 5 meters (16 feet) high swept in from the Black Sea by the winter storms, the news agency said.
Video shot by CNNi Reporter Angela Leeb in Constanta on Wednesday showed a fierce snowstorm howling outside her home.
It's "still very windy and cold but not snowing," she said. A yacht rides loose on the shore, torn from its moorings by a bad storm last week, she said.
As the week started, all "national roads," or two-lane highways, in seven counties in the country's south and east were blocked by snow, Agerpres reported.
More than 50 people, most of them homeless, have died in Poland in the past several weeks, according to Polish TVN.
At least 64 people have died because of the cold in Russia, the government in Moscow said.
In Hungary, the Red Cross has helped more than 4,000 people this week through 15 homeless centers and door-to-door services in rural settlements. Twelve deaths have been reported there during the cold snap, the Red Cross said in a release.
Snow has also fallen as far west as Spain. Snowfall in Europe's southeast, close to the Mediterranean Sea, has cut off roads and isolated areas from access to supplies.
Southeastern Europe will see more heavy snow, while the northeast is predicted to shiver under temperatures much lower than its winter averages, meteorologists said.
The German capital, Berlin, has spent nearly two weeks below freezing, whereas it would normally average 4 degrees Celsius (39 degrees Fahrenheit).
In Berlin, CNN iReporter Meghan Nevill said it is too cold to stay outside for longer than 10 minutes. Water at a dam in the city, the Muggelseedamm, has frozen solid, she said.
Britain's Met Office is warning of wintry weather over the next few days, with freezing rain and ice expected Wednesday night across northern England and parts of Scotland.
London and portions of eastern England will see some significant snow accumulations by Friday, with up to 10 centimeters (4 inches) in the hardest hit areas and 2 to 4 centimeters possible in the London area, forecasters said.
Temperatures in Paris have been below freezing for a week.
CNN's Matthew Chance and Antonia Mortensen reported from Kiev, and Laura Smith-Spark from London.