China, Russia undecided on Arab plan for Syria
February 13, 2012 -- Updated 1612 GMT (0012 HKT)
STORY HIGHLIGHTS
China declines to say whether it would support the Arab League initiative
Russia says it is still examining the plan
The proposal would establish a joint U.N.-Arab peacekeeping force
China and Russia have vetoed previous U.N. attempts to stop the violence
Beijing (CNN) -- China and Russia declined to say Monday whether they would support an Arab League initiative calling for the U.N. Security Council to back a joint U.N.-Arab peacekeeping force for Syria.
The proposed joint mission, which would replace a now-defunct Arab League observer team, is the latest international attempt to pressure Syrian President Bashar al-Assad to step down and end violence that has left thousands dead, according to U.N. figures.
Chinese Foreign Ministry spokesman Liu Weimin said in a daily briefing of reporters that Beijing supports the league's mediation in Syria, but he stopped short of answering questions on whether China would approve the proposal.
"China calls for and supports the Arab League's continued efforts at political mediation, which plays a proactive and constructive role with regard to peaceful settlement of the Syrian issue," Liu said.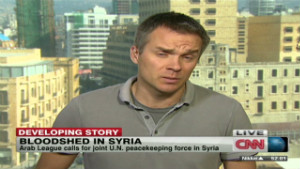 Syrians 'dismissive of diplomacy'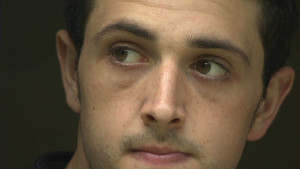 Syrian activist's escape to freedom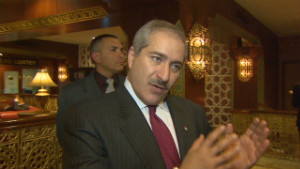 Arab League's blunt talk on Syria
Russian Foreign Minister Sergey Lavrov said Monday his country is still studying the initiative, but it had concerns about imposing peace without Syria's consent.
China and Russia have drawn heavy criticism from the West and the Arab world for vetoing a draft U.N. Security Council resolution condemning Syria over its 11-month crackdown on its citizens.
Based on China's long-standing policy of non-interference in other countries' domestic affairs, it would be "very hard" for China to back a joint mission, said He Wenping, director of African Studies at the Chinese Academy of Social Sciences.
She said there are concerns the force would play a military role and any armed involvement would "need more discussion."
The Arab League initiative does not mention whether the peacekeepers would include armed troops or whether offers by the pan-Arab body of assistance to the opposition would include weapons.
Syria has rejected the Arab League proposals.
At the Ministry of Foreign Affairs, Liu reiterated China's position that Syrian authorities and opposition forces should "solve their disputes through dialogue."
China critics say Beijing fears that condoning a resolution that could lead to regime change might one day threaten its own rule.

Part of complete coverage on
Syrian crisis

There's more to the Syrian civil war than rebels versus the regime. Syria's neighbors in the Middle East also have a stake in the conflict.
May 9, 2013 -- Updated 2113 GMT (0513 HKT)

Israel is taking steps to defend itself against threatened retaliation from Syria after claims it launched airstrikes on Damascus.
May 14, 2013 -- Updated 1636 GMT (0036 HKT)

Domestic political will is a necessary for intervention and polls show Americans are reluctant to support military interventions in Syria.
May 6, 2013 -- Updated 1738 GMT (0138 HKT)

Syria's claim that Israel launched airstrikes presents a dangerous escalation of Israel's involvement in Syria's war, writes Fawaz Gerges.
May 7, 2013 -- Updated 0941 GMT (1741 HKT)

The U.N. says a Syrian rebel group may have used a nerve agent -- it would not be the first time the al-Qaeda-affiliated group used chemical weapons.
May 1, 2013 -- Updated 1800 GMT (0200 HKT)

Having willfully avoided direct military involvement in Syria for the past two years, Obama may not be so lucky anymore, writes Aaron David Miller.
May 10, 2013 -- Updated 0944 GMT (1744 HKT)

What began as a protest movement became an uprising that metastasized into a war, a vicious whirlpool dragging a whole region toward it.

A devout man prays. A fighter weeps over a slain comrade. These are a few faces of the Syrian conflict captured by photographer LeeHarper.
April 25, 2013 -- Updated 0859 GMT (1659 HKT)

A group of pro-Syrian regime hackers that has targeted major news organizations but its cyber attacks can have real-life impact.
March 7, 2013 -- Updated 2324 GMT (0724 HKT)

The role of women in Syrian uprising is little reported, but many have played a key part as activists and medics since the bloodshed began.

Are you in Syria? Share your stories, videos and photos with the world on CNN iReport, but please stay safe.
Today's five most popular stories