STORY HIGHLIGHTS
NEW: The appeal raises the question of whether Knox could be returned to custody
Knox's family says the appeal is "another example of harassment by the prosecution"
Raffaele Sollecito's father says his son has been trying to rebuild a normal life
Knox and Sollecito were cleared of murdering Briton Meredith Kercher last October
Rome (CNN) -- Prosecutors in Italy lodged an appeal Tuesday of the acquittal of American student Amanda Knox in the murder of British student Meredith Kercher.
Knox and her ex-boyfriend, Raffaele Sollecito, were convicted of murder in the town of Perugia in 2009 but were cleared when they appealed the verdicts in October.
The case gripped the attention of the public in the United States, Italy and Britain.
Knox's family said in a statement issued through a spokesman that the appeal was unwelcome, but no cause for concern.
"The appeal of Amanda's acquittal by the prosecution was not unexpected as they had indicated from the day of the verdict that they would appeal," the statement said.
"We are not concerned about this appeal as Amanda's innocence was clearly and convincingly proven in her appeal trial. This is simply another example of harassment by the prosecution against Amanda and makes this terrible, painful incident continue to go on for Amanda, Raffaele and their families."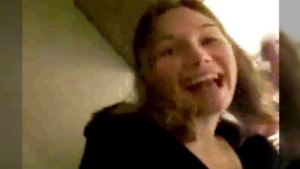 Amanda Knox's life as a free woman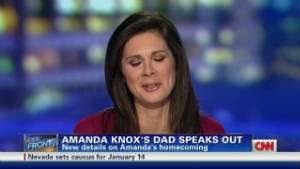 Curt Knox: Amanda well, reconnecting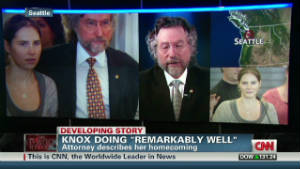 Attorney: Amanda Knox doing well
Giovanni Galati, a Perugia prosecutor, had earlier told reporters the acquittal should be overturned because Knox and Sollecito were guilty, according to Italian news agency ANSA.
"We are still convinced that they are the co-authors of Meredith's homicide," he is quoted as saying.
Knox was 20 and Kercher was 21 when the two shared a home as they studied at the university for foreign students in Perugia, Italy. Kercher's semi-naked body was found in November 2007 at the home, with her throat slashed. Sollecito, 23 at the time, was Knox's boyfriend.
Francesco Sollecito, father of Raffaele, told CNN in a phone interview Tuesday that the family was "not happy about the decision. My son is trying to get back to normal life."
"We can do very little in this situation," he said, but as Italian citizens they would have to accept the court's decision. "We hope that the High Court will finally put the words 'The end' to this story," he added.
Knox's Italian defense lawyer, Carlo Dalla Vedova, told CNN he had hoped the prosecutors would not appeal.
"This story was too much under the spotlight, and beside (that) there is suffering, there are two young people that unjustly spent nearly four years in prison," he said. "The best way of respecting this suffering would have been silence."
Her U.S.-based lawyer, Theodore Simon, said that although the prosecution has appealed, very little has changed in the case.
"The appellate jurors conducted a thorough, painstaking, searching inquiry into the true facts and determined in a lengthy, logical and comprehensive decision that Amanda Knox was not guilty of the tragic loss of Meredith Kercher," he said.
The filing of the appeal has raised the question of whether an arrest warrant or extradition order could be issued for Knox if her acquittal is annulled, or if she could be made to serve the remainder of her initial 26-year prison term.
Criminal law professor Nicola Di Mario told CNN that if the High Court was to annul the appeals court ruling that overturned the conviction, the defendants would not automatically go back to jail.
However, the prosecutors could, in theory, ask that they be returned to jail if there is a risk that the defendants might escape, or that they could repeat the crime or interfere with the evidence, Di Mario said.
Another Rome law professor, Maurizio Bellacosa, said it is unlikely Knox and Sollecito would be sent back to prison. "Amanda will legitimately remain in the States until a new appeal verdict is issued," he said.
Di Mario said the High Court would decide on the case in just one hearing, probably in the next six to 10 months.
"It's a very technical judgment that doesn't examine the content of the appeal trial. The High Court can only establish if the sentence was or wasn't logical and coherent," he said.
If the High Court did overturn Knox's acquittal, it is unclear whether Italy would request her extradition from the United States, or if the United States would grant it.
In October, deputy State Department spokesman Mark Toner told CNN that although the United States and Italy have an extradition treaty, he was not able to answer speculative questions on extradition issues.
Prosecutor Giuliano Mignini, who took part in previous court proceedings but is not directly involved in the latest case, told CNN that the prosecutors' appeal was based on 10 points, including questions over apparent contradictions in the ruling.
Mignini said the High Court would decide whether to accept or reject the prosecution appeal.
It is possible the case would be combined with Knox's own appeal against her conviction for slander, Mignini added.
Knox's conviction for defaming Patrick Lumumba, a club owner whom she accused of killing Kercher, was upheld in October by the same appeals court that cleared her of murder.
She was ordered to pay Lumumba 40,000 euros ($54,000) in damages. The court also sentenced her to three years in prison, but because she had already been held for four years, she was freed immediately.
In legal paperwork published in December, the judge in the case wrote that the jury had cleared the pair of murder for lack of evidence proving they were guilty.
"Even taken all together," the prosecution's evidence does not "prove in any way the guilt of Amanda Knox and Raffaele Sollecito for the crime" of killing Kercher, Judge Claudio Pratillo Hellman wrote.
Lawyers for Knox and Sollecito had focused on discrediting DNA evidence that played a role in the 2009 conviction.
Knox returned to her hometown of Seattle with her family following her release.
Another man, Ivorian drifter Rudy Guede, was convicted separately of Kercher's killing. Guede admitted having sexual relations with Kercher but denied killing her.
CNN's Maria Ebrahimji contributed to this report.