'National hero' Djokovic given Serbia's highest honor
February 16, 2012 -- Updated 1020 GMT (1820 HKT)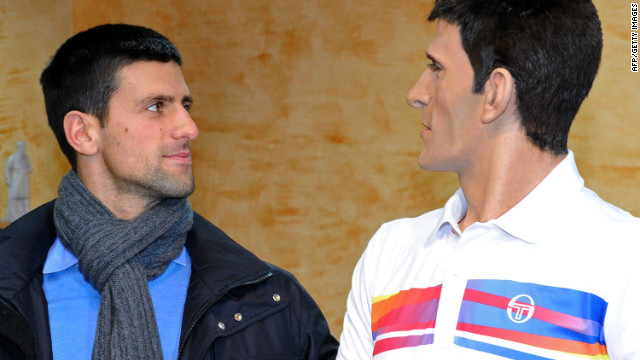 Sportsman of the year Novak Djokovic poses next to his likeness on February 9, 2012, at the wax museum in the central Serbian town of Jagodina.
Djokovic, seen here signing autographs for fans in Jagodina, is a national hero in Serbia.
Djokovic began what would be an incredible 2011 with a straight-sets win over British fifth seed Andy Murray in the Australian Open final. It was his second triumph in Melbourne.
In July, Djokovic claimed his first Wimbledon title by beating Spanish two-time champion Rafael Nadal 6-4 6-1 1-6 6-3 in the final. It was the first of three consecutive grand slam finals against Nadal.
After Djokovic won Wimbledon, tens of thousands of people lined the streets of the Serbian capital Belgrade to welcome their hero home.
Djokovic's incredible year continued when he claimed 2011's final grand slam, the U.S. Open. Once again it was Nadal who stood in his way, but Djokovic battled to another four-set triumph.
Djokovic fought his way past Nadal in of tennis' greatest finals at the Australian Open last month. He eventually sealed victory in five hours and 53 minutes, the longest final in grand slam history. It was Djokovic's third Australian Open title.
The 24-year-old received recognition of his incredible year last week, when he was named the Laureus Sportmans of the Year for 2011.
Here's looking at you, kid
National hero
On the rise
Winner at Wimbledon
Back in Belgrade
On top of the world
Three and easy
A year to remember
STORY HIGHLIGHTS
Novak Djokovic has been given Serbia's highest honor at a ceremony in Belgrade
The world No. 1 has won four out of five grand slams since the start of 2011
Serbian president Boris Tadic said Djokovic deserved the accolade
Djokovic: "I will do my best to continue representing our beautiful country"
(CNN) -- Novak Djokovic's domination of men's tennis has made him a hero in his homeland of Serbia, and the world No. 1's achievements were recognized on Wednesday when he was awarded the nation's highest honor.
After winning three out of four grand slam titles in 2011 and clinching the Australian Open in Melbourne last month, Djokovic was given the Order of the Karadjordje's Star of the 1st degree by Serbian president Boris Tadic.
It is just the latest accolade to be handed to Djokovic, who was also named Laureus Sportsman of the year last week after winning 41 matches in a row at the start of 2011 and losing only six all year.
"I may have dreamed of lifting the trophy at Wimbledon, but I could never have thought that my country would reward me with such great honor," the 24-year-old five-time grand slam winner told his official website.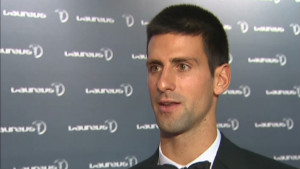 Novak Djokovic: Sportsman of the year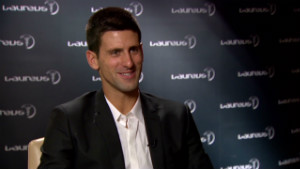 Novak Djokovic targets more success
"I am indebted to my people, and I will do my best to continue representing our beautiful country in the best possible way."
Tadic praised Djokovic, saying: "Novak deserves the medal for special merits in representing Serbia."
Serbian Tennis Federation president Vuk Jeremic described Djokovic, who was part of Serbia's Davis Cup-winning team in 2010, as the greatest sporting hero the country has produced.
"Tennis has become the most popular sport in Serbia and a source of collective pride," Jeremic told CNN of Djokovic's impact.
"People identify with Novak, and draw great inspiration from his can-do, never-give-up attitude. He's the role model -- unbreakable, devoted, patriotic, charismatic."
As well as the impact Djokovic has had on the court, Jeremic also hailed the positive impact he has had on Serbia's image around the world.
"No athlete in our history has become such a national hero. And as far as Serbia's image abroad is concerned -- can you think of a better public diplomacy vehicle?"
Djokovic will next be in action at the Dubai Tennis Championships at the end of this month for an event he has won the last three years.