Doctors struggle to save wounded children in Homs
February 22, 2012 -- Updated 1024 GMT (1824 HKT)
STORY HIGHLIGHTS
A father mourns his toddler in Homs: "My son, what did you do?"
Syrian troops have bombarded the city for more than two weeks
The Red Cross wants a daily cease-fire to provide aid to the embattled city
(CNN) -- The shrapnel wound is in the toddler's left side. The boy needs "a proper hospital," the doctor says, not the makeshift clinic in the Syrian city of Homs where he's being treated.
"Even the children are not allowed to get there," he says. "Where is the Red Cross that was negotiating yesterday?"
Soon afterward, the 2-year-old dies of his wounds. The child's father -- whose head, right hand and left knee are bandaged as well -- swears to avenge his death as the sound of artillery echoes outside.
"My son, what did you do?" he wails. "Who did you hurt?"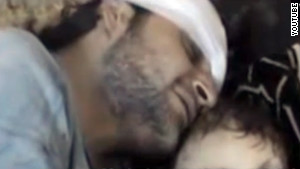 Baby's heartbreaking death in Syria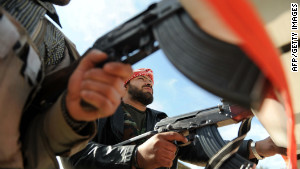 Journalist: Syria's government lies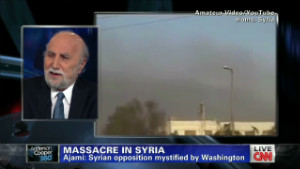 Ajami: We are watching death of a city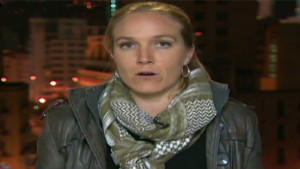 Cut off and under fire in Homs, Syria
The scene was captured in a video shot by opposition activists in Homs, where Syrian government troops are shelling opposition-held neighborhoods for a third week. Opposition activists inside the city say Tuesday's bombardment was the worst to date, and children are among those dying for lack of proper treatment.
Rebellious doctors set up underground medical network
The International Committee of the Red Cross has called for a daily two-hour cease-fire so it can distribute aid to hungry, frightened and wounded civilians.
Syria's official news agency said reports that food and medical care were scarce are "lies." But the international humanitarian group Doctors Without Borders says government troops have been targeting doctors and hospital workers who treat those wounded in the nearly year-old Syrian clampdown.
Opposition videographer killed
The group says the result has been the creation of an underground system of clinics, since the government controls the established hospitals.
In the northern province of Idlib, opposition activists are distributing locally made video tutorials on first aid, including lessons on how to sew up and bandage bullet wounds and carry the wounded to safety.
But the opposition says the volume of casualties, coupled with shortages of basic supplies and trained medics, means people are dying of wounds that they would ordinarily survive.
The United Nations says more than 5,000 people have been killed as the government of Syrian President Bashar al-Assad tries to crush a growing movement against his rule that emerged nearly a year ago.
Aid group calls for cease-fire to treat wounded
Syrian opposition groups put the figure at more than 7,000.
CNN cannot independently verify opposition or government reports of casualties because the government has severely limited access to the country by international journalists.
CNN's Ivan Watson contributed to this report.

Part of complete coverage on
Syrian crisis

There's more to the Syrian civil war than rebels versus the regime. Syria's neighbors in the Middle East also have a stake in the conflict.
May 9, 2013 -- Updated 2113 GMT (0513 HKT)

Israel is taking steps to defend itself against threatened retaliation from Syria after claims it launched airstrikes on Damascus.
May 14, 2013 -- Updated 1636 GMT (0036 HKT)

Domestic political will is a necessary for intervention and polls show Americans are reluctant to support military interventions in Syria.
May 6, 2013 -- Updated 1738 GMT (0138 HKT)

Syria's claim that Israel launched airstrikes presents a dangerous escalation of Israel's involvement in Syria's war, writes Fawaz Gerges.
May 7, 2013 -- Updated 0941 GMT (1741 HKT)

The U.N. says a Syrian rebel group may have used a nerve agent -- it would not be the first time the al-Qaeda-affiliated group used chemical weapons.
May 1, 2013 -- Updated 1800 GMT (0200 HKT)

Having willfully avoided direct military involvement in Syria for the past two years, Obama may not be so lucky anymore, writes Aaron David Miller.
May 10, 2013 -- Updated 0944 GMT (1744 HKT)

What began as a protest movement became an uprising that metastasized into a war, a vicious whirlpool dragging a whole region toward it.

A devout man prays. A fighter weeps over a slain comrade. These are a few faces of the Syrian conflict captured by photographer LeeHarper.
April 25, 2013 -- Updated 0859 GMT (1659 HKT)

A group of pro-Syrian regime hackers that has targeted major news organizations but its cyber attacks can have real-life impact.
March 7, 2013 -- Updated 2324 GMT (0724 HKT)

The role of women in Syrian uprising is little reported, but many have played a key part as activists and medics since the bloodshed began.

Are you in Syria? Share your stories, videos and photos with the world on CNN iReport, but please stay safe.
Today's five most popular stories